Dystopian, Mystery | GxB, sort-of-GxG (but romance is not the focus!) | Demo by fall 2011 | Release by summer 2012??
WARNING, THIS IS A LONG PREAMBLE.
Feel free to skip this LOL.
I've tinkered around with a few game ideas (and actually ended up finishing one, but trust me, it was
very plotless), but this will be the first game that DAGNABBIT, I'LL FORCE MYSELF TO FINISH / RELEASE.
The story's based on an idea that's been kind of floating around in my head for a year now. So I have
been tinkering around with this for ages, and I will be kind of irritated if it bugs me any longer with its
incompleteness. ANYWAY, please forgive the generic plot (but dystopian stories are satisfying, amirite).
Also, I apologise in advance that my writing totally does not suit "darker" stories.
Heh. ;A;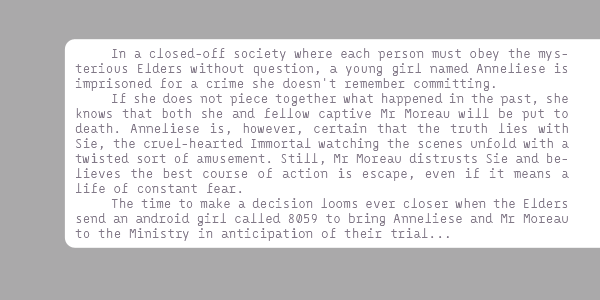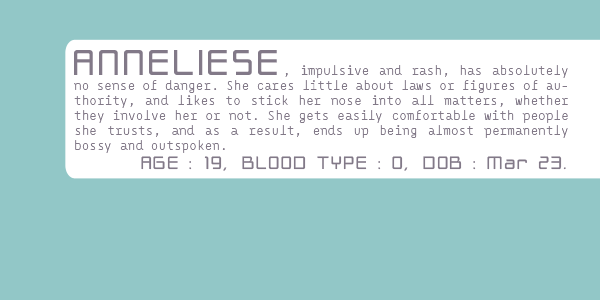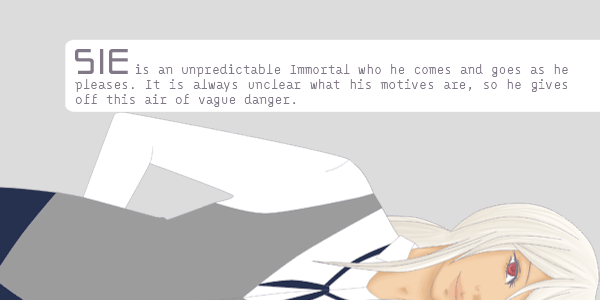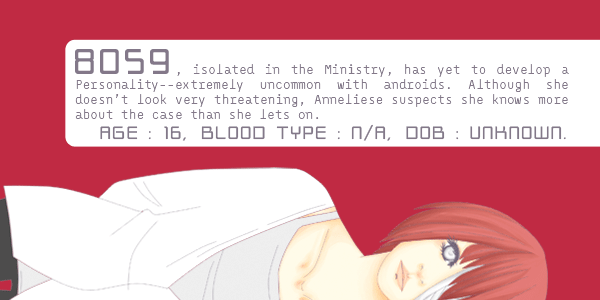 Sprites
: MR MOREAU (base 100%, expressions 100%) | SIE (100%, 100%) | 8059 (100%, 25%).
Story
: ACT ONE (100%) | ACT TWO (100%) | ACT THREE (35%) | ACT FOUR (0%) | ACT FIVE (75%).
* The VN won't actually be released in "acts", by the way--it's just easier to divide the different scenes into parts.
And yes, I am one of those people who write out the ending before filling up the story in between (I know, it's awful).
Backgrounds
: 30%.
Music
: 25%.
UPDATED DECEMBER 12, 2011.
The game contains 838 screens of dialogue.
These screens contain a total of 13,751 words,
for an average of 16.4 words per screen.
The game contains 15 menus.

NOTE : click on the icons to see the full-size image. You know you want to to. Heeheehee.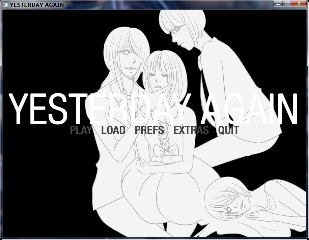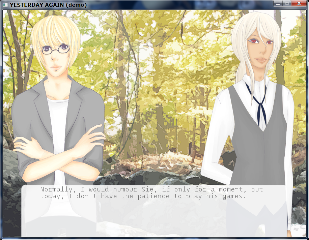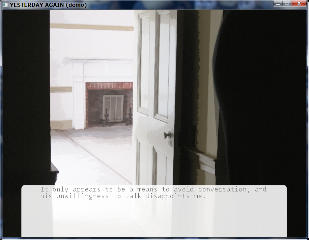 Comments would be amazing (and would make me ridiculously giddy)!
Please tell me what you think. <3
I promise, I'll update with more exciting stuff (i.e. moar art) soon. Ranty updates will be on my
devblog
.
HEY FRIENDS, I COME BEARING A DEMO!
It's pretty short ~3000 words. Regardless, I hope you enjoy the demo. (Also, I swear I don't normally use CAPSLOCK this often!)