Pictures: Scroll Down
And sorry for the big pictures, I'll make them smaller later >.<
-Pictures done by
Tag-
Name:
All Boy School Impact!
Type:
GxB Visual Novel Using Ren´py
Genre:
Romance, Light-hearted.
CAUTION!- People who like lots of drama, horror, or other genres probably wouldn´t like this game... but since you´re already here just go ahead and try it

(When it´s out~)
Obtainable guys: 5 ( +1 secret character )
Summary:
Asami is a 16 year old girl whose life has been boring and dull. Suddenly, she finds out that they´re moving away... to a (not so) small, not-well-known country named Emelay! The reason for this sudden change? Long ago in Emelay, her father was the crown prince of one of the kingdoms of Emelay, since his older brother was not
completely
part of the family. He rejected the throne, eloped with Asami´s mother and moved to Japan. And who is Asami other than the ex-crown princess, but to regain he title in Emelay, she needs the proper education. It just so happens, that the dad´s older brother is the headmaster of one of the most recognized schools for teaching those of royal and wealthy lineage, Laurelton Hall Academy. Her parents tell her she
has
to go to LH Academy. She finally agrees to go. When she arrives at the school, she realizes one crucial fact her parents didn´t tell her... it´s an all-
guy
school! Well, she had always wanted an interesting life... right?
About the characters:
Name:
Asami Hatsuragi (Real name: Julianne Asami Percival)
Age:
16
Role:
Protagonist, (supposed to be) Crown Princess
Tidbits:
Actually a secret princess, and is supposed to be next in line for the throne, usually happy, easy-going and clumsy, but can be very … um… frightening when angered xD, likes sweets, hates to do work.
Asami leads an average, or otherwise boring life. She is shocked when she finds out she is actually a princess, what went through her mind when she was told? "YESS all the food I want!" She is actually Julianne Asami Percival, and she´s the princess to the number one most well known family, The Percival´s of … the center?! Her real family is like the head of all the kingdoms, since they are the most influential in politics as well as the economy.
Name:
Ren De La Salle
Age:
17
Role:
Prince
Tidbits:
"Ren" is short for Renald, he doesn't trust people, cold, very sarcastic, doesn't like messy people (and likes cute things shh!).
Ren is always getting misunderstood because of his attitude. At first he is against a girl "invading his man palace", and consistently shows it, but then begins to open up to Asami, even though she reminds him of his first and last childhood love. He is the prince to the second most well known royal family, The La Salle´s of the north.
Name:
Kio Sharpeknight
Age:
17
Role:
The son of a knight, is a soon-to-be knight
Tidbits:
a bright person, funny, easy going, carefree, player, likes basketball, and has Ailurophobia, the fear of cats.
Apart from being the star of the basketball team, he´s an innocent player. He gets to go to this school since his father is the most trusted knight of the royal crown of the east, The Presedeaux´, and had been given the task of looking after the prince, Leonard. They have been best friends since child hood, and he practically babysits the shy prince. He played around a lot with girls (since he was so immensely popular) but when he met Asami, "something just clicked".
Name:
Leonard Presdeaux
Age:
16
Role:
Prince
Tidbits:
He´s shy and reserved, plays the violin, gets "wild" just by smelling alcohol XD [no guys were damaged (wut?) in the making of this game @_@, and I do not endorse (correct word?) drinking, it's for comedy purpose only] xD, has Dipsophobia, fear of alcohol (Ex- in wine), likes cats.
Leonard is the usual silent-prince type. When given the opportunity, he will happily play the violin so majestically (a pun? xD) that people around him always stop midway in their tracks just to listen. Leonard is the prince to the third most well known family, The Presedeaux´ of the east. He really likes cats (I would TOTALLY imagine him in one of Sebastian's "kitty moments" xD) and normally stays out of trouble, unless he either accidently smelled or drank some alcohol. Can Asami cure him of his (hilariously) weird phobia?
Name:
Luciano Eubreaur
Age:
18
Role:
Prince
Tidbits:
kind yet somewhat smug, one of the sexiest guys alive but very stuck up, kind of has a double personality, likes to be called Luc (say it like Luke), absolutely hates to be stuck in a single place, loves sweets.
Lucia-- er I mean Luc is the prince to the fourth most well know family, the Eubreaur´s of the west. Like it's already been stated, he´s stuck up yet somehow he still manages to be labeled "kind". He really likes to tease Asami due to her being stuck in a school full of guys. His favorite way of annoying her is to call her "manly" like. (As in, flat-chested, mean and rough xD).
Name:
Frederick Percival
Age:
18
Role:
Crown Prince
Tidbits:
Kind, Loving, Compassionate, Romantic, he is the "son" of the current king.
Frederick is a real life representation of what a prince should be, he is perfect in every way, but is very modest and doesn't think highly of himself. He goes to this school without his father's knowledge, since the school his father wants him to go to has more rich snotty kids than any other school. His father wants Frederick to be like him, in other words, to be a good for nothing slob.
Name:
Alexandre Ace Amblour
Age:
19
Role:
Prince
Tidbits:
???
???
Here's the basic design for Kio, Asami and Ren done by Tag-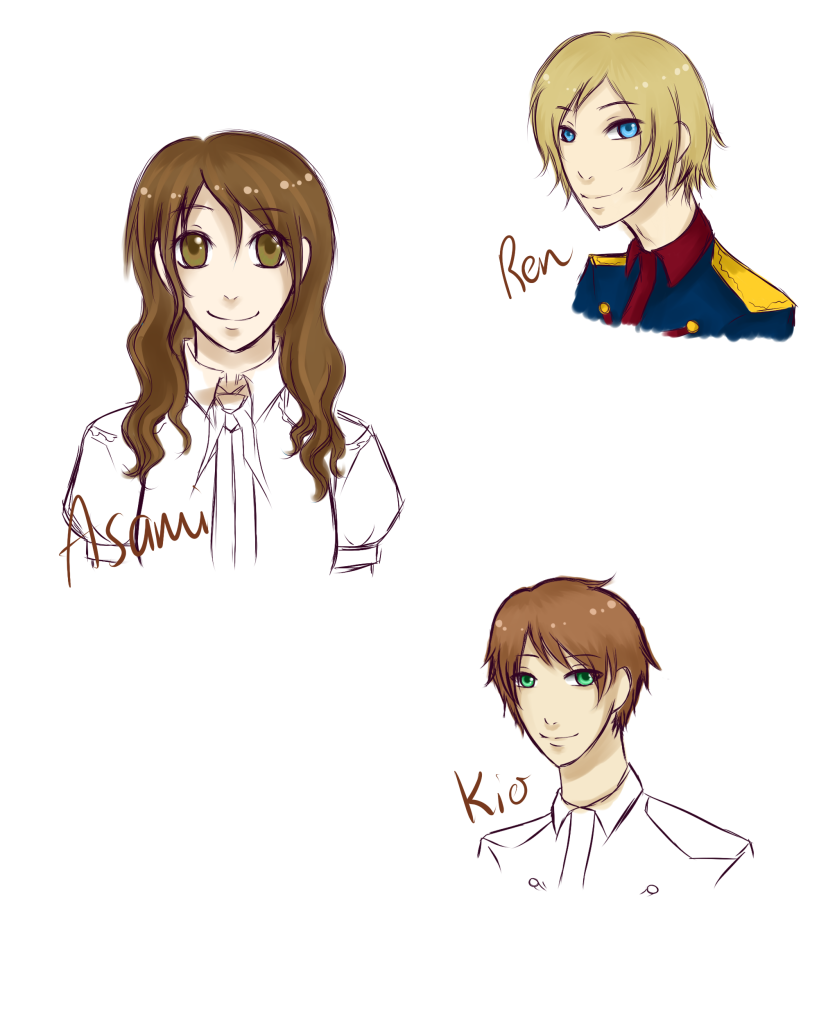 And a WIP of Ren -->
Other Characters:
Andrea Dominitri
(Mom) – Asami´s mom and a love/ romance freak.
Antonio Percival
(Dad) - Asami´s dad and supposed to be king.
Valerio Percival
– Headmaster of the school Asami´s attending. Named the school after his mother´s last name. He is also Antonio's big brother, even though they don't share the same father. That is the reason why he couldn't become king.
Carlsen Percival
– The current king of the kingdom positioned in the center of Emelay. He is very greedy and couldn't care less about the country, he only did it for the money and for all the things he could get. He makes the prime minister take care of all the problems so he doesn't do anything.
Fabiano Eubreaur
– Luc´s little brother in the eighth grade, and loves being around you since he looks up to you as a role model.
Mary Spinet
– Asami´s friend, who works in the school cleaning service, is older by 6 years. She always has some sort of information to give you, be it rumors, about the guys, or rumors about the guys.
Nina Myers
– Asami´s friend number 2, assistant chef in the cafeteria, is older by 5 years. Gives you helpful hints and tips.
Current progress:


Story: ~45%
Script Draft: ~23%
Sprites: ~5%?
CG´s: 0%
Backgrounds: 50%
Music: 25%
The team (so far):
Script, Story, Programming: Me
Sprite Artist:
Tag-