Hello everyone! I had this idea for a while and since now I have a team, I posted to for you GxB lovers to see!
this thread is under construction so it might become a bit messy for a while XD
We made a Development Blog! <3 More updates and yummies here~
(Banner made by Weakjounin)
Title: ~Fairytale~ The Wander's Test
genre: romance, comedy, supernatural, fantasy, action, adventureish..
Rating: Pg 13+, (for mild language, and graphic violence)
Type: GxB Visual Novel
Features:
-4 obtainables (for now still thinking)
-1 true ending
-possibly death ending?
-Speical event CGs!
(more will come once we finalise the storyline :3 )
Announcer:"Gather all Wanders to the main hall for your final test."
Ellena:This is it....My final test to fufill my goal!
Background info:
Welcome to the "Académie de fées", the academy for fairies. Yes we do exist, but different from the stories the humans tell. When a fairy is born they possess an element from nature, Fire,Water, Earth, Light, Dark and Air. Rare faires possess a sub element, (like Water to Ice) which are called "Secondary Users."
At the age of 13 a fairy must enroll to learn how to control their powers for 2 years. They are called "
Fresh Wings
".
The Second stage are called
"Wanders
", learning different ways to use their powers and which type suits them. From here they must pass a physical exam depending on which job they want to study. There are:
-Healers, the ones that aid and heal the injured
-Tooth Fairy (yes srsly) a low grade job, but bring hope to little children by exchanging their teeth for money. (Teeths are considered valuable here)
-Chemist, the ones that mix and make potions. For the intelligent.
-Guardians the protectors of Fairy Land.
If they pass they move on to the "
Senior"
level were they specifically study their prefered job.
UPDATE
Main StoryLine:
Ellena is a strong-headed, determined fairy. This is her second year at Académie de fées, and has the element of Air. She's excited to take the final exam that will fulfill her dream to become a Guardian. Most air users become tooth faires or healers but Ellena knew the Guardian life was for her. The Guardian test usually consist of few physical test which they must pass...But this year was different. This year Ellena is told that each Guardian Wanders were assigned a "helpless human" to protect. They weren't given specific details but all she knew is that they must protect and live with them for 1 month with the supervision of a Senior fairy. 'Easy' she thought until the teacher reminded them the No1. Human Rule "forbbiden to reveal the existence of fairies to humans" (besides the one they were assigned to) ( and also meaning using their powers infront of them etc) or else they'll rip out their fairy wings and be banished forever...
Protagonist: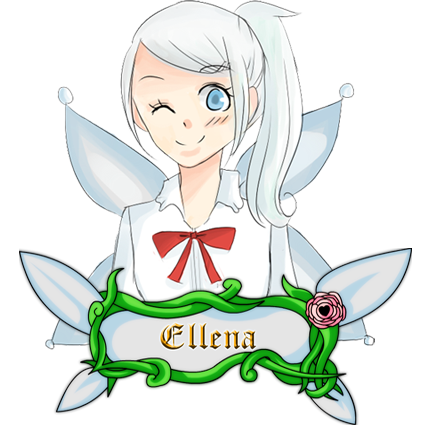 Gender: Female
Age: 16
Speices: Fairy
Element: Air
Stage: Wander
Job: Guardian
Ability: -Whirlwind -Levitate objects using the wind (even people!) -Air Slash
Like in the info, she is known to be a determined girl who hates giving up. She likes practising her powers to her friends, which hurt them sometimes...
Fairies: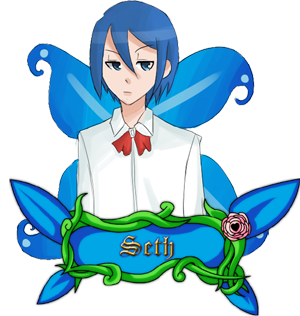 (He was suppose to look cooler....but oh well XD)
obtainable
Age:16
Element:Water
Stage:Wander
Job: Guardian
Ability: -Control water (but cannot create it) -Water Cage -???
(changed his personality a bit)Seth, a quiet guy who hardly speaks unless necessary. He's Ellena's childhood friend and one of her punching bag. He tells white lies to Ellena, and does nearly everything she asks for. His whole family were famous Guardians so he aims to be one too. Despite his looks he loves animals.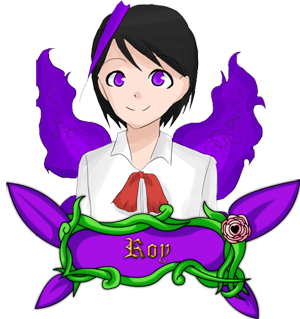 obtainable
Age:16
Element:Dark
Stage: Wander
Job: Tooth Fairy
Ability: ???
Most dark users became guardians or chemist, but Roy enjoy travelling around collecting weird items. He's known to be a shy yet positive boy.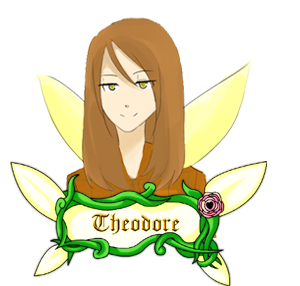 Age:18
Element: Light
Stage: Senior
Job: Guardian
Ability: -Barrier -??? -???
The Guardian Wander's supervisor. He always has a mature expression which attract alot of girls even Ellena. Though rumours spread he is a bit of a womanizer.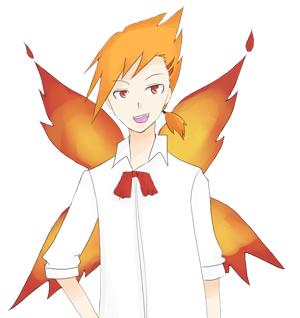 (BOOM DOES HE LOOK BETTER OR WHAT?! XD)
LEWIS
obtainable
Age:16
Element: Fire
Stage: Wander
Job: Guardian
Ability: -Fire Ball -Heat Blast -Fire Sword (he creates a sword made out of FIRE!)
One of Ellena's good friend. He's reliable and has strong leadership skills which makes him a considerable Guardian. Although he can become quiet hot-headed when annoyed (esp when Ellena practises her spells on him).
Age:16
Element: Earth
Stage: Wander
Job: Healer
Ability: -Heal (duh) -Fasten growth of plants
Ellena's closest girlfriend. She's nice and positive which is the reason Ellena likes her the most, although when she sees someone picking flowers or leaves she becomes quiet freaky...
(mayb more coming
)
Humans: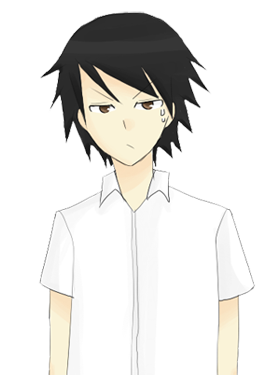 obtainable
Name: Koichiro
Age: 16
Gender: Male
Ellena's assigned Human. When Ellena approaches him that she's his "fairy guardian" he immediately calls her crazy and walks off. Ellena tries to proves it by hanging him upside down (with her magic), but he freaks out and faints. He's a tsunedre at first but once you get to know him he's actually a lonley teenage boy.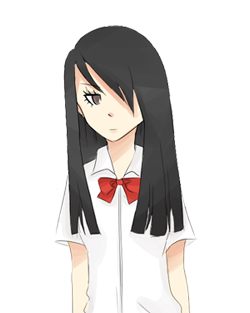 Name: Mia
Age: 16
Gender: Female
Koichiro's mysterious classmate. She's very quiet and always has a cold, dark expression but strangely Koichiro finds her attractive.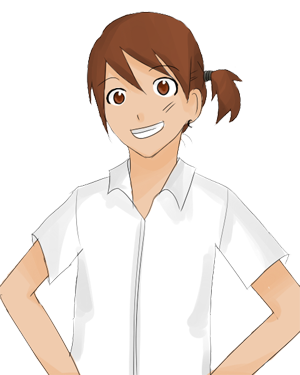 Name: Kiyomaru
Age: 16
Gender: Male
Koichiro's bestfriend. He's loud, positive but cannot distinguish awkward and tense moments. He also loves expressing his "love" towards Koichiro.
(more later?)
Update 24th/10
I decided to put this post this part up now :3
Let me introduce to u to the....
Antagonist
(theres not much drama without them
)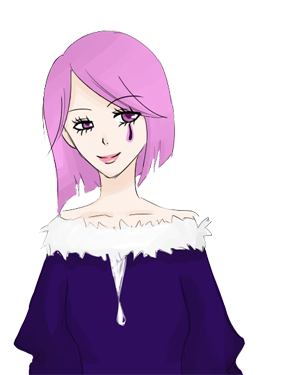 Name:Diana
Age: ???
Gender: Female
Speices: Witch (yes there are witches in here)
Diana the WITCH OF THE WEST, nah I kid. She's a witch who've been digusing herself in herself in the human world for who knows how long...She hired two goons to catch the fairies for an unknown reason...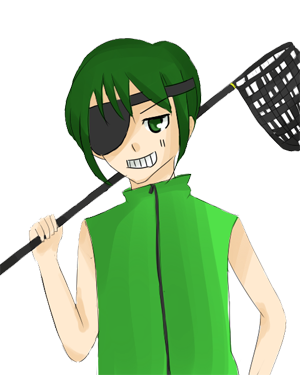 Name:Raymond
Age: 15 ( changed it casue i drew him too young haha, doesn't matter though :3 )
Gender: Male
Speices: Bounty Hunters aka in this game
Fairy Netters
Fairy Netters are bounty hunters who carry Butterfly nets that are able to catch fairies. (the net extends when activated). They aren't popular since they are usually savage low life speices that will do anything for money.
Raymond is an...effective leader of his little fairy netting agency. He's over-confident and a bit slow...But he tries to his fullest ability. He even wears a patch to look "cool".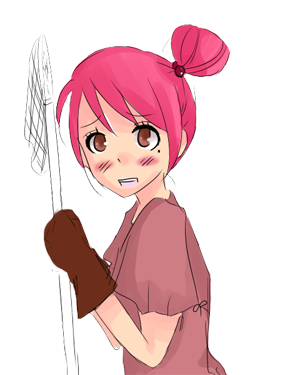 (incomplete)
Name:Loko
Age:15
Gender: Female
Speices: Bounty Hunter
Loko is also a fairy netter, and Raymond's trusty(?) assistant/partner. She's clumsly and get's scared quiet easily, which she end ups doing things without thinking (and stuffing it up most of the time). You can tell she has a thing for Raymond, but he's too slow to figure it out.
MENU SCREEN SHOT UPDATE! <3
NEW NOTICE:
some of the sprites (well most) have been modified so there maybe a few differences from the previous drawings. But they look better, TRUST ME!
NOTICE: release date for the
demo
is...
25TH OF DECEMBERR AKA CHRISTMAS!!
We thought it would be a nice little christmas gift :3
or it might be release earlier depending on how fast we work XD
ENJOY FOR NOW XD
THE TEAM:
Writing- poppyrocks, Weakjounin
Editing- ScottySeng
Art- poppyrocks, Weakjounin
Programming -ScottySeng