[*][/b]Updated Priscilla's portrait
- Feb 01
[/color]
[*][/b]
Blog
updated, as well as the 2 rivals' information and the character' quotes
- Jan 29
[*][/b] German version will be available
- Dec 03
[*][/b]
Blog
updated, a Screenshot of CG Gallery added (in Screenshot section down there) and new logo
- Dec 11
[*][/b] 2 polls are added in the blog. Please give me a hand by voting for the idea(s) that you might be interested. Thanks guys <3
- Dec 07
[*][/b]
Blog
updated <33
- Dec 07
________________________
Hello LSF-ers,
For the past month, I have been working on a little project. I'm seriously new to Ren'Py so I've got some trouble D: I had a random idea about making a Visual Novel based on my country's traditional story, Kaguya-hime (or the Moon Princess). It took me like a month just to finish the main characters design and getting used with Ren'Py >_>, instead of doing my homework D:
I have every intention of seeing this project through to the end, and I want to finish it before the day that Kaguya-hime went back to the Moon according to the original story, so sometime the next summer there will be a final game release. <3
Also, I hope I have included satisfactory information about my characters as well as the story.
And after many redos, this is my final product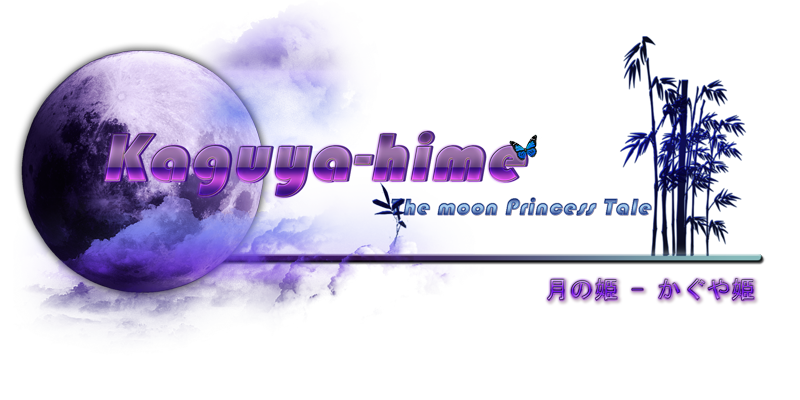 Haunted, being followed, being haunted by your misfortune. Is it such a terrible thing… or, is it destiny's way to carve out the truest path?
Lyric is living in an orphanage when she was still a newborn baby. She's spent her entire life, alone, in an old attic of an orphanage hidden away in a solitary valley. Along with her strange appearance and the fact that any families that adopted her died in some horrific accident after living with her for a short time, she's locked in the world which feels alien to her, a world which she feels she does not belong in, a world where all she has experienced is pain and suffering.
Until one day, the orphanage's calamity comes like a whirlwind, just like any families that adopted Lyric.

LYRIC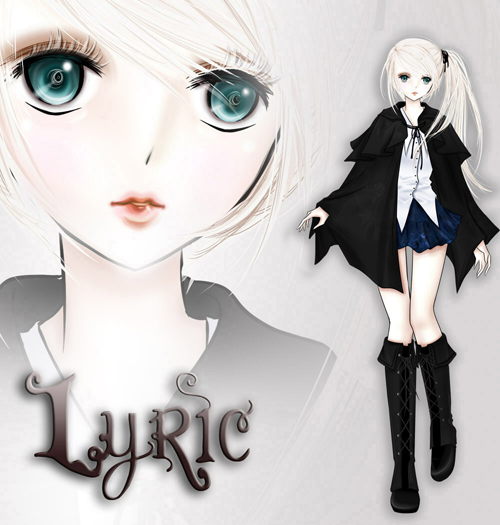 Lyric is the one you'll play as. She doesn't have a last name, since her parents are pretty unknown. She was left by -someone- in the orphanage when she was still a baby.
She is thought of as a cursed child as many and that attitude of people had turned her into a cold-hearted girl. She likes to keep to herself and really hates when people stare at her. She has a sharp tongue and she won't hesitate to say what is on her mind.
The story about her being a cursed child started spreading when people found that all the families who had adopted her had died in horrific accidents, along with her weird appearance.
Now she lives in an orphanage but nothing much change; people still think of her as a cursed child and many tend to ignore her.
Quotes:
"I don't need any help"

"Well, I suppose you can go freeze to death while you're at it."
HEATH SPENCER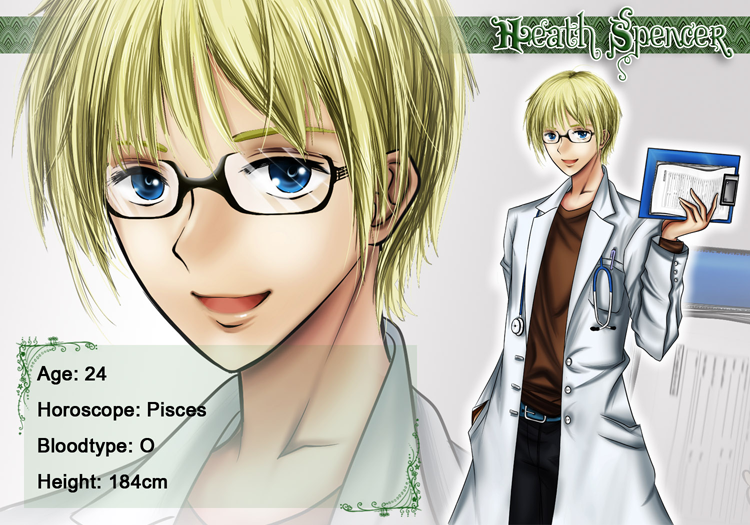 Heath is mature, thoughtful, kind, gentle, very reliable and charming person. Known as the Doctor, he is considered to be very considerate person by everyone. No one has ever seen him losing his temper, and people think of him as someone who they can depend upon. He is a very organized person and is the only working person in the family of two. He is currently in a relationship.
Likes: Cooking, Reading, Cleaning, Taking care of others, enjoying Mother Nature
Dislikes: —
Quotes:
"Are you sure you're all right? I don't want to let you go, knowing that you're sick. That'd make me feel bad."

"Don't worry. I'll have it handled."

"Don't you love this weather? I think it's perfect in the springtime."
ZEPHYR SPENCER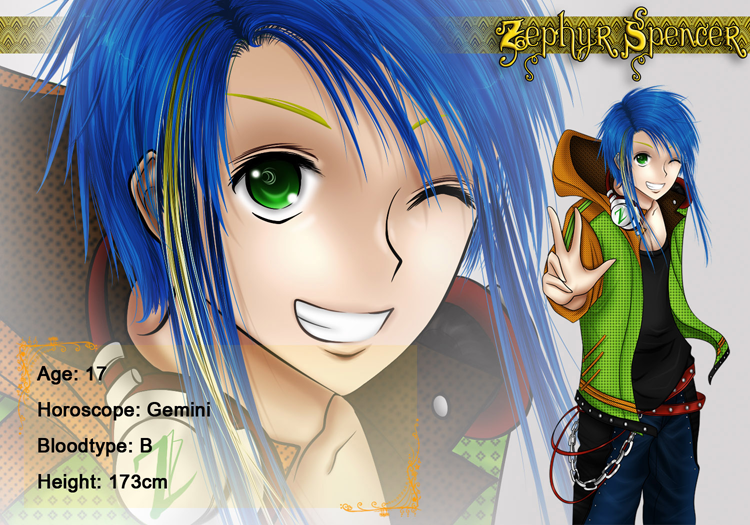 His older brother's polar opposite. Zephyr dyed his hair to blue and even changed his name. Funny and outgoing, he is like a clown who likes to make everyone around him laugh. He loves dancing with a passion and would have been more loved then his brother, if not for his rebellious and notorious attitude.
He is a member of a street dancing group, and also likes bike racing. The only thing he love more than dancing and riding his bike, is his brother, who he cherish beyond anything.
Likes: Dancing, Motorbike racing, Teasing, Games
Dislikes: Onions, Cheaters
Quotes:
"That was cool, right, Lyric? You should have seen me earlier."

"Man, I'm hungry.." *stomach rumbles* "Whoa, Lyric! Your stomach is so loud!"

"Try and make me."
LEON DEVEREAUX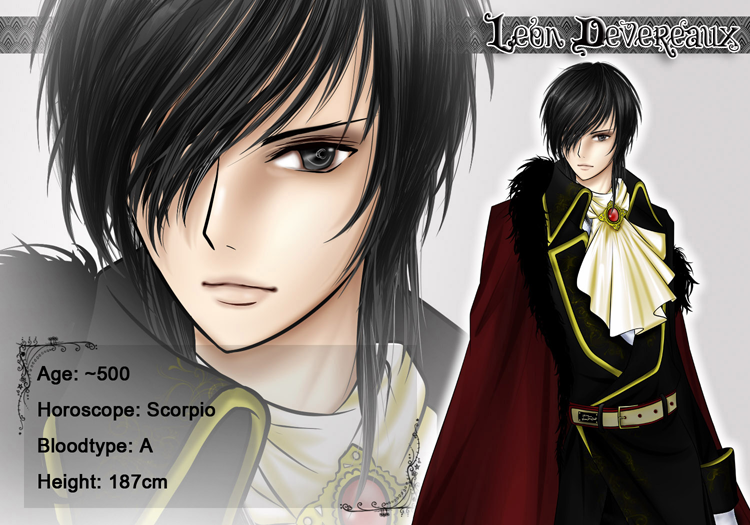 Leon is a wealthy noble, who seems to live a life similar to Lyric. But unlike Lyric, he had accepted it and molded himself perfectly. There's a rumors that he has been living alone for a several hundred years, without eating anything. The only thing he prefers to taste is wines, especially red wines such as Bordeaux.
He doesn't seems like a chatty type, but extremely private and likes to keep to himself, until and unless it is necessary for him to mingle with others. By those who don't know him very well, he could probably be seen as a hard-ass – severe. The only thing he likes to do, except sitting alone and drinking, is playing violin.
Likes: Music, Wines, Children, Solitude
Dislikes: Cacophony, Thugs (Bully), Being babysit, Fighting, Rules
Quotes:
"Why are you here?"

"Are you done? Please show yourself out of the door and don't forget to close it."

"There's no need to panic. Any person with his wits about him or her could keep calm. I can see that's not the same for you."
SIFAL FARAJ
Sifal is an Arabic king who has many fans, is considered to be a lady-killer and very popular. Despite his age, Sifal is a great ruler. On the other hand, when it comes to ladies, he is hardly ever shy. He's quite romantic, is the one always smiling at women and opening doors, exchanging gestures, and having small talk.
Generally, he is competitive, picky, prideful, and believes he's above everybody else, also never admits defeat. As a wealthy king, he has everything he wants, and does everything he wants which makes him kind of selfish and overprotective. Also, he dearly loves jewels, especially pearls and enjoys eating them which is totally weird. He often related things to jewels while talking.
Likes: Jewels, Ladies
Dislikes: Defeat
Quotes:
"Womanizer? I take that as a compliment, little Pearl."

"Do you know Kral, the only thing I like better than these pearls is Lyric; she looks as if many a great pearls were used to mould her body."

"Ah, madam, you look positively radiant today. May I take your coat?"
EMILY HALE
Heath's girlfriend. She has a 23 years old little brother. Although she's the daughter of military commander, Emily is shy, feminine, naïve, serene and very fragile. She does everything slowly, carefully as if everything would break if she makes one wrong step. She doesn't like wearing revealing clothes and always treat everyone with respect. She is almost like Heath in a woman body and everyone thinks that Heath and Emily are a match made in heaven.
She seems always pleased with her current life.
Likes: Classical music, flowers, Heath's dishes
Dislikes: Insects and frogs, sweets, fight, war, rude peoples, wines
Quotes:
"Oh, thank you. This is absolutely lovely."

"That's a stovetop? I never knew what it looked like before… I'm intrigued to see more of what's in the kitchen."
PRISCILLA FERRELL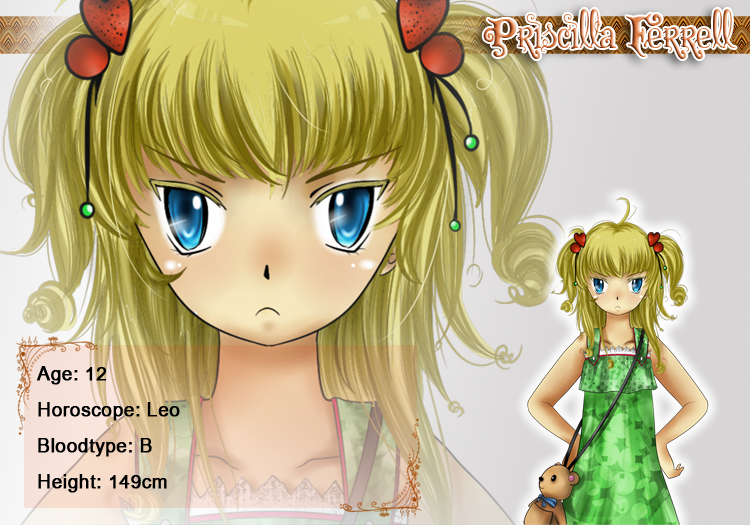 The only daughter of the president. Like the leader of the country, she exhibits impeccable bravery, frankness, superiority and sovereignty. Priscilla has the strength to take command of any situation and her presence in a room commands respect and attention. But again, she's quite egotistical and it's quite easy to flatter and take advantage of her. Priscilla is headstrong and her parents constant fawning has spoiled her. However, sometime, she can be very generous towards other. Only people who make her feel safe and reliable see her extremely cute side.
She is possessive by nature for everything she likes, especially Sifal. She believes that what she feels for her husband-to-be is love. He's like a bright shiny toy for her and she hates Lyric from the first day she saw her.
Likes: Sifal, compliment, being pampered, chocolate, butterflies
Dislikes: Any girl who stays near Sifal, chili sauce, tea
Quotes:
"Why don't you just leave already?"

"Sifal? He's mine, sorry. Wait, I take that back. I'm not very sorry at all."
[*][/b] CG Gallery for each characters
[*][/b] Shopping mall - Lyric's clothes are changeable
[*][/b] 8 endings so far
[*][/b] Characters are voiced
[*][/b] Each character has their own music theme
[*][/b] German version
[*][/b] [/color]
>>> Official blog <<<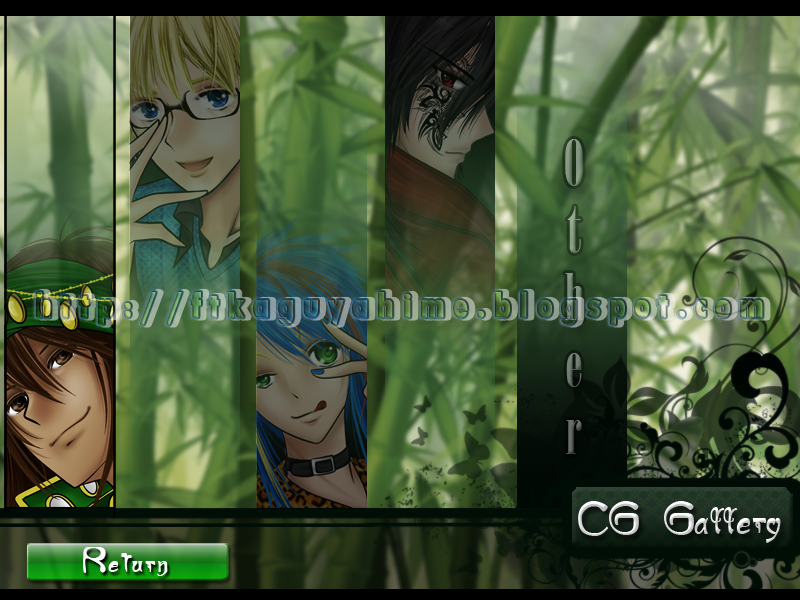 [*] Spriter:[/b]
Rin
[*] CG Artist:[/b]
Rin
[*] Writer:[/b] GameForge
[*] Screenplay writer:[/b]
Rin
,
Maltagliati
[*] Programmer:[/b] GameForge
[*] Composer:[/b]
Kindred87
[*] GUI:[/b]
Miyoshi
, GameForge
[*] GUI Artist:[/b]
Rin
I hope you enjoy what i've made so far. I'll keep updating the thread, hope you'd stop by somehow :3
Also I would be very grateful to have your feedback/comment/advice.
Thank a lot~