:___; I post this on another board...
So after many failures, I decided to make something serious(With serious I mean a proyect that I will actually finish)
This little VN is based on some old story of mine...A little tale of love I guess
The hurtful wall
Specs:
Genre:
Romance/mystery/suspence
Licensce:
Free
Rate:
+14
Lenght:
6 chapters
Endings:
Right now I have only two planned..But Im thinking to add at least one more
Current status:
-Finished chapter 03/06
-Scripted 04/06
Demo:
Grab it here(till chap 03/06)
The story is about a girl named Lois who realizes how solitary could be her life at her 17 years old.
Her foster mother, Rebecca is always busy working out of town so Lois had to learn how to take care of herself thourgh years.
One day, after another ususesful encounter with Rebecca, Lois started to hear screams and seen things that are out of normal.
She thinks that being alone all that time has started to make effect on her brain...But all her fears will grow bigger when one of the
walls of her house starts to speak to her, adressing itself as "Canaan".
Characters:
Lois:
age:17
Adopted by the age of 8, Lois is a lone and somehow, independent child.
Supposed to live with her foster mother Rebecca, which is always out of town working.
With this workaholic mom..Lois managed to repress lonelyness when she reads books.Specially the ones who are sci fi.
Has two good friends, Elsa and Amy...She spents most of her school life with them.
Lois look is kind of tomboyish...She is mistaken many times for a boy(she is very flat also)
Has no interest on boys and love stories makes her anxious
Canaan
The speaking wall...Has confesed that its actually a "he"
There s much hate on his words and tries always to harm Lois in some way
He seems to be trapped on the wall..Not behind of it or inside--actually he says he got no body
His own memories seems to be so confusing for him that its always pissed off
Since there s no one else to blame..He decided that he would start hating Lois
Other characters--soon!
I will post a demo of the chapter one when I finish it...I only have some screens to show ;__;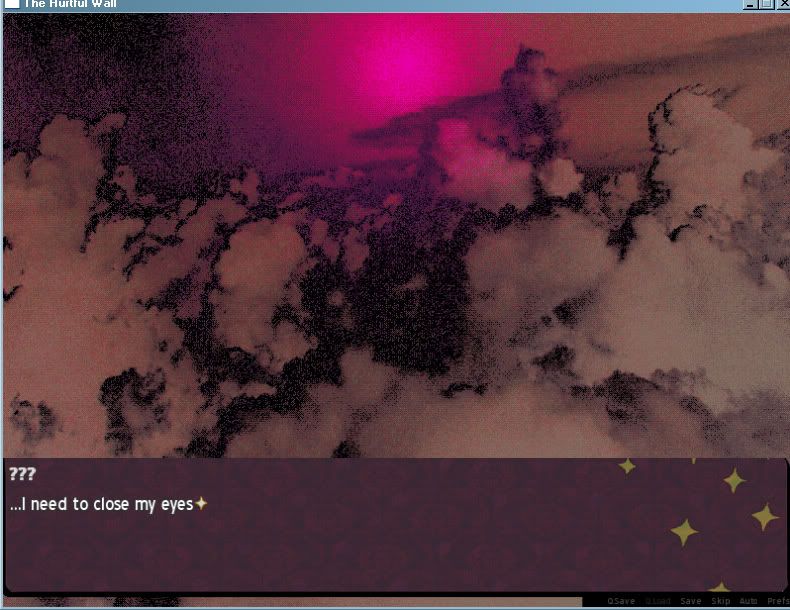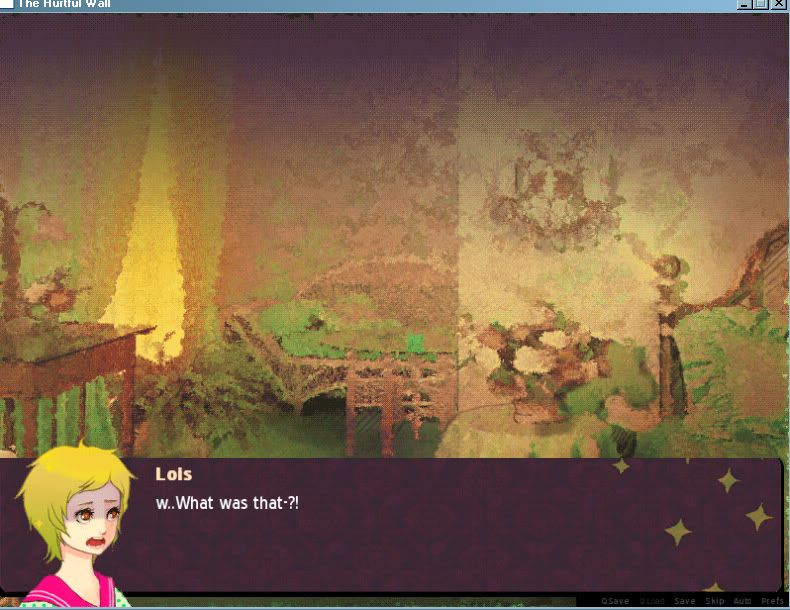 The art looks kind of trashie..Im saving everything with web snap..I like how it looks...Maybe because It makes me kind of nostalgic(Most of the games I played on my childhood were very color restricted)Also shame on me..I cant draw a proper bg...
Btw My mother tongue is spanish..So my english is kind of crappy...I think I would have to request beta testers haha..orz