Hey all! Yeah it seemed like I abandoned this game but that's not true!! I'm re-drawing like the sprites 5 billion times, and I think I finally got it (Yeah!~). Hopefully I can start programming this story soon.
Oh yeah took off the otome part since its not really a dating lovey dovey kind of game.
#Another update, I decided to change their ages, seemed a bit too young for a murder mystery game
5/05/12
(story still under construction)
Title: Moonlight Spotlight ~A Full Moon~ [title for now]
Genre: Supernatural, mystery, thriller, hint of romance?
Rating: Prob ages 15+ for mild violence.
Platform: PC, Visual Novel. [Free]
Plot: After a traumatic event, Mizuki has gained the strange ability to communicate with ghost and dream weird and unexplained events. She also has her very own clingy ghost calling himself Junior, as he does not recall his past memories. She of course doesn't reveal this to anyone, unless she wanted to be named the geek freak. But when a strange and mysterious man enters her life weird situations start to occur. Things get busier when the school bully/gangster coincidentally finds out her strange ability while he was beating up a student. To top it off a school girl in a year below Mizuki suicides in the science lab, but the girl's ghost tells Mizuki otherwise.
Protagonist-
Mizuki Sato
Gender: Female
Age: 16
Due to her ability she has turned into a quiet, secretive, cautious and somewhat mysterious high school girl. She doesn't express her feelings and emotions that well which make it hard for others to befriend her. The only thing she remembers on the day of her traumatic event was the full moon shinning brightly revealing a mysterious tattoo shaped of a butterfly. She mostly likes being alone in a peaceful quiet place with no one alive or dead.
Characters-
Junior
Gender: Male
Age: ??? Looks 15-17
Junior first met Mizuki when he found her crying alone whens in 8th grade. Her familiarity with ghost intrigued Junior and became attached to her quiet easily. He's pretty cheerful but immature for his look, and becomes quiet annoying for Mizuki's personality. His main reason for his attachment to Mizuki is to find out how and when he died.
Katsuro Higo
Gender: Male
Age: 16
One of the school's bully and well known gangster. He has an aggressive and hot-headed temper making others fear him. Rumors say he's the devil's son and has no mercy to anyone. Him and Mizuki had no relationship whatsoever until he finds out her ability...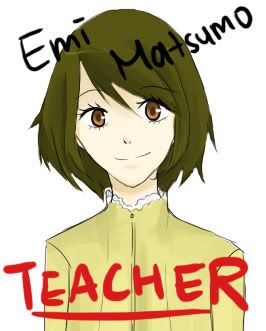 Emi Matsumo
Gender: Female
Age: 24
Mizuki's rookie homeroom teacher. She's famous for her caring and kind personality, but is also clumsly and has a hard time trying to control the class. Apparently she's a hopeless romantic person, and does not stay in a relationship for long.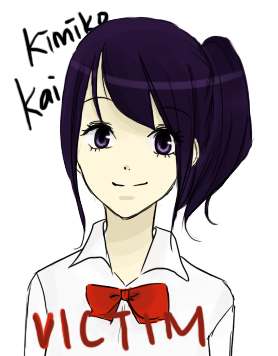 Kimiko Kai
Gender: Female
Age: 15
The girl that committed suicide in the sicence lab. Friends say she was a popular and smart girl in her year. She had a passion to become a vet and loved baseball. Her ghost appears infront of Mizuki the next day of her death, saying it was a murder. Although she cannot remember the recent events well, she does have small clues and flashbacks.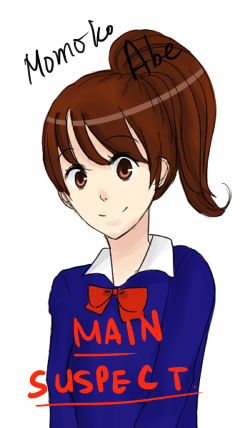 Momoko Abe
Gender: Female
Age: 15
Kimiko's bestfriend. She was always seen with Kimiko at school smiling. After Kimiko's death it is heard she weeps and mourns for Kimiko's death greatly. She has the dream to become a famous novel writer. She's the main suspect as she was the last person that was with Kimiko.
Tadao Tanaka
Gender: Male
Age:16
Kimiko's supposedly boyfriend and Katsuro's bestfriend. He says they were going out for 2 years and very much in love. Although an anonymous tipper had told the police they saw Kimiko slap Tadao's face on the day of her death, making him a suspect too. He loves baseball and is said to be quiet a wealthy boy.
Rika Miyake
Gender: Female
Age: 15
Kimiko's rival and enemy. Rika was also a popular and smart girl that have been fighting with Kimiko since childhood. They were always seen fighting and arguing about stupid matters. Rumors say she wanted to steal Tadao for herself. She's known to be quiet demanding and bossy but has an excellent talent for acting. Another possible suspect.
Jay
Code: Select all
Gender: Male
Aged: 24
The highly respected detective in town. He's well known for his brilliance in solving crimes and his cold, workaholic attitude. He also believes Kimiko's death was not a suicide but a murder. When he meets Mizuki, he notes he has seen her before but cannot remember when. Her mysterious tension makes her suspicious for him. 

???
Gender: Male
Age: Looks 25-30
The mysterious and silent man that appeared out of nowhere. After his appearance strange things occur around Mizuki. She feels a dark and chilly atmosphere around him making her feel uncomfortable when she sees him. Junior does not find him safe to be with either. 

#Well thats for now! I will upload more info if I think of more, and def the art will be up soon too :)
# There will be ONE true ending which you can unlock after all the other minor endings.