Romantic comedy, slice of life with a little bit of drama and lots of fluffiness... Maybe.
Gamelicious! is made with the goal in mind to be an otome stats raising dating sim.
Possibly a P3P clone
Basic Plot
Ratana is a young international nursing student from Thailand studying in the UK. Her reasons for choosing UK over any other countries - fast internet speed... And that the upcoming annual 'Elemant Kraft Online' (EKO) championship is to be held there. At least, on the surface it seems so.
Help the gamer geek of a nursing student to balance between her academic, gaming and social life while being slapped by culture shock every once in a while!
Characters
Ratana Sangprateep รัตนา แสงประธีป
Nationality - Thai
Age - 19
Course - BSc (Hons) in Nursing (First year)
Traits - Totally in love with EKO and proud of her skill; loves extra spicy food; lack of proper fashion sense
EKO Element - Fire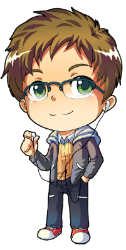 Viktor Schmidt
Age - 22
Course - Bar Professional Training Course (BPTC)
Traits - Champion of EKO for 3 consecutive years; Shy; 3-rd dan in Kendo; Always with his mp3 player and earphones in his ears
EKO Element - Metal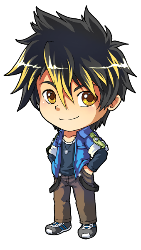 Seo Young Jae 서용재
Age - 19
Course - Masters in Business Administration (MBA)
Traits - Rich, popular, athletic and good looking - that makes him a playboy by default; extremely sociable and friendly; musically talented, but can't sing; unskilled gamer
EKO Element - Wood
Fergal Duran
Age - 23
Course - D. Phil in Astrophysics
Traits - Tall; Quiet; Very smart, almost at a genius level; Sarcastic and blunt when actually talking; Mysterious
EKO Element - Water
Fergus Duran
Age - 23
Course - nil
Traits - ???
EKO Element - Earth
Features
that will hopefully still be there after completion
1. Nursing skills related mini games
You are free to throw stones at me and tell me it's gonna be a waste of time and no one wants to play mini games, much less nursing skills related ones xD I will seriously consider not putting them in lol
2. Characters with depth
We hope that players can actually like the characters as a believable person rather than 'OMG! He's such a hot 2D bishie and I wanna finish his route so I can collect all the CGs even though he seems like a jerk/generic shoujo anime hero/douche bag/someone I know nothing about'
3. A game in a game!
EKO! It's the most popular strategy based online game in the world of Gamelicious! and you get to play it too! For those who absolutely refused to play it... There's a Konami code to ace it without playing it, but you gotta find it

or bribe someone in the team for it =D
4... Will list more down when they've been confirmed
Element Kraft Online
Features the cutest, most vicious generals you'll ever see in the world of MMO! (Well, at least in Gamelicious!)
Sneak peek

Boo!
Credits
Updated 6 Feb 2012
Story - Nellie; Azurextwilight
Concept and CG Arts - Nellie; Esther 'Sasuya' Nho; Daphne
Background - Miscellaneous image packs bought from dlsite; (hiring, please PM for details)
Graphics - Nellie; Hanzo Kimura; Eddie
Coding - Esther 'Sasuya' Nho; Aleema
Music - Ittou; Nellie; Vocaloids
You are
free/
welcomed
/encouraged/begged/forced
to comment and give feedback/suggestions on anything and everything!
Except for my command of English...
=D I will be asking questions now and then to help on improving the game.
Cookies for anyone who can guess the nationality of the guys - should be fairly obvious as they all have common surnames from their respective countries
=Update 10/02/2012=
We'll have a semi-animated opening with GUMI voicing the opening song! Also possibly full track of custom composed BGMs, and 3 special theme for the ending with each of the guy - with vocal!
We'll also be giving away free bookmarks at London Anime Convention this week! If you are in London and attending the LAC, do drop by Animepang (upstairs) and grab yourself some cute bookmarks! =D
=Update 11/02/2012=
Coloured title screen! Hope you like it! Will start posting questions soon to do a survey of how the final version of the game will be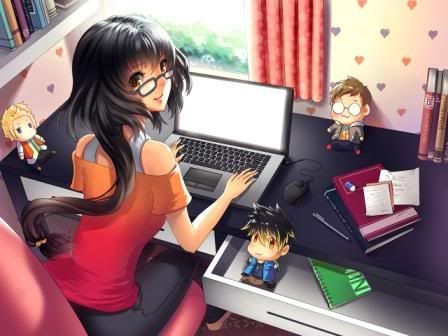 =Update 12/02/2012=
Intro song first draft, without the vocals and before mastering. Some instruments will be modified and added, but the general melody and feel is there. Please comment! Thanks! =D
http://dl.dropbox.com/u/30019928/Gameli ... %200.5.mp3
=Update 19/02/2012=
Please like our facebook page for immediate updates.... Also just to support us xD Thanks!!
http://www.facebook.com/pages/Gamelicio ... 4858424207
=Update 31/07/2012=
Looking/Hiring level designer to help with EKO battle system! Need to determine stats/cost of each mobs (around 30 in total), as well as EXP and leveling up balancing
Please note me if interested!
Also looking for potential beta testers - interested to have on board 1. otome fans and/or 2. RTS fans (not too hardcore ones please xD)