My first real game (the two first were for testing *cough*)
It will be an GxB VN...I don't know yet how long - still working on the main plot.
Suggestions and Critic are welcome
- and if you want to help me doing this PM me <3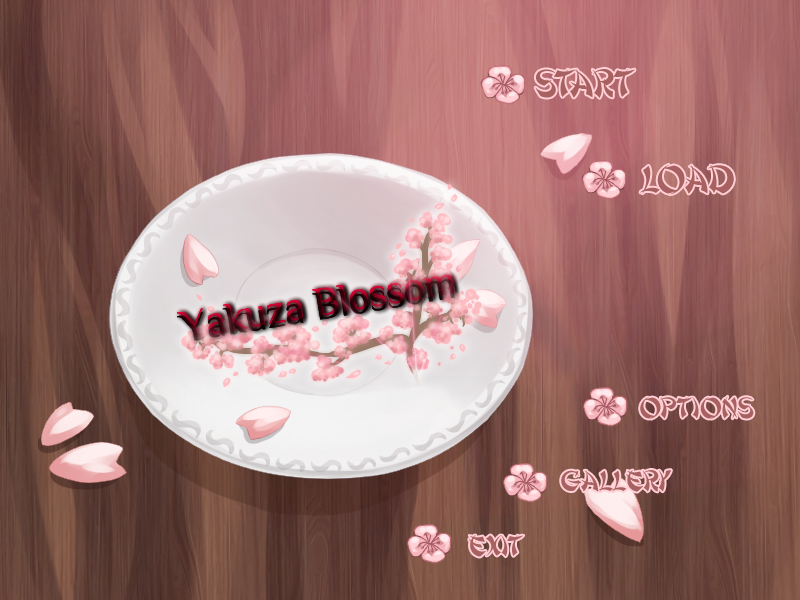 Hiromi and Airi are best friends and freshmen at Minamo Gakuen, one of many public High Schools in Tokyo. Those two expected a peaceful, ordinary schoolife until they found out the truth: The School is dominated by one of the students! Well, basically they still have a principal, but the rules for the students are a little different.
The strongest student becomes 'the King' of the school and everybody, who has enough confident in his fighting abilities has the right to challenge the current ruler to have a chance on becoming the next King -> of course only when he wins.
There is just one problem: the current king is pretty dangerous and no other student had enough guts to challenge him for two years.

Hiromi always tries to stay out of any trouble, being the cute and harmless girl, while Airi shouts at everybody who tries to insult her. With both being totally different from each other and Airi defending Hiromi as if she was her lover, they soon get attention from a lot of different characters.

Soon, they find themselves involved with a troublesome, immature street gang, the police

and hackers...and the Yakuza. The ordinary and peaceful life is forgotton and the new everyday life full of chaos, trouble, friendship and love has just begun.
note: I put a name of a color behind a description for example: "has blue eyes (Cyan)" Just so anybody could imagine the color. I got the colors from
The Wiki color list
MC's
~~in the beginning, you have to choose between two characters~~
Hiromi Sato ~//~ female, 16 y.
sweet /cute, slightly naive, pure hearted, loyal, lively, fragile, girly
Appearance: brown-reddish hair (Maroon), shoulder long with two small braids from her front hair to the back, hazel eyes (cinnamon), 1.60m, pretty girly slim, healthy pinky skin color.
Born in a aristocratic family, Hiromi is the heir of a international company, producing the most popular perfumes in Asia and America. As neighbour from Airi when they were kids, they always played together, attending a private school for 'talented (rich) kids'.
---
Airi Ichikawa ~//~ female, 16 y.
tomboy-ish, has a strong sense of justice, sharp tongue, agile, rebellious, bossy, cheeky
Appearance: long dark blue hair (Royal azure), is always wearing a Ponytail, a few hair strands looking out, slightly covering her ears and cheeks, dark emerald green eyes, 1,67m, sporty figure,
Also born in a rich family, whose parents were famous and well-respected professors. With DNA research as their main project, they had an own laboratory in the house.
After a critical mistake, the instruments exploded causing the whole house to burn down. Luckily Airi wasn't there but still losing her parents and home at the age of 7 (only left with the family butler Mario), she left to live with her relatives in a Temple in a calmer district of Tokyo.
She and Hiromi made a promise, that they always stay together... Airi became her 'Prince Charming' because she always protected her.
---
Obtainable Guys
Junnichi Kouno ~//~ male, 18 y.
cold-ish calm, very silent and indifferent, easily annoyed, strong and agile, sadistic, sarcastic
Appearance: very dark blue/green hair (Midnight green), deep red/violet eyes (Dark Scarlet), 1,80m, broad manly shoulders, sporty, having always a cold and indifferent expression
Junn isn't just an ordinary High School Student. He is the current 'King' of all students - claiming it after defeating the previous one in a fight. And also, he isn't just an ordinary boy. He is the son of the most famous man in the japanese underground scene - Masahiro Kouno, Yakuza Boss of Tokyo, and a very high member of the japanese Yakuza 'society'. As his heir, Junn learnt a lot about manupulating, tricking, cheating and even killing people. Everybody in his school knows that he belongs in there but he is admired and loved by girls and boys - while the teachers are scared of his father.
Having a small group gathered around him, he rules over the Schoolyard.
---
Izumi Oono ~//~ male, 19 y.
-- ~
only obtainable for Airi
~
flirty, arrogant, short-tempered, rebellious, loyal to people he repects, egoistic, caring, sadistic, strong, a leader-type, childish at times
Appearance: longer, wild looking black hair (Onyx), yellow-orange eyes (Amber), wearing his uniform in a sloppy/casual way (no necktie, the first buttons open, the sleeves always rolled up), broad shoulders, a little darker skin color (like people from west-japan or latin american), wearing two silver earings in one ear (example: Zero from Vampire Knight because I can't explain it good xD sry)
This guy doesn't attend the same school as the other three and still they're connected. As the leader of a street gang, he heard of the 'King' Junn. Wanting to be the strongest High Schooler (Or MAN as he always says), he always comes to Minamo Gakuen to challenge Junn, getting pissed when the green haired guy doesn't even react on his somewhat childish behaviour.
He loves to tease Airi in a very mean / challenging way...and also having some kind of history with her, what she seems to have forgotten while he remembers everything.
---
Yoshio Takeuchi ~//~ male, 16 y.
-- ~
only obtainable for Hiromi
~
a brat!, childish, short-tempered, sharp, pugnacious, blushes fast, sportive, joyful, annyoing, needs a lot of attention, lazy
Appearance: short blue hair (Royal azure), blue eyes (Cyan), wears his uniform very neat while his other clothes look more casual, looks more fragile then he is in reality
Yoshio is Airi's cousin and the son of a Shaolin Master. Together with a relatively big family, he lives in an old traditional looking house, right next to the family temple - built and owned over 5 generations now. The rebellious teenager isn't really interested in family tradition or the martial arts coming from it, thats why he looks so slender and fragile, there is just one thing: He is stronger than many other guys, he is just lazy.
Even though he and Airi often act indifferent and mean they really care deeply for one another. Yoshi has secretly a crush on Hiromi since they're kids.
---
Tsuneo Kobayashi ~//~ male, 17 y.
weird, hyperactive, outsider, anime freak, sportive, unsocial, funny, caring and loyal, geniusly intelligent
Appearance: slim, pepping his uniform with a black hoodie-vest over his shirt, a black tie with skulls and neon-yellow/ grey vans, shoulder long blond hair (Aureolin) always 'forming' it with an alice band to the back (kinda looking like a lion xD), having pink reddish (Cherry) strands of hair, tribal star tattoos from his back of the right hand in a spiral along his arm to his elbow
Tsuneo has always been an outsider since Middelschool, the reason for that might be his own view of the world. Totally in love with tech crap and online games his true home is Akihabara, the paradise of Otakus and Nerd Freaks...and he is both. His room is full of anime posters, having a computer with at least 3 screens, a laptop and a notebook. He is a born hacker, cracking school computers etc. Tsu is a weird and somewhat unsocial guy, but opens up really fast and shows everybody his world.
Team:
Writer (Story):
ShadowBerry
Writer (Characterdesign):
ShadowBerry
Little helper:
JDB17
Artist (Sprites):
Maltagliati
Artist (CGs):
Naomi
Artist (BG):
none yet
Composer:
Ziassan
Programmer:
zorexx
Proofreader/ Editer:
Kyonko802
-------------~~------------