---------------------------------------------------------------
Ophelia has become hooked on dating games, especially otomes. Having felt like she's played every otome available to her, the 20 year old science student decides to make her own otome game. She enlists the help of her friends to draw 'inspiration' upon, each one with a unique character trait often seen in dating games. But as she goes on 'mock dates' and tries to illustrate her friends as 'date-able' material for a fictional game... will she find that her own life is just like an otome?
-------- ☆ --------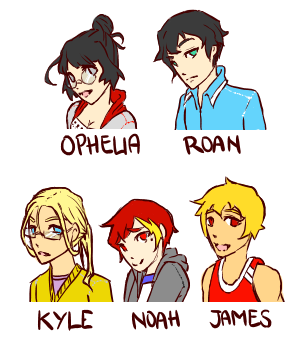 These are just first draft designs
I might change the way James looks later...
I'm quite happy with the others though =]
Characters:
Ophelia:
(20 years old) Female
DoB: 17th of June
Roan:
(22 years old) Male
DoB: ?
Type: The mysterious locked character
Info: Unknown
Noah:
(20 years old) Male
DoB: 1st of June
Type: The shy male housewife
Info: Noah is Ophelia's childhood friend, he loves to cook and clean and do other housewifely activities. Because of this all the other characters are always making fun of him, but never with serious malice. He is a bit of a push over and feels the need to ask for permission when doing simple tasks, even after he has already done them.
Excerpt:
Roan: "We're cooking, well... Noah's cooking, I'm really just eating when he's not looking."
Ophelia: "Haha, that's believable. What are you guys making?"
Noah: "We're making spinach and mushroom penne with chilli cream cheese. Oh wait... that's only if you want to eat it of course. I mean... if you want something else I can always make something else."
Ophelia: "But it looks like you're nearly done..."
Noah: "Yes but... we should have considered what you wanted to eat first! I mean... I just came over with a bag of ingredients and started cooking without even considering if you may have wanted something else, like curry, or soup, or Mexican! I'm sorry I wasn't thinking!"
Ophelia: "Noah... Just shut up and make the damn pasta."
James:
(21 years old) Male
DoB: 8th August
Type: The athletic health freak
Info: James is a guy Ophelia met two years ago at one of her favourite juice bars. The two started talking and eventually became friends. Unlike Ophelia and Kyle, James has never played a video game in his life. He much prefers the adrenaline of chasing around a ball in a court to sitting on a chair pressing buttons.
Excerpt:
Ophelia: "I'm making an otome and I'd like your help."
James: "An otome? What's that?"
Ophelia: "It's a game."
James: "Like a... here's-a-ball-now-go-chase-after-it game? Or a I'm-going-to-sit-on-my-fat-ass-for-the-next-10-hours-pressing-buttons-and-peeing-into-a-bottle kind of game?"
Kyle:
(21 years old) Male
DoB: 25th of May
Type: The nerdy geek, or as Ophelia likes to call him, the Nerky
Info: Kyle and Ophelia met in university, he is a little anti-social and doesn't talk to many people who don't have the same interests as him. Around unfamiliar people he comes off as cold and unapproachable, but around Ophelia he acts like an encyclopaedia, regurgitating as much knowledge as he can until she begs him to shut up.
Excerpt:
TBA
-------- ☆ ------- - - ------- ☆ --------
Progress:
Story:
50%
Script:
2%
Character art:
Ophelia: 5%
Roan: 2%
Noah: 0%
James: 0%
Kyle: 0%
Background art:
0%
Music:
0%