EDIT: Sorry for the extremely long wait for news on this project. Long story short, stuff happens. My interest in this project is renewed recently, though-- I'll try to keep this updated with any news/new developments.

I'm a large fan of the Prince of Tennis anime/manga, so, I thought it would be a great project and learning experience to work on a dating sim for it. I'm still learning to code for it, so, most of the progress is/will be just tests/experiments for awhile.
The story isn't set in stone quite yet. I want to be comfortable coding everything first before I flesh out the details.
I'll try to update my progress every now and then. Here's what I've done so far--
Most recent screencap: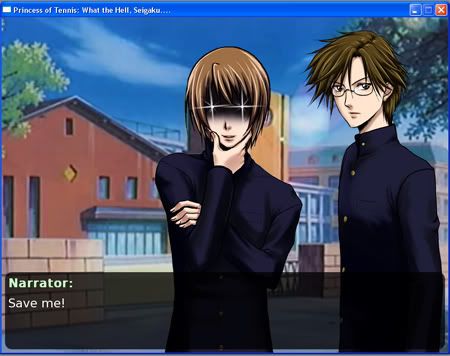 The characters actually have looping animations (of blinking and scary eyes) in the game. :"D
Character Expression Sets (in animated gif form):