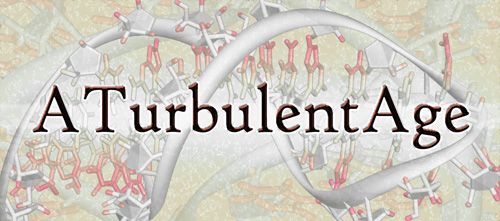 A Turbulent Age (working title -- suggestions welcome)
Length: estimated 80k words
Last Update 04/24/13
Story
:
Emery is a very bright American high school girl in 2035 who is more than occupied with the struggles of adolescence. But it seems that scary things are going on in the world. The news seems to be filled with politics, corruption, and terrorists making nasty bacteria in their basement. But things take a turn for the worse when someone unleashes a new form of the deadly rabies virus. And it's contagious. Unsatisfied with being a mere, helpless kid, she creates a group of four other teenagers determined to research and cure the outbreak that threatens to destroy their lives.*
*Don't let the optimistic summary fool you. This summary represents Emery's point of view; the story is told through her eyes. However, there is quite a bit she will learn about the world, about power, and about science. Even the "new rabies" is not what it seems to be.
Characters
:
Emery:
A determined sophomore who would have liked to be a normal teenage girl. Alas, that is not to be. She has decided to change the world... while she is also figuring out who she is, what kind of people she likes to be friends with, and how not to fall asleep in class when her biological clock is not on the same schedule as the school. She comes from an educated family -- hey, her father is biologist, so this'll be no sweat, right? She considers herself in a good position to achieve her goals.
Ray
: A cynical sophomore. He sees many flaws in the world, and it seems to him that most people are stupid, fake, or both. This results in a lot of BS in the world, and he hates BS. He likes to look like the rebellious type and push people's buttons. Often this pushes people away, but that is not his goal. Rather, he has some amount of hope that in showing some people their weaknesses, they will learn to be better.
Matt
: Ray's older brother, a 19-year-old genius who is already a grad student in college. (His field is TBD, but it's something like biochemistry, microbiology, immunology, etc.) He is, however, very stressed out and quite fed up with the expectations everyone else seems to have of him. He's frustrated with people who are not as smart (and don't seem to understand "simple" concepts) but at the same time envies them for not having his responsibilities.
Chase
: An energetic sophomore who reinvented himself over the summer and is full of enthusiasm at the beginning of the year. When Emery recruits him, he is not sure if he has anything to contribute, but he is very optimistic about the whole thing and loves the idea of being part of it. He feels they are on the edge of greatness. He has a sharp mind, but struggles with grades, and his seemingly boundless energy doesn't last forever...
Kaylee
: A senior girl with great grades and great looks... but even more importantly, an endearing sincerity. She makes herself a social chameleon, wearing a completely different style of outfit every day and interacting with groups of people who would never interact with each other. She is not in "the popular crowd" but a lot of people think she is damn cool. She has a sweet sort of optimism that conflicts with Ray's cynicism like oil and water.
A little more detail
:
This was my NaNoWriMo project in 2011. I got past 50k words but never finished it, and I don't intend to go through the trouble of publishing it as a book. I am interested in adapting it to the VN with 3 major endings.
This is not a dystopian future. (There just happens to be a horrible bioengineered virus outbreak. Who doesn't like a good
old-fashioned
new-fashioned horrible virus outbreak?) The "age" in the title refers both to the setting and to adolescence. The timeline spans from August 2035 to May 2036.
It is a story about adolescence. It also is a
deconstruction
of several aspects of the portrayal of science in media, as well as individual and teenage heroism. It deals with the struggles of being a teenager, ranging from bad hair days to DSM-IV mental illness... and of course, the horrible virus outbreak. Chase, Ray and Kaylee (who is bi) will be date-able. Dating is not just about romance but about actually having a relationship. Expect breakups to happen. You can also just be friends with them all. (I am imagining it not unlike the way social links are handled in Persona 3/4.)
Art
An experimental vector graphic of Emery (still a bit of a wip):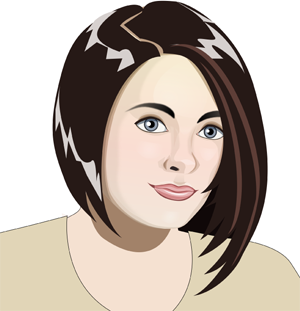 An experimental vector graphic of Kaylee (very much still a wip!):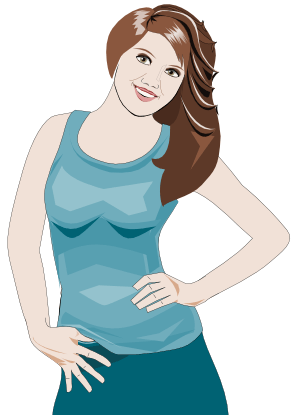 My plan is to practice vector graphics a lot, because I don't have much experience in them. I'm trying to develop a style a little different than the anime-type approach you usually see. I am not sure which direction I am going to go in with shading (whether it will be more like cell-shading, or a lot of gradients, or blended in Photoshop, or what), but I will be continuing to experiment.
One things is for sure.. based on my concept of Kaylee, I will be getting much, MUCH better at hair and fashion by the time I'm done...
Progress
:
Planning (plot etc): 50%
Writing: 60%
Art: See above. This is going to take time, because I'm looking not only at sprites for 4 major characters, but many outfits and hairstyles for Kaylee. (I might be willing to compromise on how I wrote her if it ends up being something that holds me but, but it's way too early to say. I'm coming to enjoy doing hair.) Because it its length, there will be quite a few backgrounds, too, and I don't have any practice as a background artist. But there's
no time like the present
to learn, right?? I plan to experiment with Sketchup (to lay out perspective) then painting in Photoshop.
Music: don't know yet
UI/coding: 0% (although all the writing I'm doing moving forward is in script format instead of regular prose)
...
I have another WiP but am a little burnt out on it and could use a break. If I adapt this one, I will probably need a break at some point, so maybe I could keep switching off until I finish them both.
This thread so far has helped me clarify my thoughts and my goals; as always, more comments are welcome.