Check for updates at our
official blog
!
Synopsis:
Lucente is a mysterious world, the afterlife of children who were taken from life at an early age. Kori is one such child. Though he knows not what it is, he regrets what business he left unfinished in the mortal world and desires to return there once more. The other children still hold their memories at heart, but Kori has none, only the nagging sensation that he needs to return to his old world. He has nothing left to hold on to other than that single wish, that single desire. Thankfully, the world of Lucente is not unforgiving, and Kori sets off with his friends—Annie and Xenos—to achieve his wish.
To return to the world of the living, Kori must accomplish a thousand good deeds and be chosen by the Blue Moon on the day of the festival. The problem is: the Blue Moon only appears every eight years. Kori has waited three years, utilising his time to accomplish his task when finally, he catches wind of another opportunity. The annual festival of the Blue Moon is being held at the Caprice Temple, far from where he is now, and so his travels begin, hoping to meet the Blue Moon this time.
Overview:
That thing above need to be proofread.
Characters
Annie was the first to find Kori when he entered Lucente. Calm and reserved, she took him in with Xenos to aid her and welcomed Kori into their "family". Despite being the youngest, at least physically, she's very much a mother figure to Kori and Xenos. Her appearance is quite a contrast to how knowledgeable and witty she is, though at the same time, she can also speak nonsensically.
When Kori appeared in Lucente, his memories had vanished. All he had left was the wish to return home and thus it became his only driving force in the afterlife. His focus means he lacks strong observational skills, resulting in a more airheaded or childish persona, but he's tender at heart. A little pessimistic, but neither unfriendly nor dishonest, he provides a sense of safety to those he's near. Though he may be insensitive and come across as dense, he's more intelligent than people give him credit for.
Xenos comes across a sparticularly odd among his peers in Lucente. Always grinning, smiling, laughing, whatever his actions he always appears ecstatic to be doing them. Though his external appearance is care free, he remains very realistic in his views. He keeps those he considers important near and safe, and treasures his friendships dearly.
Pepe, the boy at the Caprice Temple seems incredibly level-headed for the children of Lucente. He's also a friendly individual who can make anyone his best friend. Evidently it's not just for show, as he supports all those who come to him and is always ready to help his peers.
Teddy died when he was around fifteen, making him among the physically older residents of Lucente. His love of plants is hindered by the lack of a sun in Lucente. Without the sun, there are no real plants for Teddy. Apparently, he wasn't mute when he first came to Lucente, though given his grumpy nature, most people prefer that he doesn't talk anyway.
Mun is... the Mun. A powerful entity in Lucente with a comically unintimidating physical form. It's unknown whether it's Mun's true form or not, but for as long as Mun has been around, it has taken a rabbit-like appearance. Mun is exotic: a bizarre sense of humour and a lack of understanding of its surroundings. Mun seems entirely incompetent as a guardian, though at the same time, nothing turns disastrous in Lucente, so maybe it does more than people realise.
Ki is an androgynous being just like Mun. Mun and Ki come across as rivals with how little they get along. Similarly to Mun, Ki is also an unusual being. Apparently lacking intelligence, but making up for it with extreme power and durability, Ki's stubbornness can make it quite a hindrance to the people of Lucente. Ki always babbles incoherently about time, or perhaps a person by the name of time, it's uncertain which.
Previews: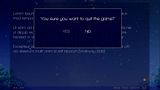 Progress:
Writing - Prologue / Chapter 1 (finished/edited) | Other (ahahaha...)
Graphic - Character Design (finished) | Sprites (ahahaha...) | CGs (ahahaha...) | GUI (almost done | waiting for Extra)
Programming - GUI (as above + quick menu) | Script (ahahaha...)
For full update see
here
Team:
Project Leader / Lead Writer / Programmer / Concept Artist - toyo
Game Designer / Web Designer - kuro/shirosalva5
Sound Engineer / Music Composer / Editor - Terra/Terracottapie
Editor / Proofreader (Prologue / Chapter 1) - milkcarton
Guest Art:
x
x
x
x
x
x
x
x
x
BOOTIEST OF ALL. @ LJumble