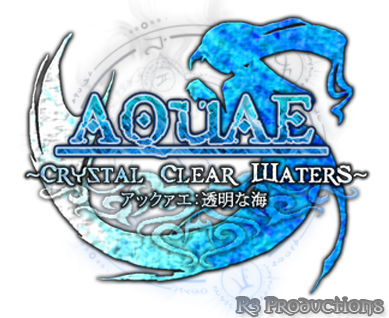 Aquae ~Crystal Clear Waters~ is a fantasy/adventure genre visual novel by R3 Productions. Part of Project Aquaria, this is the first game in a trilogy. The first conceptual story was started on January of 2008, Aquae has been in the works for about a year now.
The game itself is going to be released in chapters or Arcs, as the staff of R3 would like to call it. Aquae is slated to have 3-4 Arcs. Once Aquae is completed, there will be a collective release with all Arcs and extras in it.
The game is to be an
estimated
2-3 Hours playtime total. The current story has over 25,000 words and going strong.
Currently Arc I - Summer Lights is at 6,941 words and has a playtime of 20-30 minutes.
Download thread:
http://lemmasoft.renai.us/forums/viewto ... 820#p76820
Currently Arc II - Ocean Tide is at 14,201 words and has a playtime of 45-50 minutes.
Download thread:
http://lemmasoft.renai.us/forums/viewto ... 91#p107991

People of all ages and races are astonished by the beauty and underlying rage of the big blue mass that coats most of our world. Many things are unknown about the sea, and many things have been made up about the magic and mystery because no one really knows. One particular myth is that of the mermaid; half human, half fish, able to breathe underwater and sing most beautifully. Most people now discard such stories, following logic's explanation that such creatures are impossible, but what if they were wrong?
The city of Murone [Mu-row-neh] is one that resides below the surface, merpeople and other types of sea dwelling creatures live in this warm water haven. Merpeople fear the above world for several reasons. The main concern is discovery. How would the humans react to finding that merpeople really did exist? Most merpeople shudder to think. However, some merpeople venture out of their watery haven and explore the world above at their own risk.
There are two islands near Murone: Ibis and Ibon. Each are home to humans and forest creatures. Ibis is larger in size and is currently hosting the Summer Festival. A giant bridge connects the two isles.
Now fate will bring the sea and the land together...the fate of both lay in the hands of a small group...
Will history be re-written, as waves upon the sand? ....
Or will bloodshed remain?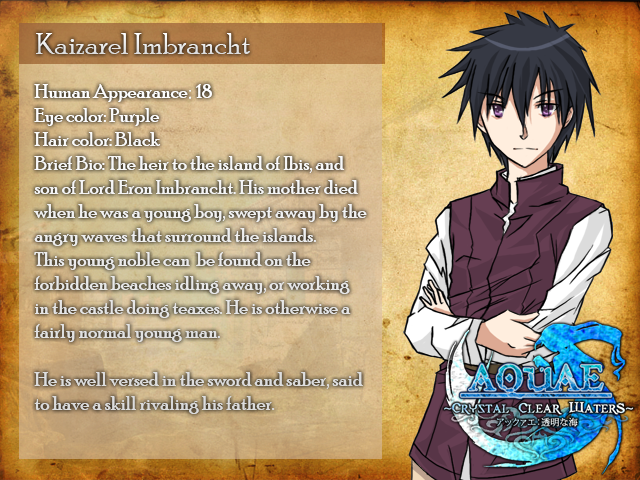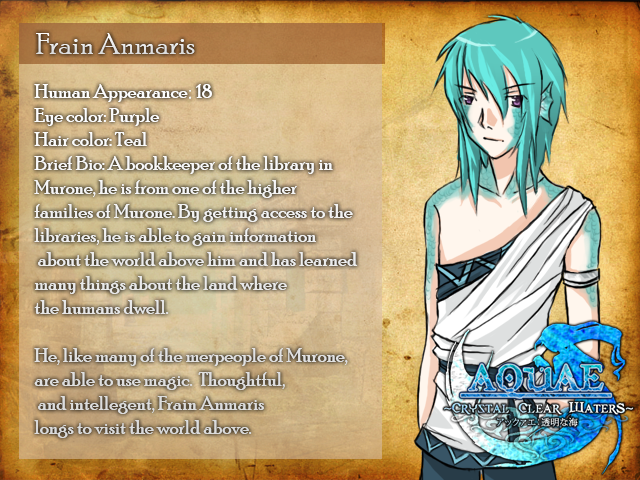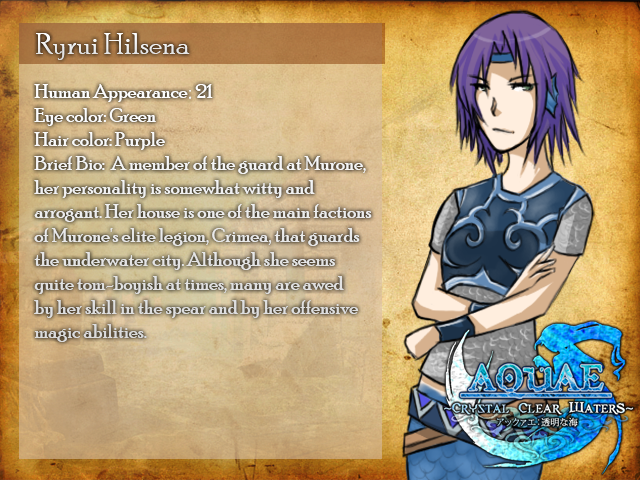 Lord Eron Imbrancht
Age: 39
Eye color: Brown
Hair color: Blue
Brief Bio: Lord of Ibis, a strong ruler who takes care of his country. His wife was swept away by the angry waves, never to be seen again. He still mourns her death, but still continues to be a steady ruler of his land.
Erika
Age: 25
Eye color: Blue
Hair color: Blonde
Brief Bio: Kaizarel's teacher and mentor, she is knowledgeable in many different subjects. Kaizarel often goes to her for advice.
Ameila
http://img266.imageshack.us/img266/6834 ... opyqx9.jpg
Age: 15
Eye color: Green
Hair color: Brown/blonde
Brief Bio: Frain's human friend and owns a flower shop. Her mother is ill at the start at the story, leaving Ameila to look after it. Ameila has known Frain for a while. Her personality is quite upbeat, loyal, and caring.
Igor
Age: 35
Eye color: Brown beady eyes
Hair color: Black/Grey
Brief Bio: A rotund man...and Kai's personal assistant. He ensures that Kaizarel doesn't get into trouble and makes sure that he meets all of his appointed meetings.

These features are available in the Single Arc Version (Arc I, II, or III) of Aquae ~Crystal Clear Waters~
-Rich Event and Character CGs
-Customized main menu
-3D background CGs
These features are available in the Extended Version (Compiled Arc Version) of Aquae ~Crystal Clear Waters~
-Features from the Single Arc Version
-Custom music
-CG Gallery
-Intro Video and Epilogue Video
-Music Gallery
-Improved CGs
Why the Single Arc Version and the Compiled Arc Version?
1. The single arc version is kind of there for time convenience as usually most of the staff members are busy throughout the year.
2. The Compiled Arc Version is going to be a revised version that will be done mostly by Rei Hirai (the chara artist and yours truly.) I realize my art isn't up to standards most of the time and I'm rather unsatisfied with myself for most of the art done on tablet for this work. So I'm going to improve while working on Aquae and put it to good use in the compiled version.
3. As such there will be new features as listed above along with storyline extensions by the writers if they feel inclined.
4. The compiled arc version will be the polished gem instead of the rough diamonds seen in the single arc version. Meaning....it's going to be an epic release.
5. In case you don't want to dl all of the arcs one by one, the compiled arc version is there so you can play through the whole game at once if needed.
The single arc versions will be updated as needed, if there are bugfixes or fixed artwork, and it will def. be re-released during the Compiled Version's debut.
Programmer-Rika and Ryoko
Story-Rika and Ryoko
Music Coordinator-Rezznik
Composer - Nicol Armarfi
GUI design- Rezznik
Art- Rei Sakurazaki
Colorist-Kaorien
Editor-Rika and Ryoko
Background Artist-Rezznik
Logo-Hanzo Kimura/Ry Yuuki
Beta Testers-MarianFrae and Ereth
We are always looking for more people to help out, so give me a pm!