Mujinchitai, or No Man's Land, is my third visual novel game. The second visual novel I was working on is unreleased and may end up being released after this game.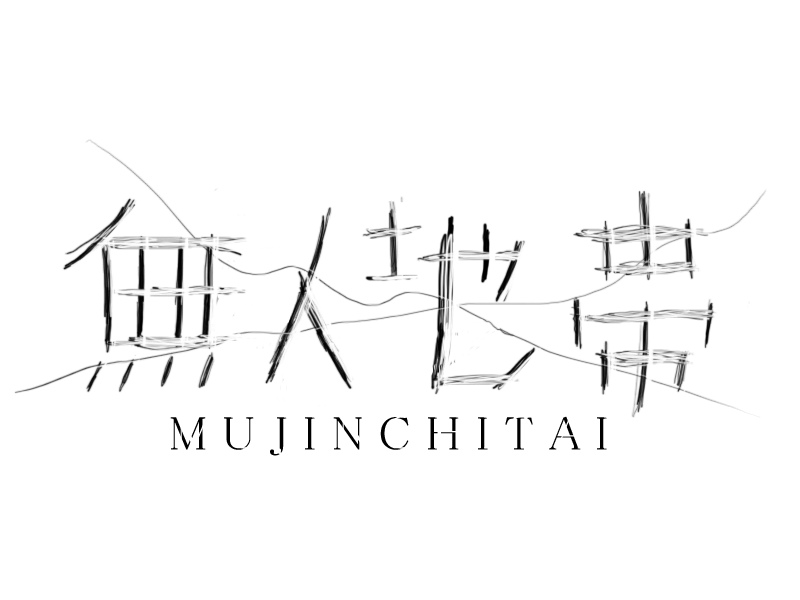 Mujinchitai means "No Man's Land" in Japanese. The game takes place in an isolated island with very few people, if any, living there.
The story of this visual novel game takes place in Japan. One day, a class goes on a field trip to an island maybe 4 miles away from Japan. When the students arrive, everything goes well, with everyone having fun and nobody getting hurt. However, the last group of kids return to the dock to find their class, with their boat, leaving home already. The sky gets dark and all kinds of ghosts, zombies, monsters, and serial killers/psychotic people come out from hiding. The main character and his friends must do all they can to survive until they can get help.
Characters (sorry for big images. I'll fix them later)
-----------
Kai Yamazaki
Age: 16
Information: The protagonist of the story. He's your typical shounen boy.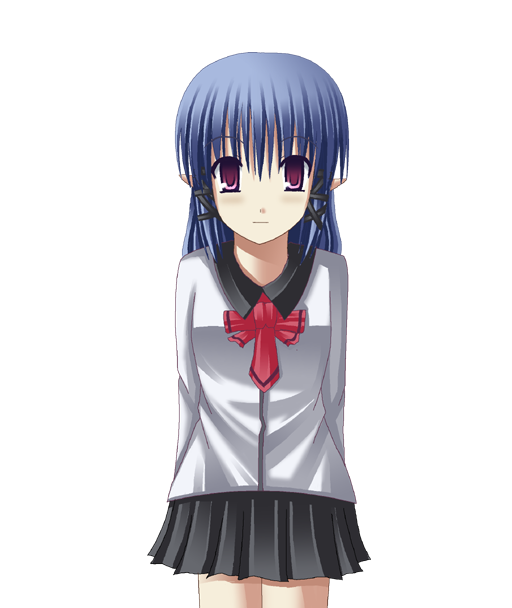 Ai Plectranthus
Age: 16
Information: The princess of another planet and Kai's friend and classmate. She tells her friends that her reason for coming to Earth was to meet other races. Her name means "love".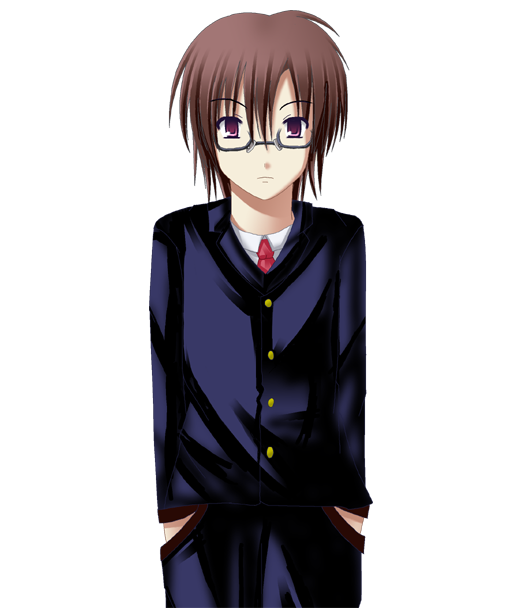 Akihiko Yamada
Age: 16
Information: One of Kai's friends and classmate. Akihiko, or Aki (nickname given to him by Kai), is smart and in most times he can get out of trouble. He's also crazy about weapons and is excellent with guns (BB gun training). He may look like a nerd, well he is one, but once he takes off those glasses, he turns into a bishounen. Akihiko used to date with many girls, but they never work out because more girls come after him, which is why he makes himself look as nerdy as possible. His name means "bright" or "prince".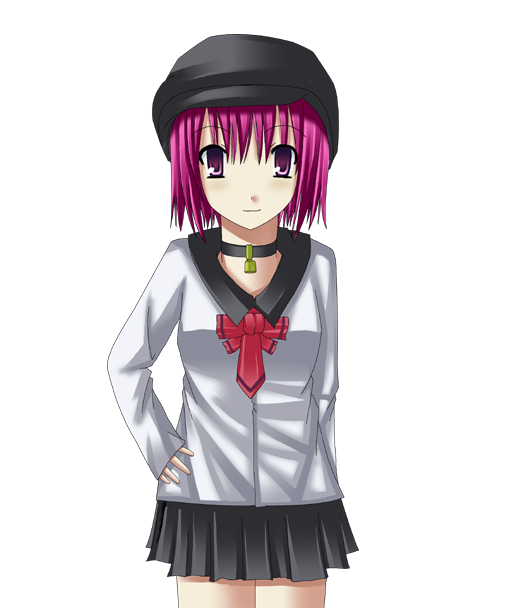 Akane Kawasaki
Age: 15
Information: One of Ai's friends and classmate. She's smart, energetic, and outgoing. She's a year younger than most of her classmates, but that doesn't scare her or anything. Out of all her friends in her class, she likes Makoto the most because he's always shy. Her name means "brilliant red".
Makoto Saito
Age: 15
Information: One of Kai's friends and classmate. He's another younger student in the class, like Akane. He's very timid and sometimes too friendly and quiet, due to constant teasing and bullying. Kai and his friends try to comfort him as much as they can. Makoto has some feelings for Akane. He also has a tendency of going crazy whenever the pressure of a situation is tight or when he's in danger. His name means "true".
???
Age:???
Information: The character that wanders around the island to complete his mission. He's not a human, but he's not hostile.
----------------------------
Minor Characters
Mizuki Yamazaki
Age: 17
Information: Kai's older sister. She's very smart, but she's very childish. Since she graduated already, she stays home and helps her mother with housework and takes care of the house when her mother is out.
Kaori Plectranthus
Age: 21
Information: All the main character's teacher and Ai's older sister. She's very strict, therefore, she loves her students and cares about them.
Yuu Ashida
Age: 25
Information: The lousy police officer that escorts the students to the island. Yuu is very rude, stupid, and selfish. The man is so bad, even monsters and zombies avoid him (figure of speech). He patrols the island at night to see if the "monsters" are real.
----------------------------
Screenshots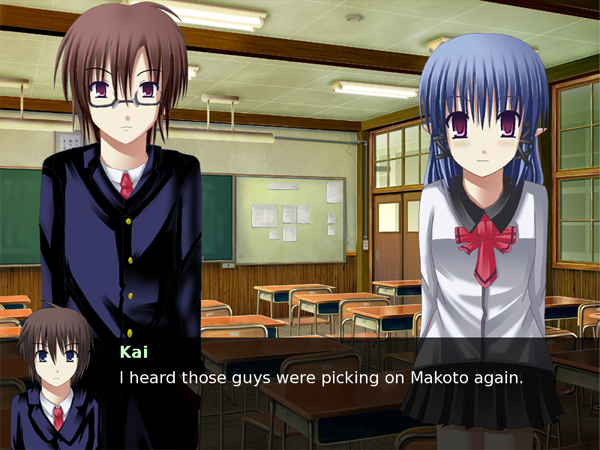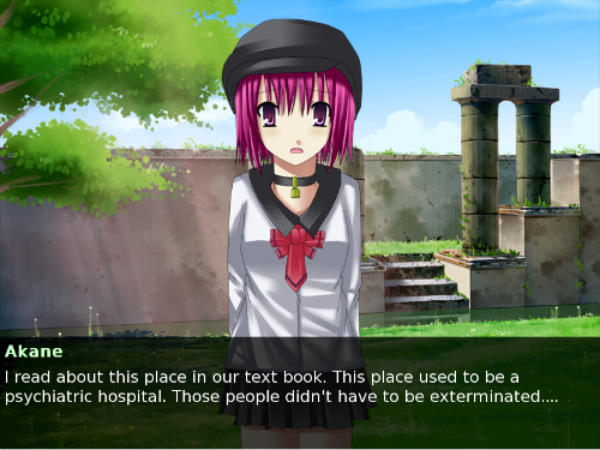 ----------------------------
Artwork
Ai's ear is a bit funny looking, but Krapmaster took a whole week to finish this.
----------------------------
So far, the workers are:
Story: Cybeat
Character Designer: Cybeat
Artist: Skythnir, Krapmaster
Programmer: Cybeat
BG Artist: 背景素材提供
入江ささ
YWAKA
aquamary images
Skythnir
Cybeat
Musician: Cybeat, Stardust Recordz
Opening/Action Scenes: honoreixix
Plans (may change):
1. 100,000 words
2. Sudden pop up images
3. Some "Covert Front" style gameplay
4. Three Endings
5. Event CG's
6. Gore (Probably rated M)
7. Cameo appearance (from my other games). If possible, you can ask me to add in "your" game character.
If anybody wants to help out, let me know. Members will get credited, of course. I'll update this thread whenever I can.
-Ice-Tea Productions