I won't be updating on this thread anymore as I've gotten the advice/comments I was looking for but I'll leave the basic descriptions here~~ I'll post the proper WIP thread one day (soon! - in a month maybe?)

Once again, thank you to all who answered my questions and/or displayed interest in this VN!
Hi there!
This is still an idea...well, I've planned out what the MC and other sprites are going to look like, plus written a full prologue, finished outline too, but I'm thinking I'll give this another 3 years before releasing it. However, I'd like some comments (if that's fine with you guys) and to see whether you're interested in this somewhat overused plot.
Basic Description:
The protagonist, [Himura Satomi], transfers from a school overseas to one in Japan, Goyama High. She doesn't expect anything in particular...until she meets the baseball club. Rumors has it that the baseball club is full of problem students and everyone hates them. Fate tricks her into becoming the club manager even though she'd decided to dedicate this final year to her studies. She'll meet lots of new people, encounter lots of crises, maybe even fall in love during this one year. She'll laugh a lot, cry a lot and ultimately learn a lot in this one unforgettable year (well, maybe anyway).
This game contains very strong slice of life themes. It's intended to make you feel "Ah, it's great being alive after all," but this may backfire, and make you feel a little depressed instead.
Genres:
Comedy (??), Drama (?), Romance, School Life, Slice of Life, Sports
Why the name?
"Manager" because well, the MC will be the manager whether she likes it or not and "senpai" because even though it's pretty late for a 3rd year to become a respect-worthy senpai, the MC will work hard to become someone deserving of the title. But... it's not final and may change as I work on it.
The characters:
(ignore the eyes hahahaha)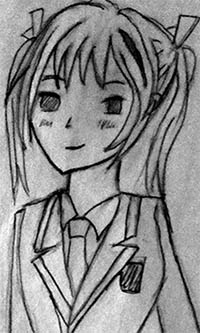 MC, default name: Himura Satomi - Manager
Very smart, avoids conversation and acts very polite to avoid but is actually very pessimistic.
You'll have to eventually become someone with inner strength to defend the team.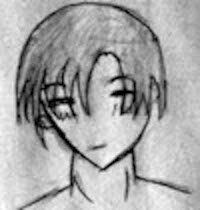 Teacher/Coach/Advisor - Shiiba Kiyoshi (may be just a non-dateable chara)
The popular young teacher who likes to help others in any field...
...at least until he joined the baseball club, which he helps and worries about everyone.
Catcher – Ueda Ryouhei
Very smart and just...nice. Founder of the baseball club.
Psychologically cunning when it comes to baseball, so his route *might* be a little sad/dark.
[may end up being a side chara, so leaving him for now]
3rd baseman –Inaba Yoshinori
Not smart at all, and cheerful. Always caught with ero magazines - one of the "excuses" why everyone hates the baseball club.
He really likes to tackle things head-on in a game and serves primarily as a mood setter.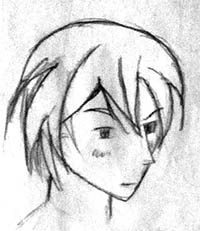 Short stop – Akiyama Hayato
Shy tsundere who doesn't talk much at all - due to his ultra funny family who run a restaurant.
Supports the game from the shadows but no one ever "sees" him.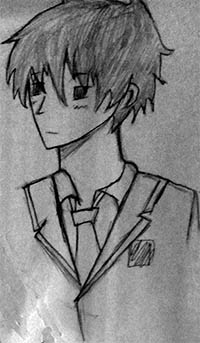 Pitcher –Takahashi Daichi
Not smart at all, needs lots of help, doesn't really like admitting it either. Gruff, proud.
Does well under pressure, as he's the ace (pitcher).
[I keep on drawing him chibi or making him look like a premature kid. So not yet]
Left fielder – Yanagi Mitsuhide (probably will cut him out though)
In summary...he's cute. He's the youngest here after all.
Talented at baseball (fast runner, predicts where balls will fall fairly accurately) but lacks confidence in general.
...Even though I've planned so many characters, I might cut some here and there.
Other comments:
Non-commercial.
There's a proper reason why the baseball club is disliked, but I can't reveal too much or it'll spoil someone's arc.
Potential for sequels and spin-offs but meh, I'm lazy.
A lot of blue skies. >_< Rain is an enemy!
If art goes all right, I'll be doing actual baseball CGs too.
8 Endings. I'm an advocate for slice of life, so every guy character will get a good ending and point to the same "bad" end (warning - the good ends would be quite hard to get though) and unfortunately none of them will get the team to Koushien, unless you choose the other non-romantic end, which they do.
The current art is too rough of a sketch for me to want to scan it properly (I took a poor quality photo and lightly cleaned it). I'll do the eyes properly when it's the right time to do it (I'm gonna do the story first sorry). The MC's hair needs work as well - as I originally planned to have her hair in a ponytail but somehow it ended up being too thin. But leaving that aside...
Questions:
1. Would you enjoy yet another "club manager romance" story? It's pretty cliche right?
2. Do you mind that there'll be suffixes like "-san", "-senpai"?
3. Do you mind that the last name will be used more often than the first name in the story and full name will be often written as "[last name] [first name]"?
4. Which male character do you like the least? (well, there's not much about any of them, so you can skip this question)
5. Any questions you want to ask me?
Depending on the general distribution of answers, I might just target this VN towards the manga/LN community (which I'm more familiar with). Also, don't underestimate my determination.
Whelp, that's all for now.
I might post some concept sketches later.
Have a great day and I'll be in your care then! ^^;