Description:
You play as Kei, a young man whose friend, Sarai comes to him one day saying something about a girl falling from the sky into his yard, and claiming to be an angel. A visual novel, with point based endings, you, Sarai, her brother (Ion), and the strange girl named "Eve," live your lives, wondering what to do with Eve, and whether or not she is a real angel.
(I'm not terribly good with descriptions of things, so hopefully this description doesn't make it sound bad...>>'')
Genre: Romance, Drama, Mystery, Fantasy
Rating: (Probably) 16+
Characters:
(Individual Character Images coming...In the picture above, named from left to right are: Alicia, Sarai, and Eve)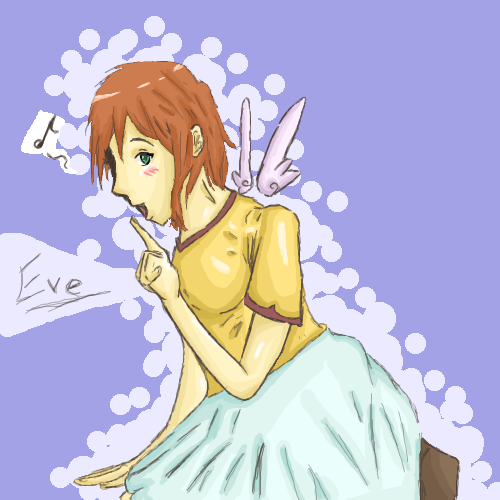 Name: Eve Cleereyn
Age: Unknown (Appears to be about 20)
Eyes: Blue-Green
Hair: Red
Bio: A strange girl who falls from the sky, and ends up landing in Sarai's yard without a scratch on her...She claims to be an angel...Is that possible?
Name: Sarai Reyvern
Age: 18
Eyes: Dark Grey-Blue
Hair: Dark Blue
Bio: You next door neighbor, Sarai is extremely skeptical of Eve's claim to being an angel. Sarai has always been rather doubtful of the "supernatural," especially your friend Lorelei, who only you (and now Eve, when she arrives) can see. While Sarai tends to be rather sarcastic, she's a nice girl, who likes to help people, and hates seeing people hurt. She helps Eve get a job at her father's restaurant.
Name: Ion Reyvern
Age: 14
Eyes: Green
Hair: Dark Blue
Bio: Sarai's younger brother, Ion is less hesitant to believe that Eve is an angel. A naive, somewhat energetic boy, Ion is always interested in something new.
Name: Alicia Soramh
Age: 15
Eyes: Purple
Hair: Black
Bio: A young girl who comes to the village of Byril (where you live), hearing word that an angel lives there. She asks to speak to Eve, because she apparently, needs her help with something.
Name: Lorelei
Age: ???
Eyes: Red
Hair: Purple-Blue
Bio: Your friend since childhood, no one has been able to see her except you...That is, until Eve arrived...However, soon after Eve's arrival, Lorelei disappears...
Other Notes:
>>'' I feel sort of bad for posting this now, as this won't be updated for about a month in a few days come...But...Hopefully I'll get some backgrounds and such done while I'm away studying art for a month...And then when I get back, I'll have made a nice amount of progress...With luck, all individual character images will be up before I leave...>>''
Progress:
Script: 100%
Programming: 100% (in regards to all routes being programmed into the game)
Character Sprites: 0%
BG, and CG: 0%
BGM: 0% (Looking for a composer)