PROJECT T3XT
Okay this is my first try on renpy, I hope it can go on… but ill give it best try, at least maybe part1.
Character:
Synopsis:
An accident has created a strange occurance in Norewast Academy. Somehohw everyone in the area lost memory and lost ability to do simple thing. Ayla woke up in the clinic with lost memory, and holding in her hand something called 'Remote command" with the help of strange and perverted robot Ayla must find a way to stop this event..or run away from there.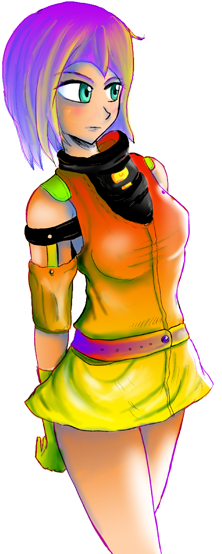 Ayla :
Main character. She is an academy brat, and hate education so much. Because his grandfather was pricnicpal, she cant escape from the academy and always forgiven for any ruckuss she made. But when accident happen she lost her recent memory, the only thing she has now is a photo of guy that maybe his boyfriend and strange device that can input command on people.

Elly :
Academy tour guide and information assistance, She lost her ability of direction after the accident. But still acting like she knew all way to the academy, making a lot confusion among student. Restore her memory to find new area!

Gustav :
A professor and Alya docent, he try to pretend that he still remember his knowledge. Gustav seems know something and related to the incident.

Zaky :
Handsome guy that appear in Ayla photo, is he the one who give the device?
Other character :
-Principal
-etc...


Gameplay :
Hard to explain but basically you can use command like RUN, OPEN, DELETE, on people and item. Or inserting keywod like 'GUIDE' on Elly so she remember her job!.Kinda like phoenix style with text based.
Planning to start slowly by using episode, this time ill try part1 first and see where it goes.

Storyline:
None! Maybe this sounds crazy but ill try using manga technique storytelling, so the story will go on as long as it remain popular. Of course i already planned the big line, but il try to be innovative.


Assisstant recruit!
-Background artist / Photo scouter :
No need drawing skill if you can find the background I want even if it's a photo.
-Game menu template designer :
Able to create item icon
-Colourist : Althought the colouring maybe good, i don't know if its can convey emotion or not since my way of colouring is pain in the ass. If anyone interested try to colour this http://img.photobucket.com/albums/1003/ ... rtline.jpg
-Music $ SFX director : Anyone that can find free downloadable or create Midi music.
-Avandced python programmer :
Can program inventory slot, map exploring, and some minigame. Just give me the command line, ill try myself.
-English Grammar editor...





====================================

UPDATE!!

DEMO IS AVAIBLE NOW!
l]
http://www.4shared.com/file/87730919/72 ... alpha.html
(anyone use mac? my uploader is bit slow so i will upload it on request. If anyone cant DL it please tell me.)
A Gameplay demo or test drive. So what your opinion? I am a firm believer that nothing really original in this world and everything is copy from other thing, so anyone play VN like this yet?
The most difficult thing is Testing the game, i mean the longer the game is the longer i must test it one by one... are there no other easy method?

And what your opinion on character design? Is it bit too stiff or need variation of pose?

to do list :
-creating menu interface
-creating script >_<
-finding a slave err... assistant