Hi all,
I feel guilty creating a new post for something as minor as this, but I'm hoping someone would be interested to help me beta read my story script! For a first project, I restrained from making a religious based story.
Just a brief summary; the story will be based on a young mother, who when showered with Mother Day's gifts from her daughter, remembered her past with her own mother. Slice of life with a slight twist. This will probably be around 10-15 minutes read, around 4000 words.
With my terrible aesthetic skills, I managed to put up a (terrible excuse of) a menu - all three main characters (young MC) are featured. These sprites have not been finalised and are subject to chances, however.
Hope that'd be enough to attract anyone's attention to beta read my story! (Warning, expect lots of grammatical errors) I'll add in another push... How about a chibi as a 'thank you' token? XD
Story:
Nellie
Art:
Sprite by Blue Forest
Background graphic by Kyu Kyu Kyu no Q no Q; Mao Space
Customising and modifying by Nellie
Theme Songs
Opening Song
Love Found Me
by Susan Krauter
Ending Song
Love Like No Other
by Bob Forbes
Sound Effects
Incomplete list currently
Beta readers
broken_angel
TJ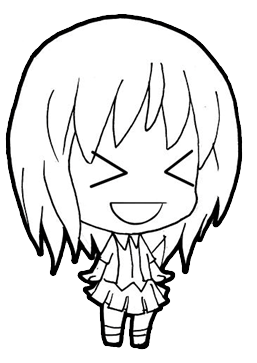 That's chibi me!
Regards,
Nellie
[EDIT - 22/10/2010]
Finalised design for MC attached. MC's daughter's design was finalised too but because the only person I showed to said she looks ugly... I decided not to post it in the mean time >_<
[EDIT - 24/10/2010]
So I played around with photoshop and Pinnacle Studio and made an opening video... Noob video from a noob maker... Yay!
http://www.youtube.com/watch?v=2HQOSNr4ou8
And... broken_angel has finished beta reading my script! So I'll be going ahead and trying to get the KN done! Weee~
[EDIT - 26/10/2010]
Version 1 is up!! Hurray for my very very very first KN albeit it being in a total mess! FEEDBACK PLEASE! I'll love you for it xD
Statistics:
The game contains 250 screens of dialogue.
These screens contain a total of 3,248 words,
for an average of 13.0 words per screen.
The game contains 0 menus.
To do list:
1.
Learn how to time the BGM timing... It's totally messed up but I really can't find out how to do it!
2.
Edit the living room BG art to include party props
3.
Learn how to zoom in on the house exterior BG
Still can't do this
4.
Learn how to zoom in and out for the
heartbeat effect
Same as above, still can't zoom properly
5.
Make CG for two parts of the story
Leon and Beatrice with cake + Ad and Beato tending to mum's cut
Not doing this anymore
6.
Make a better title screen (music, customization, redesign with new character arts)
Working on one, hopefully good enough!
7. Responding to feedback and debugging
8. Learn from mistakes
9. Learn to make a better opening/intro. (And closing if necessary)
10. ... Love myself for taking the first step in making a VN! xD
EDIT 07/1/2010
New and finalised version should be up soon (a few days?)... It will not be perfect, but I don't think I will work on it any time soon. Thanks for all your support! =D
Specific Feedbacks Requested:
In addition to any flames you can think of ^_^;;
1. If the story bores you
2. Is my story writing style too confusing (ie does my English s*ck)
3. Would you be interested to read of my stories (KN or VN)
*cheers*
Download Links
Linux -
http://www.mediafire.com/?7u8jw5taj8wt2lx
Mac -
http://www.mediafire.com/?5dn58j19qqqfakm
Wins -
http://www.mediafire.com/?mvjuu48ym9q0rhb