Bells & Spires - New VN Horror/Suspense Game WIP
Posted: Fri Dec 10, 2010 8:20 pm
Hi guys! This is my very first attempt at a VN - I've been into them for a while and didn't think for a second that I could make one from scratch, until I realised there were engines out there! I feel like an idiot... ^^;
Story:
Ethan, a school failure and general useless person has finally landed a job with some integrity - a Verger at Burdock Cathedral. Burdock Cathedral has a colourful past (not that Ethan spent any time researching it), shrouded in mystery. All of the staff seem friendly, but there is an underlying eerieness to the place, something solidified by a schoolgirl who is obsessed with taking photographs there. It is only until Ethan is shown a picture that will change his perception of the Cathedral does strange things start to occur around him...
Main Character (You) - Ethan
Father Pentleton - A strict, icy, priest. He is very intolerant of things he considers immoral, and it is very difficult to get on his good side. He generally has a disdain for non-ordained people.
Obtainable characters:
Philippa (Flick) - Schoolgirl/Amateur Photographer: Obsessed with taking photos in and around the Cathedral. Has a cheeky, but sweet sense of humour.
Eugene - Verger: Eugene is your fellow Verger, who shows you the ropes of the job. He has an unusual mocking sense of humour which causes him to rub many people up the wrong way. It seems the only person who seems to actually like him is you.
Jean - Head Verger: Jean is a sassy, clever woman, who is both approachable, yet out-of-reach at the same time. She seems to know more than what she lets on.
Sky - Shop Assistant: Sky works at the Cathedral Shop. She is cute and bubbly, but likes to poke fun at people. She doesn't care much for the past of the Cathedral and hopes to one day be promoted to Manager.
Artwork: Me
Music: I LOVE YOU KEVIN MACLEOD!!
Screenshots!
And this is what I prepared earlier!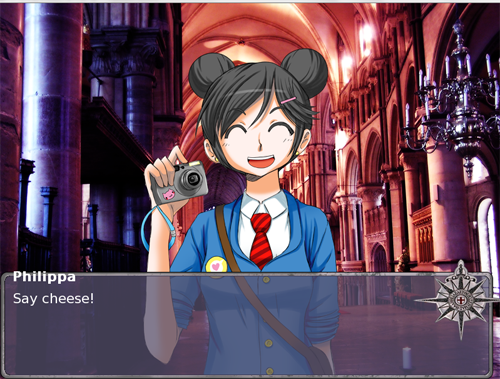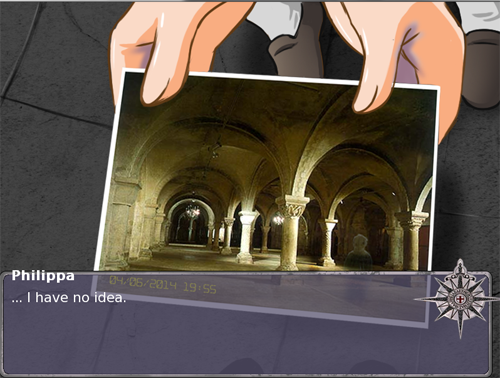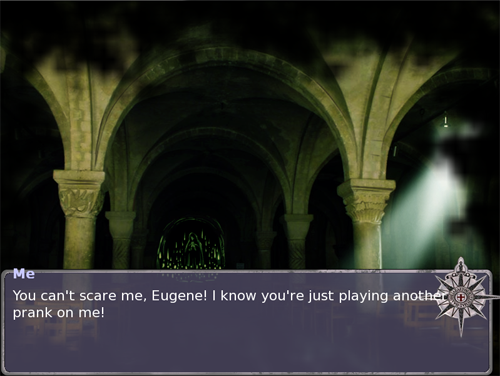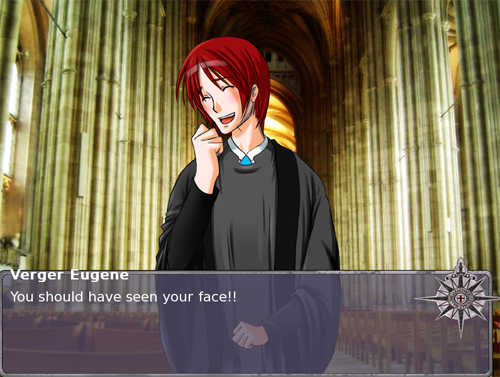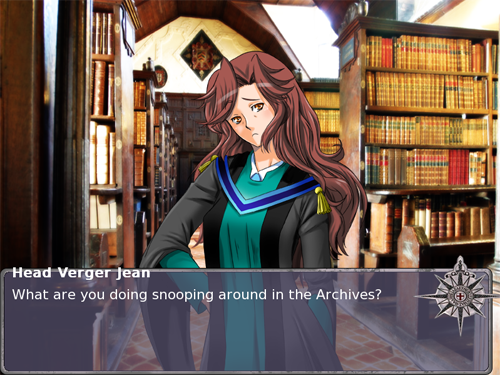 There are some things code-wise I need to sort out, and need to implement some of the mini-game bits I want to... I'd like to give an estimate of my progress but it would be low. If I had to guess I would say I was 5% done or something like that.
I'd love some feedback/script tips!!