Okay, i've been seriosuly procrastinating on posting this here
mainly because this is my first game ever and I'm so freaking intimidated by all the amazing WIPs here.
Dx Anyway, enough ramblings, here it is~
~~~~~~~~~~

Website
(Now Open!)-
Requiem Website
Forum
(Now Open!)-
Requiem-VN Forum
(NEW)Mobile
- Currently WIP
Requiem Mobile
~~~~~~~~~~
About
Heaven and Hell are always clashing in an eternal battle for power. Innocent people have gotten caught between these two forces and have been hurt because of it. Thea, an ex angel of Heaven was accused of crimes she does not even remember commiting. In the middle of another clash with demons, the angels delt with her carelessly and banished her to earth for the rest of her days until her soul returns to the Great Power of the Universe. Now a Fallen Angel, her memories of the Holy Land Above have been wiped from her mind as 'she has no right to remember such a place'. Thea now has several options, all of them leading to different outcomes and unknowingly to her, will lead to the outcome of the power balance itself. She could try to prove herself innocent and try to get clues from the few memories she still has. She could turn her back on all those who betrayed her and go against them, tainting her soul to the point she becomes a demon herself. She could even live in the mortal realm, livng there long enough to lose immortality and live as a human once again. Or perhaps she can search for others like herself, banishment is uncommon but has happened before in the past. The paths are endless, the truth is hidden, the choices...are yours.
~~~~~~~~~
The Breakdown
Okay, I'm not good with summaries like the one above, so to give a bit more info on the game here are some main features.
~There are six characters you can end with.
~There is also a seventh hidden character.
~The plot is designed so you can end the game as either an angel, demon, or mortal.
~Each ending for each guy for each race will have a light and dark ending...I know a lot of endings. I have my work cut out for me.
~There will be a 'True' Ending (inspired by 'Frozen Essence' <3) as well as a 'Sad' Ending.
~Possibly a few minigames, not sure yet.
~Lots of dialogue. I hope you like reading!
~Takes place in a Steampunk-ish/Rennasiance type world. Throw a circus in there too.
~Fantasy! If you couldn't tell by the whole 'Angel Demon' talk. There are also Alchemists, Fortune Tellers, Orcales, Priests, and Excorcists.
~~~~~~~~~
Characters
Thea
- Main Character(name changable)
Banished for simply being at the wrong place at the wrong time. A bit sensitive but hides it with light sarcasm and wit. Rather innocent (for now). Like most angels, she does not remember how she died. All she remembers is cold sensation and smelling salt...
Lae'ren
- Angel
One of the longer living angels. Your perfect Prince Charming. Downside to this calm book reader, is that he's very closed minded about demons. If there is a demon, it must be evil.
Luek
- Angel
A quiet guy who's afraid of his own shadow. Rather paranoid, as if he's running from something...
Seth
- Mortal
A Master Alchemist. Rather surprsing for his young age. Stubborn, cocky and full of himself. He pulls all nighters working away at his studies and sometimes forgets to eat.
Orion
- Mortal
He lives on the outskirts of the city in a rather rundown shack of a cottage. He works 24/7 and donates all his money and anything else to others. Overly kind guy who barely keeps enough to keep himself alive. I wonder why...
Raiel
- Demon
Why is a demon a Ringleader of a circus troupe?! He's quite the trickster always smirking like he has something up his sleeve, which he probably does. Proclaims himself to no longer be associated with the Demon Lord (Ruler of Hell).
Zahk
- Demon
Effing BEAST. Seriously tall and has a scary expression all the time. Hates everyone and everything in existance. There must be a reason for that...
'E'
- Hidden Character
Can't tell you anything XP. 'E' is not his real name. I just call him that for now.
~~~~~~~~~
Progress
Well I'm making this game entirely by myself so this is a veryyy slow process. The closest thing I have finished is all the music.
Also I am currently in Art college majoring in Game Art Design. I want to make the very best I can for this game so art is going to be at a stand still until I improve in my style. I want to learn all I can to make the very best for the gamers. The downside to this is that it may take a few years before I start putting it together. However!!! On the forums you will be able to see my progress with the character development, the world and country history and culture, cities and town development, creatures, story line and just some college experience and fun. :)
Character Pics - 0%
BGs - 1%
Storyline - 45%
Script -3%
Music - 85%
Code - .5% ....OTL
Character Pictures
- Like I said above, art is going to be at a standstill/freezing point for now. I'll still draw concept sketches and whatnot but the legit character pictures won't get done until I improve. I want to give the gamers the best I can provide. ;3
Backgrounds
- I swear to God...I hate finding BGs. I can't make them D: And if I do draw it, it takes forever to make just 1. If there is a kind soul who would be willing to make BGs for free for me, I would forever worship you as the Supreme Ruler of all Visual Art. ;A;
Storyline
- Beginning is all planned out, Middle kinda, End? Wellll I have a crapload of endings to work on ._.
Script
- It's all in my head. I need to actually write it down, I just havent had the time to. Dx
Music
- I found the most awesome music, a lot of it under one guy. Amazing stuff (I luv (CC) <3). However I am in need of some of the more dramatic music and some sad 'someone you cared for died' type of music. Oh and some Heaven and Hell music! I mean it's kinda hard to give Hell a theme song o_o;; lol. Again, if there is a kind soul who would make me some tunes for free I would forever worship you as the Supereme Ruler of all Musical Sound~
Code
- ...The menu counts right? Hehehe... I also did a tester scene with one of the characters and choices. Like I said, it's my first time making a game and using Renpy so I'm a bit hesitant to start coding anything until I'm sure I know what I'm doing. Since I started college I've been asking my professor about different coding, she may be able to help me with this area and suggest a few books for me. I'll be doing some serious research before I start anything legit. However, if there are any coders in the house that I can ask questions about game making to, I would love you forever!
~~~~~~~~~
ScreenShots
Yes~ For your viewing delight, I wipped up some screen shots. You can also find these pictures and others, at the Requiem website that I pasted at the top of the post.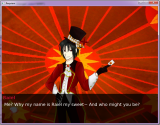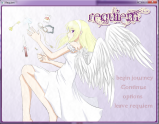 If you want more information on the game, just ask. Or if I'm missing anything in this post, just let me know. I'm a bit scatterbrained. xDD Feedback and comments are always welcome! <3 <3 <3 <3 <3