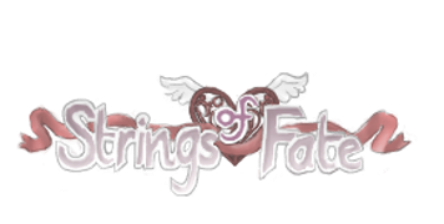 We'd appreciate any feedback you may have for this project.
Genre
Romance, Mystery
Synopsis
Mei once lived in a town called Okiyamina. When she was eleven she had to move to Tokyo, leaving behind many childhood friends, especially a very significant and special one that keeps appearing in her dreams. Since Mei got into a car accident she hasn't been able to remember her past. The only way she is able to remember slight fragments and details is through her dreams.
When Mei's father gets a job in the United States he makes arrangements for Mei to move back into their old apartment building, in Okiyamina. She is also told by her father that she'll be living with two of her childhood friends. Soon after moving in again she meets another boy, who seems so completely familiar to her but she can't seem to figure out why. Even though they were all friends of Mei when she was younger, because of her memory loss she can't remember anything about them.
These were the people most important to her as a child, and thanks to fate they are all brought together once again. What could this mean for Mei?
Could one of them be the boy she always sees in her dreams?
And will she be able to unlock the mystery of her past and recover all of her lost memories?
Characters
Mei:
is a very independent girl, with a strong sense of what she likes, wants, and what she doesn't like and want. She's stubborn, but not completely headstrong. Mei is a kind girl who tries to live a normal life even though she has amnesia and is missing the memories of her past. She is especially saddened by the fact that she can't remember anything because it means that she cannot remember anything about the first close friend she ever made in Okiyamina, who was also her first love.
Hiro:
Hiro is the happier and more carefree of Mei's childhood friends. He may act irresponsible, childish and loud, but he is truly mature and intelligent, and though he doesn't seem to do his work, somehow he gets really good grades. He is prone to outbursts when he is unable to come up with another way of expressing what is on his mind, and is rash and outspoken. Sometimes he speaks without really thinking it through and he loves to tease Mei. While Hiro seems to be the optimistic one, he is quite the opposite, and hides away the difficult sides of his life from others, especially Mei. He has the dream of becoming a star athlete, but it seems it is a dream he will never obtain.

Daichi:
Daichi is the more reliable and responsible of Mei's childhood friends. He acts as a guardian for Hiro and Mei, taking care of them, even though they are actually all the same age. Because of his personality and the fact that he believes he needs to take care of the others, he is the one who does the cooking and cleaning, expertly and with ease, which makes one wonder how he learned to do it all. Though he is very helpful and kind, he is also very shy at times, and always puts everyone else's feelings before his own. His wish is to be a student at a very prestigious university, but it appears to be a dream that he will never fulfil no matter how hard he tries on his own.

Yuichi:
Yuichi is the most popular guy at Hiro and Daichi's high school. His reputation of being a player and a heartbreaker precedes him, but his charms and gentleness seem to cancel it all out. He's a hard person to understand, because there seems to be more to him than the superficial façade he puts on, but he never seems to let anyone see his real self. He's flirty, and when he meets Mei she is instantly his new favourite girl whom he showers with attention and affection. While he doesn't get along with Hiro and Daichi, he's almost always seen with a group of girls or boys, ever the composed and loved social butterfly. His father is business partners with Mei's, and they first met when they were very young.

Shizuka:
Shizuka, Hiro, and Daichi are all good friends. She is the captain of the track team that all three of them are part of, and she is hard-working and determined. She is kind and always helping out at school, gaining the respect of the teachers as being a very responsible girl. While she seems to instantly like and become friends with Mei, this is not the case. She can be slightly bossy at times, as well as over-protective Daichi and Hiro especially, but it is because of her strong feelings for them that she acts that way.
Screenshots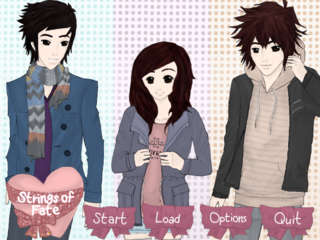 Progess so far
The game contains 471 screens of dialogue.
These screens contain a total of 7,564 words,
for an average of 16.1 words per screen.
The game contains 11 menus.
Sprites: 10% or less
CGs: 1%
What to expect
- 4 obtainable guys
- Alot of CG scenes
- Playing Mei you can either find out who's the boy in your dreams or find a new love.
- A Heart Meter - to find out how the boys feel about you.
Who's working on this
Sprite/Line Artist/ Co-writer: digirin
Programmer: YuukiCrossPudding
Writer: night_serenade
Colorists: Kimiko
Background Artist: qq
Recruiting:
Please message me if you're interested in helping us out =).
1. BG Artist: we need alot of backgrounds so having another help with them would be alot of help.
2. CG Artist: one that can help out with smaller graphics like menu buttons and chibis.
3 Proofreaders and people willing to critique (mostly referring to the demo, before it is released): looking for 2 more.