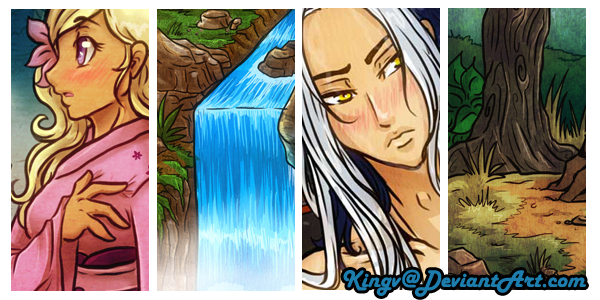 Hello!
I have been doing online commissions for many years and you can check my DeviantArt page for more examples of my work. I can do backgrounds, event CGs, GUI design and sprite sheets but I'm open to doing other art if needed.
Characters Sprites
Price: $30.00
All sprites include six expressions of your choice, one outfit, one hairstyle, and one pose/base. Is drawn from the knee up and is fully colored. Extra elements can be added on at an additional price.
Expression: +$2.00
Outfit: +$10.00
Hairstyle: +$5.00
Pose: +$10.00 for arm changes only. Whole body position changes will be treated as a new sprite.
Color Tinting: +$5.00 for any tinting adjustments per sprite. This is useful if your game will feature time of day changes so that the character will blend in better with it's surroundings.
Detailed Shading
Shadocchi's Sprites
-
Pet Tails
-
Transformation Sequence
Simple Cell Shading
Rhea
-
Mouse
-
Corri
-
Nik
-
Tomboy Sister
-
Event CGs
Price: $35.00
What do you want?
-
At the hot springs
-
Backgrounds
Price: $50.00
Time of day or seasonal adjustments are an extra $10.00 per image.
Simple
Park Day/Night
-
Meadowlark Park(Autumn)
Detailed
Interrupted
-
A Long Way From Home
-
Logos
Price: $50.00
I can also make logo edits for $10.00 per change. This is good if you want different variations of the same logo done. Edits are done per my discretion and are only for color changes or adding/removing small decorative elements.
Steampunk and Gothic Logos
-
Clearwater Crossing
Graphic User Interface(GUI)
Price: $100.00
Design only, no coding included. PSD file of the GUI will be emailed to the commissioner. All designs include the main menu screen, preferences, save/load, quit, choice buttons and a text box. Additional screens, such as a gallery or music room, can be added on for $20 each.
Clearwater Crossing
Crimson Rafflesia
Cute Demon Crashers!
Doppelganger Dawn of Inverted Souls
Dragon's Blood
Sakura Blossom(Mock Design)
Starlight Vega
*Prices listed are for non-commercial use only and all listed amounts are of the base price for each element. Depending on the details of the piece, the cost could come out to be higher than what's listed here. In either case I will send you a price quote for approval before beginning any work so that you'll know how much the commission will cost.*