Information
GamingShed is a new group that is aiming to create games to make players enjoy their experience, the games that will be created by GS will be free however people whom work with GamingShed and have amazing skills are paid for their work. In future it is planned to become a indie studio.
First game GamingShed is worked on is game under heavy construction called
Life*
, the game concept is to show that committing suicide is not the right way to end your life because somewhere in your life there is a person worth living for.
In the game you will be playing as Tachibana Taichi, 15 years old ordinary teenager whos life is slowly breaking down due divorce and his relationship with his parents are in danger of complete break down! In the first gameplay the players will be able to make choices for Taichi however those choices will affect Taichi and his surrounding!
Positions:
Story Writer
We are looking for a
very dedicated person
who is 18 and over to join our team to construct a story for Life* out of basic information given and what was created so far, you will be given every needed information to make your work easier.
Even as a Non-Paid member you will be eligible for a bonus as well.
This is Paid and Free position!
Every applicant will be given a test of writing a small beginning of the Life* story under given instructions, the length of the story will be up to you but minimum amount of words will be given. After that is send to us we will review it and pick the best story writer!
Paid Positions require additional work of sending weekly reports on your work to Project Leader so payment can be send with approval that you have done something.
Payment Options:
Payment options can be either paypal or bank transfer ((which is not recommended unless you live in the same country as me.)) Paypal is the most reliable way of sending payment which I do recommend.
The amount of money you will be paid is negotiable therefor you place your price and I review it and send you back my response, you can as well ask to be paid weekly.
You will be paid when you work and provide a report on your work to make sure you are doing something useful beside attempting to steal money. Those games will be free but you will be paid from my own money that I earn with hard work so please keep that in mind.
As a paid worker you must let Project Leader known in advance if you are going away on a holiday.
What you will work on:
As written above you will be working on a game called
Life*
((click on the name to be send to the topic)) which will be a free game, you will find all the information in the link provided which is rather old however you will be updated on newest information.
The game itself has character art and other art worked on as we speak however to continue on with the game and to make sure the story is enjoyable and written with a skill a story writer is needed. You can find the character art at the link provided.
If you have any questions feel free to ask.
Reference Art for Life*
Tachibana Sachi -

Takahashi Chie -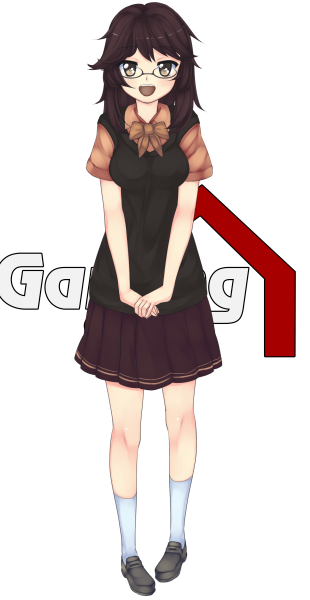 Tachibana Taichi -