I'd like your opinions on a personal piece of art but I'd also like to start a wider conversation about different artstyles in VN's and how they affect the sales of the game.
EDIT: Whoops, forgot to add the picture. here it is: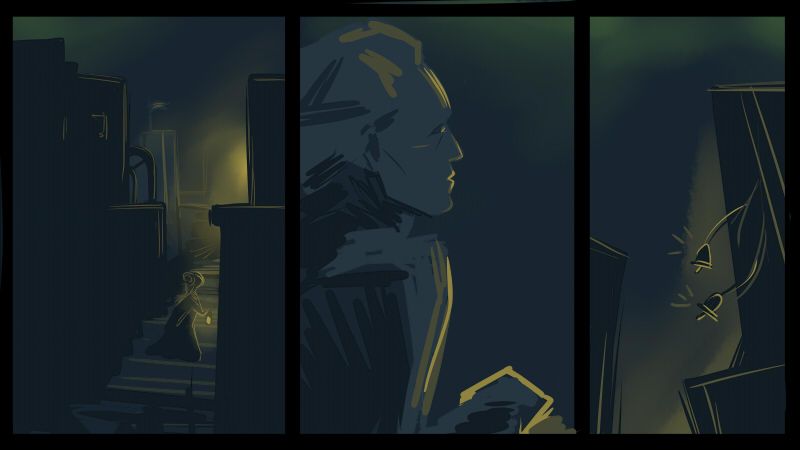 I wanted to do a quick test on how fast I could draw a comic scene. (It's actually the first scene from Skyfish, if anyone's played the demo.) This kind of loose style (maybe with a little bit more refining) would allow me to do a shitload of art for a game and it doesn't hurt my wrists much (I have a wrist condition, drawing usually hurts nowadays). Would anyone play a game with art like this? For free? What about as a commercial game - would you pay for a game with sketch-style art, considering there's much more art than in a traditional VN? If not, would you pay if it was a bit more refined, but still very simple and conceptual?
In addition to hearing your opinions on this particular piece, I'd like to expand the discussion a bit. With comic panels it's possible to tell a story without writing it all into text and a lot of the mainstream gaming audience seems to prefer that. Most people who like story games like to read but pictures seem to appeal to a much larger audience. By combining traditional VN storytelling with comic panels or there could be potential for really interesting games.
I recently played a game called This is the Police and I found the balance between the storytelling and gameplay very good. One of the things that helps tell the story is the unique artstyle of the game. I'm not entirely sure if it's based on 3D or if it's just vector art but it looks really good, and at the same time I could imagine it was much faster to produce than painted illustrations. That inspired me to think. Most VN's have extremely polished art, but it's limited to a few character sprites and maybe a couple of CG's per character route. But by choosing a less time consuming style much more art could be included - for example, I've wanted to make Skyfish a sort of a mix between a VN, a game and a comic but a full-on illustration quality, painted comic just isn't viable with the resources I have. Choosing a simpler art style would solve a lot of my problems. Do you know any interesting or successful VN projects or other story games that have chosen quantity over detail and polish (not necessarily quality, mind you)? If my comic doesn't please you, the problem may be lack of skill (or more precicely, practise)... but what if it was a seasoned pro doing the art? How would you feel then?
I know a lot of Visual Novel fans favor very polished anime art style but this kind of a mixed media project could reach a much wider audience than traditional VN's. What do you guys think, would there be a market for something a little outside of the usual box?
If possible, I'd like to see answers that are more than "Make the game you want to make". I do want to use an unconventional art style but I also want to, you know, pay my rent and eat :'D Also, I asked some questions, but feel free to comment on the subject overall, not just on my specific questions or my project. Sorry if the post was a bit messy - I have a lot of thoughts but it's hard to put them into words. I look forward to any interesting comments on the subject <3