Okay so this concept has been on my mind for a while, as I've wanted to make a continuation of Seduce Me with talking about the Ten-Year Demon War that occurs between the two games in the series.
However, I'm mildly torn on a mechanic I feel would be best suited for a WAR simulation: RNG/Percentage Wins and Losses.
Concept goes as such: Each Season/Turn gives you the chance to check your defenses, upgrade army equipment, train soldiers, progress personal story, etc etc. At the end of such, we go into battle phase, where you have to go against the opposing team's army on a tactical battlefield.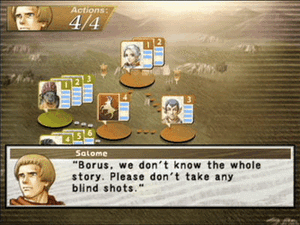 Based on how much you've prepared, your units have a certain strength/defense. When two opposing teams land on the same space, a battle occurs. Whoever has the highest chance of winning obviously wins the fight, but if the units are close to tying/balance, it would rely on an RNG. There are so many factors to winning and losing in real battle that I figured this would really hit the nail on the head that this conflict was a WAR and not something you can walk away unscathed from.
However, I'm worried that people will be too turned off by this to go through with the game or at least retry it after a complete run.
This is a bare basic idea of the battle mechanic but I figured this would be the best way to tell such in a VN form.
Thoughts?