One day, after deciding to go on a short walk, a young man meets a odd teenage girl standing in the middle of a road. Upon speaking to her (she was right there, wouldn't it be rude NOT to greet her?) and starting a conversation with her, a number events occur that may lead to his life spiraling out of control. He may just wished he'd have stayed in bed that day.
Story Containing Spoilers:
Van Moore recently moved to Ecks City. One day, out of boredom, he decides to take a walk outside of it. On his way home he meets a odd girl who turns out to be a faerie under a curse (caused by her sister Wednesday) that says she must find a human husband in about a week's time or she dies. Who else but Van, who's apparently a weirdness magnet, would end up as her husband? Now, all he needs to do is find a way to end October's curse. Unfortunately, the only known solutions are that Wednesday must willingly end it (fat chance) or someone must die.

Van(ce): Moore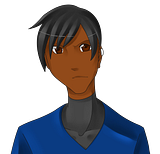 The protagonist and apparently some sort of weirdness magnet. He's generally an agreeable and helpful person, but has a tendency to be cynical or a deadpan snarker.
October: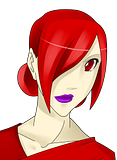 The weird girl who Van encountered while walking home. Despite her politeness and over all demeanor, she avoids questions about herself and acts like she's hiding something.
Wednesday: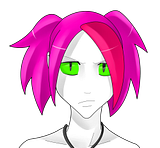 The main antagonist and a generally ill-tempered and acerbic person, with a mean streak a mile wide.

Writing/Programming: Mink
Sprites/CGs: Jadeookami
Music: Time will tell
Test Demo:
*It's currently missing music.
*They'll be a custom text box at some point.
Hopefully.
*Van's side sprite will be there eventually.
SYLM Test Demo!
Any feedback is useful, but what I'm really wondering about is how October comes off. I wanted her to be sort of vaguely creepy (like, "There's something weird about this person but I'm not sure what." sort of creepy), but I'm not sure if she comes across that way.