Forgotten and Remembered
(name not definite)
Plot:
This is the story of two very different friends. There's Kohaku, the girl who seems to have forgotten something important that she needs to remember. Then there's Sachiko, who wants to forget everything horrible she remembers. Each girl will search for their own answers to their problems and come out saving, or being saved by their loved ones.
To begin with, you can choose from two different characters to play as:
(Character designs are subject to change.)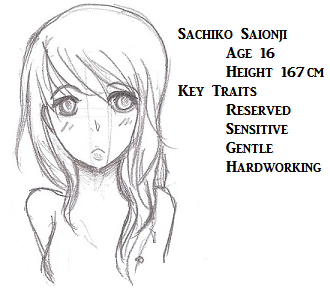 Quick Bios:
Kohaku:
Bio: She used to live near Chougatsu High School, back in elementary school, but she moved away when she was younger. Now, she's returned after many years back to her old neighborhood. She remembers a promise that she made with a friend of hers when she was young but she can't remember his face or name. (This information is only relevant if you go after the correct boy.)
Sachiko:
Bio: She used to live near Chougatsu High School, but she moved away due to her father's job promotion. However, when she entered high school in the city, she encountered a lot of bullying from her classmates. To escape, she decides to move back on her own and enters Chougatsu High, ready to forget her past suffering.
Depending on which character, the choices, endings, and events are very different. Every choice you make will either bring you closer to a certain boy or farther away. There are a total of five love interests:
(Character designs are subject to change.)
Quick Bios:
Kai:
Bio: He's the younger brother of Toya. He comes from an affluent family but does not live with them for reasons unknown. He's on bad terms with all the other love interests, and is not currently living in the dorms.
Eiji:
Bio: He's on the student council as Vice President. He's lived in a caring family and loving household. He feels a need to protect small things and cannot bare to leave someone who's sad alone. He's an older brother to six sisters.
Sanosuke:
Bio: He grew up as the only son of a prominent Dojo master. He's rather evasive about the details of his life. He likes the company of Eiji and Izumi, with Izumi being his cousin.
Izumi:
Bio: He grew up living with his grandmother. He's also rather weak in terms of physical dexterity. He prefers to be alone, with occasions allowing Sanosuke to be with him. He hates noise and is rather unaware of his surroundings.
Toya:
Bio: He's the elder brother of Kai. He's the heir to his family's company and is given a lot of pressure, which leads him to be very hard towards others. He doesn't get along with others well, but simply tolerates them.
If you were to head down Kohaku's route, you would get a more light-hearted storyline, with not much to do with her but more with the development of the boys' characters. If you chose Sachiko's route, you would have more angst, more drama, more obstacles to overturn due to her personality. The idea of two characters was supposed to a sort of foil for each other, so if you traveled through one route and didn't like it, you could have a very different choice in the other one.
The game is supposed to be choice based, and whatever you choose to say or do will affect the timeline, and give you different results as to which boy you would end up with.
In total, there should be around 20 endings, with each boy having their good and bad end for each girl.
I'm stuck on the programming. And also the design of the whole system. I'm working on fleshing out each character's image and personality. I need a decent background artist and music also.
This will not be a very short game, because of all the scenes and obstacles each heroine needs to cross. I'm currently doing all this on my own, but I'm open to creating a larger team after some trust has been established. A lot of things are open for change with exception to my basic story line and script.
Right now, all I'm doing is planning the story. Everything else will come later.
I'm considering voice acting for the game but that's getting a little ahead of myself.
Hopefully I'll keep at it.
This will be my first visual novel.
Update!
1/28/12
- Plot: 25%
- Script: 2%
- CG: 0%
- Sprites: 0%
- Backgrounds: 0%
- Music: 0%
- Coding: 5%
I'm currently focused on creating the script first. Everything else will eventually fall into place