Hi, everybody~~
First, sorry for my bad english~
Since im updating and totally editing the post i will put my old text or 'comments' in
italics
and the new things im adding will look normal.
Second~ I know that this is a topic really used in this kind of games, and that there is a million of visual novels about school, but please, be patient~
The game is not in the 'idea' phase anymore, so i will open an official threat in the current projetcs section too. Thanks.
Tell me about your school days
Well, yeah, it is a game about the school days of a girl who attends a fully-time school and is in her last year. She is kind of a "senior", right? With the exception that she doesn´t attend a preparatory but a "secundaria". Yeah, that´s one of the reasons why i have made this post too late after even thinking of not do it. Why? Because, yeah, the game is gonna be in spanish, at least for now. I will talk about that later.
Characters
I finally bought the wacom and it is still difficult to get used to it, since it is new, so the sketches are still shitty. Anyways, these ones are better that those bad photos.
Thanks for your patience~
Katherine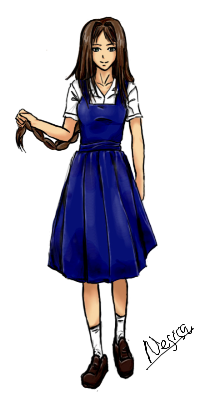 Well, this is Katherine and she is the protagonist. And no, you cannot change her name ´cause there is a reason on it.
I´m not going to tell that she is smart, but she is attending a very demanding school so she is very diligent and so are her classmates. One day, while she is going to school she is assaulted by a guy in the street and three guys help her, since that day they kind of become friends and that´s it. Yeah, it sounds dumb, but the plot is not more than a story about school days and i don´t want to increase it neither spoil it, so i won´t tell anymore.
She is easygoing but not friendly, may be a little cold and may be a little sarcastic too.
This is a sample of how i color my drawings digitally. It have a very bad quality at least for now.
Juan Felipe
He may look like the default anime guy, but he is not. I kind of changed his appearance by now (doing the cg´s), but he still look pretty the same. He is very kind, yeah, chatty and he smiles easily but he is not perfect and he have a pretty hectic life. He is the book type and if you like him, you will have to like reading.

These ones are the only two i have colored untill now. Im working hard on it, so, when they are all ready i will post them.
David

Well, this the "serious" type (not exactly). It is not that he is difficult to talk to, but he will not smile that easy and, no, he will not tell you to shut the f*ck up or to go away when you talk to him, it´s just that he is not that friendly. When you get to know him you will discover that he has a pretty funny behavior towards women, he likes sciences and he is very smart. It can be interesting.
Lucas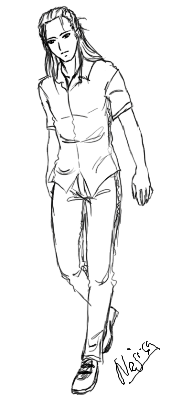 He is the third guy and he is asian, but a foreigner and not a descendant. I will not tell anymore about that because that is the point in his story. He is serious too, yeah, he is skilled and he has a good memory... there is nothing specific about him except for the fact that he is very elegant, polished, sexy, i don´t know. His route will be full of my own perceptions of eastern world, so that´s how it is. Lucas use his incredible memory to learn languages and you will learn a lot too if you talk to him.
Luis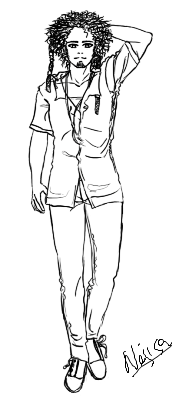 This image was the only one i could scan before leaving home and coming to the capital to study. His name is Luis Alberto and, yeah, he is a black guy. I am latina and i can say that here the people doesn´t offend themselves because you call them 'negro/a' but your attitude, so if you´re going to say something about this please don´t rush.
Luis is a genius, literally, he 'devout' himself to music and he is something like Katherine´s childhood friend. He is that kind of person that everybody likes the moment they know him. Katherine and he know each other since pretty young and they are really good friends. That´s the point, till now he won´t be an 'available/obtainable' character, he will play the role of a true friend and he will be important in the story. Still, i´m not sure about this yet, because he is one of my favorite characters and even though i think it is important that there be an 'only' friend guy, may be in the end he will have his own ending. This will be a surprise even for me since i have not finished to write the story.
Ok. It have been a long time since i began writing the game and now Luis is a completely 'obtainable' character. Everything is ready in his route, he has his owns scenes and ending. I hope you like him.
Tatiana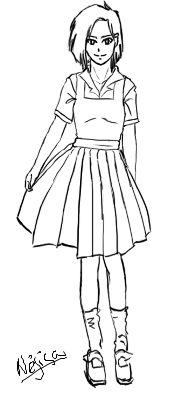 She is Tatiana and she will play the role of the "best friend" of Katherine. Everybody know that this stuff about BF´s and alikes is pretty relative, so their relationship is more complicated than that.
Tatiana is cute and simple and she likes to talk a lot and know about everybody, even though she is responsible like her other classmates. She and Tatiana met in their first year of "secondary/high school".
María Fernanda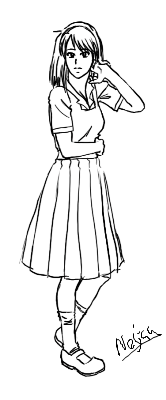 She is another Katherine´s classmates. She is very harsh and a little rude. When she doesn´t like one person she says it loudly, she reads a lot, knows a lot but doesn´t talk a lot. In spite of everything she is a very good conversationalist.
Valentina
She is a very beautiful girl that Katherine met during one of the most important events in the school. She is a very kind and cultured person, ...she is the kind of girl, you know, that is radiant when she smiles and whose hair always looks nice no matter what. I will not tell anymore about this neither, but she will be very important too.
Now, i have doodled the sprites of a few 'new' characters, so here they are. These ones are the rest of Katherine classmates that will play a role in the story.
Melissa

Well, she is the 'naruto' type character in the game. My english doesn´t let me describe her properly, but i think that if i put the 'naruto' word everybody will understand
Lol. She is vigorous and very absentminded and she will not play a crucial role but she is one of the most complex characters i have ever created. Anyways, she is done for another story, not this one.
Felicia

She is part of the 'Melissa & Felicia' couple, since they are always together. Felicia is the only one that can 'stand' her even though she is kind of different from her. She can be considered like an almost gloomy person, but when she is with Melissa she is smiling, so nobody really cares.
Teresa

She is a sarcastic and unworried girl who grew in a very catholic family and she will always have something worth to answer you to any question you ask her about; besides that, she always have funny and curious anecdotes to tell. She is very carefree about almost everything except for his grades. Btw, just saying, her complete name is
Teresa de Jesús Sanjuan Valencia
.
'Pepe'

Well, this one is 'Pepe' and he is that kind of guy who can mimic and make fun of every damn person he knows just after met them once. This character is not that unbearable clown that nobody can stand, but the adorable person everybody can like. He loves to tease and flirt with girls and he makes fun even of his own tummy.
His real name is
José
.
Daniel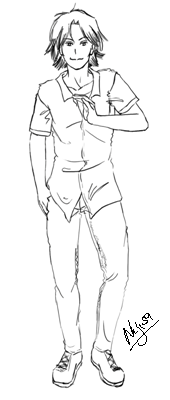 And, he is the last one of the 'Katherine´s classmates' group that will appear in the game. His name is
Daniel
and he is the kind of guy who always seems to be wasting time but he NEVER ever have failed on his grades (how unfair, isn´t?
). He likes to show off in sports and he is really easygoing. He likes to chill out with Pepe a lot.
___________________________________
Commentary...



Well, these are the main characters of the game. There will be others like the parents, teachers and so and they too will be important. I kind of understand if you´re not interested in this anymore since there is a lot of games about this, but i will tell you why i decide to do a game about school days in spite of everything: because i want to talk about school days, yeah. I feel like almost every game i´ve played where the main character is a school girl is pretty about everything except school. Besides the fact that when the main character is a girl and the game is an otome game the plot is all about romance. And she is kind of alone in a harem of men. I don´t know, it´s not that i don´t like them, i ´ve played a lot and i have enjoyed much and many of them too, but i have never felt that they are about school but about boyfriends/girlfriends. My game will have romance too, it is crucial to use it to give it atmosphere, but it will be mainly about school days and everything which that involves, and that´s the matters of being an adolescent, homework, graduation, university/college and love. And that all depends of the type of school you attend and the kind of parents and eviroment you live with.
Well, it sounds deeply ridiculous but i will try to not suck at it. That was the first reason why i decided to, the second is because i´m latina. Yeah, it may sounds stupid but i want to write about a 'latina' school. We are used to associate the school life with the idea that show to us the commercial movies tha come from, for example, USA (mostly), or in this case may be Japan. In Latinoamerica what the tv people do are stupids 'telenovelas/soap opera(?)' and bullshit with stupids plots and stupids characters, so i want to do something that every latino may like and may talk about it like something that really sounds latino. I don´t know, may be i´m trying to go too far and i´m underestimating the difficulty of what it may takes, but i´ll try.


I don´t know if i explained myself good enough, but i hope you all kind of got it. I know the descriptions of the characters and the plot is not very clear but i will try to do it interesting.

About the art, well, i know the images and the sketches are pretty shitty but i promise i will try to not dissapoint anybody. I don´t draw for a living but i have been doing it since many years so i´m not that bad.


And finally, about why did i decide to post the game even though it will be in spanish, well, i don´t know if you really like the idea, but i do would love to release it in english. In my case, as you could notice my english is not good, not even decent, so i would need help. It´s pretty cheeky to beg for help that easy but i thought that it may be any latin or spanish person whose english is good enough and will like to help me with this.

I will do just this one post and this will be just with this objective. I will "promote" and release the game in spanish forums only, but i will post the progress here just to let the people know that there is latin people working with Ren´py and that what you all do is an excellent job. I´m really grateful.
______________________________________
Some gossip...
Weeeellll~~ it have been almost 4 months since i created the post with just a few shitty photos and short comments about characters, ideas and stuff, but now the game is a solid project and everything is moving forward beatifully. I will now post the progress of the game properly with percentages and sections:
Game Features
• Genre: slice of life/romance/drama/comedy
• Endings: 4 obtainable hetero characters. 8 differents 'romance' endings, 2 per guy, plus 1 'neutral' Katherine ending.
• Concept art: original, by Nejisa.
• Characters design: original, by Nejisa.
• Story: original, by Nejisa.
Team
Im the only one working on my own game (oh, really?
), i have not really looked for help, at least for now, but i do have to remark something:
violethills
offered me her help to take care of the translation, so, even though we have not made any progress in that i will owe her a lot in the future if she finally decide to help me
.
Progress
• Writing: 50%
• Script: 10%
• Character Design: 100%
• CG: 70%
• Music: 90%
• Background: 80%
• Programming: 10%
Explanations and more gossip...
Well, mmmm... i don´t think those numbers are really accurate but i think they are ok. Anyways, it is a good idea to say some more about it:
About the story, well... i already said when i opened the post that the game is not going to be special because of its plot or incredible art/music etc. But, i will try the to do possible that the
text
express what i want to say. i really want to do it worth and i will try the argument to be as interesting as possible, but i have to be blunt with you: don´t expect anything incredible or super strange. It will just be a cute/sad game about a girl in her last year of school and the melancholy that comes with it.
The progress is ok. My 'guión' is already pretty long
.
The script. Mmmm, let´s see, i have been stuying Renpy as more as i can, but i work in the game when i can and i work on what i feel like. So, while i have the design of the interface almost done, the interface itself is not coded yet. While the story have already reached a long way the script is still in the first and second scene yet. So, that is it.
Here, this is how it is going to look the main menu, kind of.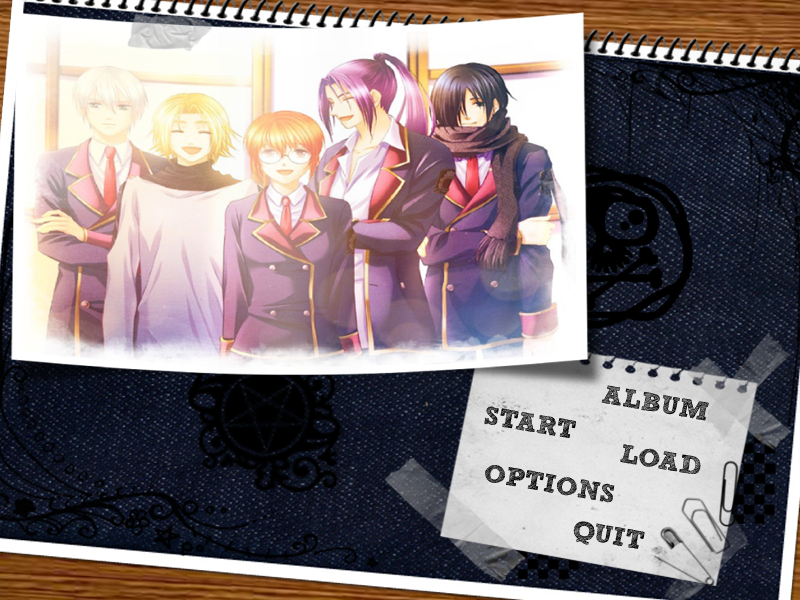 (The image on it is not mine, ok? It is from a japanese game)
About the art, generally speaking, the design of characters is 100% done, including classmates, parents, teachers and extras. I bought my wacom last week, so im working on getting used to it but it is still difficult. The scketches you see are my first try drawing with the wacom, that´s why they are so ugly
. Anyways, the CG's scenes and stuff are already done (pencil and paper done
).
Music and background: i accepted myself a challenge, and that is that im going to make a game TOTALLY free. And that is including the material and tools im going to use to do it. So, since i don´t have any idea of how to compose music then im going to use music free of copyright in the game, anyways, the game 'main' theme it is going to be a commercial song. I already downloaded and choosed carefully every song, so that is done. Talking about the background, as with the music, im going to use just free material. So, the backgd are going to be 2d prints of 3d free models of daily places. I edit the models with GoogleSketchUp and then i render them with Kerythea.
This is how they look like: (These ones are not the true prints)
And,.... programming. Well, im not going to lie to you: i have no idea of how the 'choose' and 'ending' stuff works yet. But when i have to work on that i will make that thing work. I don´t know how to do it yet, though
.
There are other things i could add details about, like the type 'prose' the game is going to be and the content of the game itself. Well, i have to remark that the game is going to be a VISUAL NOVEL and not a dating sim. So, it is going to be just a game with different long stories depending of what path you decide to go. Then, the narration is going to be completely subjective because is Katherine, the main character, that is talking in a first person voice. So, there is not going to be 'guy-alone' scene or 'guy-monologue' scene, it will be just Katherine voice and Katherine thoughts. With that said, i have to remark something else: what Katherine says in the game it is true FOR HER, and that is what you, as a player, are going to read. That also means that what Katherine thinks about some things is not what I, the writer of the game, think. Anyways, the game still is going to be full of my own opinions or points of view about many universal things.
That is about narration, about the rating and other some more stuffs: i rated the game 16+ because im going to use a very 'vulgar' or 'colloquial' language, since they are teenagers/adolescents talking shit, wasting time and discussing about class topics when teachers are not looking at. Besides that, there is going to be ECCHI, so i don´t want anybody to come making a deal about decency or proper age, bla, bla, bla...
Well, that is it.
_____________________________________
Here it is a bonus: the Juan Felipe and Katherine first kiss scene (very rough colored).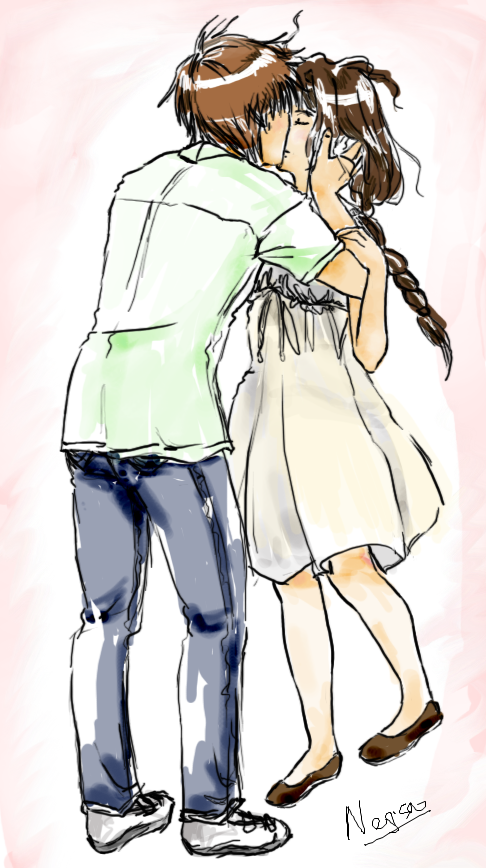 Thanks for reading!