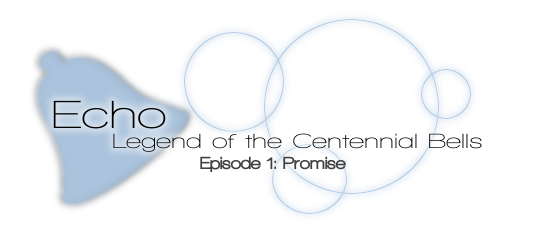 Echo: Legend of the Centennial Bells
Keith Summers is your average nineteen year old guy attending Southern Bell Academy, a private vocational school for boys. There he is studying to become a great chef so that one day he can open a bakery and sell cakes, his childhood dream. Now in his second year, certain events have lead him to fall in love with one of his friends or even someone unexpected. Unknown to him, every time he resolves his feelings with another his world resets anew, so he is forever without lasting love. What has he done to suffer such a fate?
Episode 1: Promise
Ready for a new year of school Keith's all geared up and ready to go, that is until he finds out that his spending money for the first half of the semester won't be available. Wanting to show his responsibility he gets a job through Derek, a friend from school who mostly keeps to himself. With the two suddenly spending time together, can Keith get his friend to open up to him? And if he does, what secrets will come out?
Team:
Writer: Hayzel
GUI: Hijri
Music: Konna
Art:
Editors:Giovanni
Progress:
The game contains 953 screens of dialogue.
These screens contain a total of 22,261 words,
for an average of 23.4 words per screen.
Background: 100%
Sprites: 0.5%
Re-Edit: 7/7
CG: 0%
Characters:
Due to me losing yet another artist, pictures should be treated as concepts and will be replaced with true sprites as they comes in. (Art shown done by Cinnerous)
Keith Summers
Age:19 DOB: June 23
"Just another fresh start y'know"
At nineteen, Keith is your average down to earth guy. He tends to be outgoing, stubborn and energetic, often having trouble focusing. Despite his stubbornness he has a hard time saying no to his friends or other's that need help. He also has cannot stand to see people treat other's badly.
Sky Alder
Age:20 DOB: October 23
"I sort of envy him... I wish I could be that free."
Sky was assigned as Keith's upperclassman during orientation for his first year at campus. Since then the two have become best friends. Though twenty, he is still easily manipulated by his father and when on campus where others might be watching he acts calm and serious. He studies in his father's economics department. In private he doesn't mind cutting loose a little.
Ray Hart
"Yup. I know you so well I can manipulate your hero complex."
Age: 17 DOB: September 25
When Keith turned eleven, Ray moved into the house next door and the two became fast friends. Together, they were inseparable until Keith went off to Southland Academy a year ago. Now that he's eighteen, he has come to be with his childhood friend and study Culinary Arts so that he may one day be abel to cater for Keith's cakes. He's somewhat shy at first glance but has somewhat of a strong will.
John Smith
"Hmph. "
Age: 20 DOB: May 21
A student Keith's age with the (poor) alias of John Smith. It is rumored he belongs to royalty, the son of a foreign diplomat or in witness protection...though because of his attitude no one gets close enough to him to find out.
Kazuma Honda
"It is a great privilege to share history and customs and experiences with different people from around the world."
Age: 19 Dob:
An exchange student of twenty that studies abroad for his history degree. He is studios and always eager to learn something new about the customs of the region is in. Kazauma also enjoys going out to public events and hangouts to see how they differ from his home country.
Fredrick Perry
"Heh. You've got some nerve brat to talk to a teacher like that. You should speak to grown men with proper respect.."
Age: 27 June 6
A stern man of twenty-eight that doubles as a professor of Anatomy and of English. He does not like to see his students fail and strives to help them succeed on through their own means. He's also a stickler for proper grammar.
Derek Bright
"I will do my best."
Age: 19 Dob: December 1st
Having been orphaned at the age of sixteen, he worked hard to earn a scholarship to Southland Academy. Now nineteen and wanting to fulfill the promise of graduating from college that he made to his parents, he lives from pay check to pay check to support himself. Around people he is outgoing and cheerful, but alone he is quite introverted.
Comments and Stuff
This is the revamped post for what used to be "Lost Dreams". Re-edited to go along with the forum changes (So much change in just a couple of months) . Anyway, I'd
love comments or questions
and if enough people are interested I'll post up to the end of the first day as a demo with the original art work for people to check out and comment on.
Series Progression:
Episode 1: Promise
Episode 2: Bonds
Episode 3: ???
Episode 4: ???
Episode 5: ???
Episode 6: ???
Episode 7: ???
Episode 8: ???
Episode 9: ???
Episode 10: ???
Episode 11: ???
Episode 12: ???
Episode 13: ???
VVV Very Raw Demo VVVV