#This was actually my first game I was planning to make but I ended up cancelling it due to exams etc. But since I didn't delete the artwork or the game I thought why waste this. So TA-DA! I decided to re-make the game with new sprites and a slightly different storyline but nothing major
Hope you all enjoy!

Title: Conquest Crystal
Genre: Fantasy, supernatural, action, comedy, romance(duh).
Rating: I'm not sure yet but between PG 13+ and 15+
Platform: PC, Visual Novel.
Plot:
In the Land of Avox, there are five kingdoms who rule the land. Each Kingdom was presented a Conquest Crystal by the Earth Goddess for protection and strength. Although there were some who wanted to use this power for a weapon and started wars across the land...
The fifth Kingdom Elijion was known for their peaceful status. Being the smallest and isolated kingdom they had no wars for over 100 years. Although one day...the crystal is stolen along with their Holy Maiden who protects the crystal.
In the modern world, Yoko a lazy high school girl is taking a nap. But suddenly a mysterious women appears in front of her, begging for her help.Yoko frightened and confused is suddenly teleported into the Kingdom of Elijion, and reclaims as the Holy Maiden. Her quest is to retrieve the crystal AND the real Holy Maiden along with 3 guys with strange powers, a blind girl, and a murderous convicted criminal. If she fails she will be stuck in that world forever as the kingdom falls in flames...
Protag: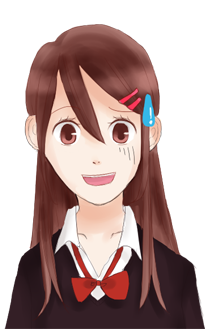 Age: 16
Likes: Napping
Hates: School, Bossy People.
Power: Sense the Conquest Crystal (apparently...)
A lazy and cheeky girl who lives with her hateful step-mum. She has no idea what she wants to be when she grows up.
Guild Maximus!: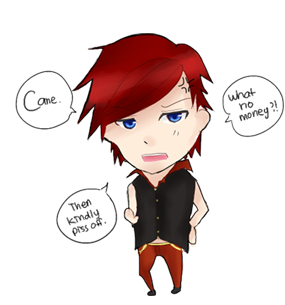 Leader: Cane
Age: 18
Likes: Money
Hates: Royalty
Power: ???
Kind of mature, yet again not really. He doesn't really care about anything besides money and his guild status.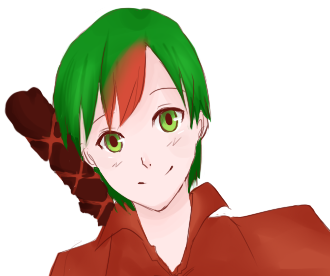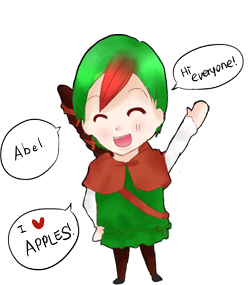 Abel
Age:17
Likes: Apples
Hates: Disturbers
Power: ???
A happy chap. Likes joking around with others (esp. Yoko) Always carries around a sword and doesn't let anyone touch it (even sleeps with it.)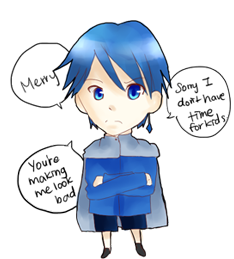 Merry
Age:16
Likes: Hot older girls.
Hates: Ugly girls...
Power: ???
A cocky,rude, and arrogant brat. He likes flirting around with older women but isn't around to show his disgusts when he means it.
Convicted Criminal:
Endo
Age: 19
Likes: ???
Hates: ???
Power:???
Silent, mysterious, cold? A convicted assassin that slaughtered an innocent family for no reason. He was given a chance to erase his death sentence if he guided Yoko through the Black Woods.
Blinded:
Julia
Age:11
Likes:Peace and quiet
Hates: People touching her blindfold.
Power: Can foresee the future and sense auroras around people.
The young Medium who can tell the future. She quiet and very mature for her age (unlike the rest). One thing she cannot tell is Yoko's future.
Others to Note:
High Priestess
Age:???
Likes: Peace
Hates: Loud noises
Power: Heal and teleport others from other dimensions.
The one who brought Yoko to this world. She is very organised and likes to keep things under control. If not she goes berserk.
Prof. Ford
Age: 29
Likes: Strange things.
Hates: Birds.
Power: ???
A Professor who studies strange creatures and things like Yoko! He finds her world intriguing and wonderful and starts to annoy the crap outta her for info.
Rebels:
SECRET MUHAHAHA.
#I know this isn't much but its past my bedtime so I'll stop for now. There are other characters to take notice of, but this is it for now! I'll upload more pictures when I get to finish them off T_T (Most of them are done just adjustments and coloring.
#Feel free to ask me questions or a comment. Thank you!
Progress:
Story:80%
Program:10%
Writing:18%
Art:50%
Staff:
Art:MelonCandy
Story: Meloncandy, ShadowBerry
Music: Free music
BG: Free BG
Programming: Meloncandy.
[Not sure which BGs and Music I'm using but I'll credit them properly for sure )]