Sometimes, to have someone is about to let him/her go...
STORY
This is a comedy Java ancient kingdom base otome game, where you can play as the heroine, Nacira, and choose the endings with one of the kingdom's princes,
Pandawa
(Puntadewa, Werkudara, Arjuna, Sadewa & Nakula).
The story is about a woman named Nacira, who was invited to be a subtitute dancer for next King ceremony. She have to live in the palace a month before her perform day. There, she found a mysterious box with a letter from the dancer before her. She knew that the box was belong to the previous dancer, Nyikara, and directed to her lover. Later, she was being challenge by Arjuna to guess Nyikara's lover in 6 days. While searching for the clue, Nacira will getting closer with Pandawa.
CHARACTER
Nacira Basita
Age : 20
Height / Weight : 159 / 45
Description :
The name Nacira can be traced back to the word Aciraba, a word that can be translated to 'swift'. It's an appropriate name, since Nacira is an energetic, spirited girl. She hails from the outskirts of the Nayottama kingdom, and as a result is foreign to life in the palace. She had been taught to dance since an early age by her grandmother, and therefore has mastery over the sacred dance of Bedayana. She is so good at it, in fact, that she was invited to be a temporary dancer at the palace. A tad childish and full of curiosity. At first, she and the Pandawa will be quite distant to each other; however, over time, they may develop an intimate friendship.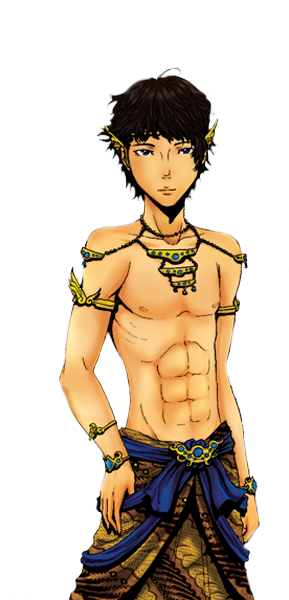 Puntadewa
Gender : Male
Age : 28
Height / Weight : 178 / 66
Description :
Yudhistira is the eldest of the Pandawa, as well as the crown prince of the Nayottama kingdom. He is calm and wise. Often seen reading a book in the library. As the crown prince, he is expected to act very politely to everyone.
Werkudara
Gender : Male
Age : 26
Height / Weight : 188 / 78
Description :
Werkudara is the second eldest of the Pandawa. He is the most stubborn among the five, and is the one with the most physical strength. He has a tendency to get into fights over the most trifling of problems, and often loiters around the city. If there's one thing in his cup of tea, it's a challenge; and it so happens that he considers the palace rules as one (and therefore disregards them on any chance he gets). He plans to someday leave the palace and travel around the world.
Arjuna
Gender : Male
Age : 23
Height / Weight : 176 / 62
Description :
Arjuna is the middle of the Pandawa siblings. He is the most polite and gentlemanly of the Pandawa five. Popular amongst the girls, he treats every one of them with all due respect. He is very good at using a bow, and can often be seen in the palace's archery grounds. Compared to some of his brothers, he is fairly obedient to the palace rules.
Name : Sadewa
Gender : Male
Age : 20
Height / Weight : 170 / 60
Description :
The second youngest of the Pandawa, Sadewa is Nakula's twin brother. He is innocent, naive and obedient (which isn't necessarily a good thing, since Nakula often gets him into one of his crazy schemes). He is very interested in herbal medicines, and can be found growing and gathering ingredients in the garden.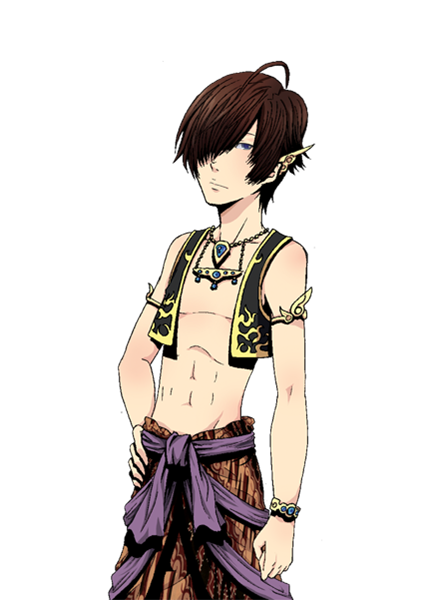 Nakula
Gender : Male
Age : 20
Height / Weight : 170 / 60
Nakula is the youngest of the Pandawa, and Sadewa's twin brother. Immature and sometimes a tad naughty. He is an exceptianal cook, and as a result can often be found in the kitchen. Occasionally, he takes Sadewa to pull pranks on the palace's residents; these are often perceived as rude, although in truth neither means any harm to anyone.
Screenshoot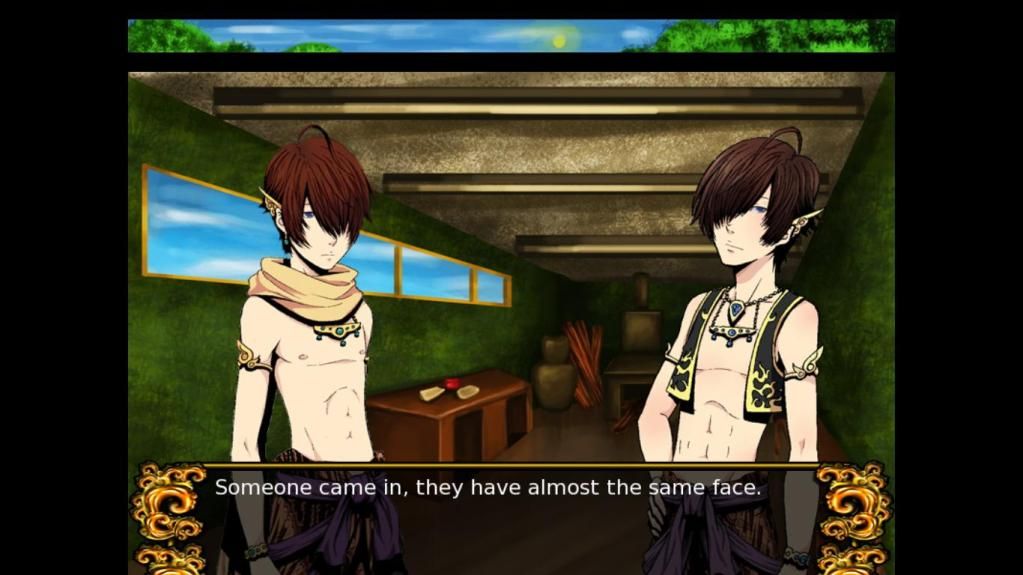 Genre : Comedy, Romance
Rating : +15
Duration : (trial) 15 minutes
Language : English
PROGRESS
Still 80% total in progress
Story : 90%
Coding : 40%
Art : 70%
BGM : 60%
It contains 4,456 words
DOWNLOAD
You can download the trial here:
for Window
http://www.mediafire.com/?nsgibath9xllb4u
For Mac
http://www.mediafire.com/download.php?48wcraarchl2icq
[Update 24/5]
CREDITS
Story : Ngareci
Proofreader : Hadianto, Pandito & Generic Timeline
Coder : Hadianto, Yosua & Ngareci
Art : Jehan, Nana, Dina, Nadia, Karin & Ngareci
Music : Dian & Keith
QUESTION
+ What's the best part of the trial?
+ Who is your fave character?
+ What can be improved from this game?
+ Any other comment?
The complete version will contain more sprite's expression, more BGM and more polished background, and less typo and grammar (english is not my first language, so it may contain bad grammar)
Every comment for better completed game are very appreciated.
Thank you!