Out of the Woods
Play as Ringo, a little girl who got lost in the woods. Help Ringo befriend the woodcutter's son Hiro and find her way out of the woods. Oh, and try not to get eaten by the wolf...
UPDATES & PROGRESS: Estimated 60% complete
I'm back! Some updates on the game progress.
✦ Customized dialogue boxes & Menu
✦ Music added
✦ Currently 1,000 words & 15 menus
✦ Can "pick" flowers during game for a bonus option
✦ Art finished for 1 ending
TO DO:
✦ Endings (at least 3 endings)
✦ Still working on dialogue/scenes
✦ More paths/exploration
Hello everyone, I'm a huge newbie who only just recently discovered the fun that are these games and... well I have a best friend with ambitious plans. We've had plans for years of manga project or two but now have gotten excited about the prospect of changing them to a gameplay format. This means I have to learn the Ins and Outs so I started this little fairytale game as a learning experience for me. I'm primarily an artist but I'm having fun confusing myself with coding and how to do things.
I really intended for a darker, grittier look to this but the part of me obsessed with cuteness must have taken over. Hopefully it will be just dark enough to add some spice. So far I have most of the sprites and backgrounds done except for the different ending scenes. I've kept the art very simple and graphic so I can spend more time on learning. Here are a few more screencaps: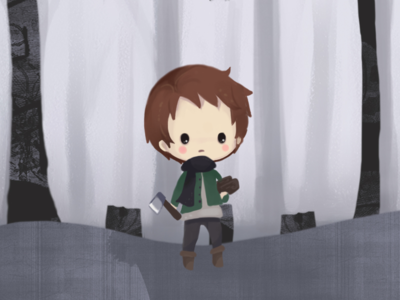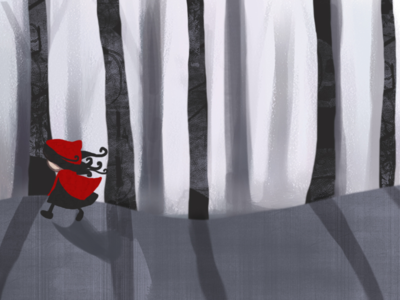 Being new to all of this, I do have some questions related to game making or for this game in particular. Any suggestions are also welcome if you think something would make it more fun.
- I found somewhere with music that was free to use, but is there a good resource out there for just sound effects?
- Is first person present the best way to go? Trying to get a feel for how much or little Rin should say.
- Trying to decide whether to keep it very linear or to give more control on where Rin goes, more like navigating the woods yourself. If I did, what would be the best way to do that?
- Instead of having an automatic prompt whether to pick something up, is there a simple code for having to click on an image that then starts the option of what to do with it?