"As a girl whom never wanted to look into future meet a boy whom wanted to get out from his past,
a story unfolds within the white rooms."
Synopsis
Kihara Nakayama is a young girl with terminal illness. She has been living like a caged bird; closed, isolated and never touches outside world much. Kihara highly hopes that her sickness will meet its cure as days, months and finally years left her. However, she began to despise her condition as time passes; she hates herself for being a burden for her own family – what she only wish is dying somewhere that anyone will not care, as long as it is not on her hospital bed all alone.
One day, she managed to escape from hospital. However, fate said that she only to be placed on the same state but in a different hospital. There, she encountered with Yukito Ryokuya, the one who found her collapsed in front of his father's hospital.
Will her destiny remain the same: dying in cold, hospital room, alone?
Characters
This is only a few of them in drafts, I don't make their sprites yet and all.
Kihara Nakayama
/ Age: 16
"What do you want? Stop thinking about me and go."
A tsundere girl contracted with Cardiomyophaty – a heart-muscle disease. She spend most of her lifetime in hospital, which makes her quite withdrawn and sensitive. Kihara has a special collar on her neck that control whether her heart muscles fails. She was born in prestigious family as the youngest child of three siblings.
Yukito Ryokuya
/ Age: 17
"You deserve to enjoy life, take back what you've said."
The son of the hospital owner who found Kihara from outside hospital. He has playful and generous personality. He's also a vice student body president in his school. He never cares about his father's hospital group at first, but he actually come to monitor the hospital well-being frequently because of the episode from his past. Somehow, he is stunned about Kihara's condition... why is that?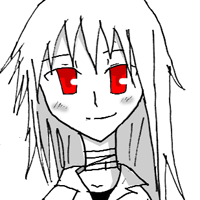 Momoyuki Kimihara
/ Age: 15
"As long as I am still living, I'll do my best."
Yukito's younger stepsister (albeit they're looking too similar) which Yukito adopted when her actual family died on airplane accident that also lost her legs' ability. Momo looks soft and frail, but actually she's very strong from the inside. She can easily read other people mind. She is now on a rehab session to recuperate her legs condition.
Dr. Eguchi Inuzuka
/ Age: 24
"The world is not as bad as you think. You can choose to hope or to despair."
Current head doctor in hospital, he is specialized in internal organs. Dr. Eguchi is the one who attend Kihara in hospital. Sometimes he is helped by his assistant, Sho Aragaki, to do his work.
Dr. Sho Aragaki
/ Age: 24
Said to be a young-gifted surgeon-in-training, Sho is an eccentric doctor with full-framed thick glasses and messy hairstyle. He's working under Dr. Eguchi supervisions.
Izumi Nakatsukasa
/ Age: 24
Well-respected nurse that assigned at Kihara's current floor post. She is seen friendly with Dr. Aragaki as well as with Dr. Eguchi. She has lost her right eye due to a certain hospital incident.
Kurumi Rokujou/Kurumi Valkyria van Arsenbach
/ Age: 16
"For my sister."
Half Finland-half Japanese student body president, a partner of Yukito in term of student body projects. She always visits her older sister in hospital and often bumps into Yukito in the hallway. She is energetic and well-manered person.
Hitomi Reiroukan
/ Age: 15
Yukito's classmate and his neighbor. She helps Momo with house chores whenever Yukito is not available at home. Gradually shown in hospital, she often talking to Dr. Sho about various illness regarding memory loss and personality disorders.
Shichi Nakayama
/ Age: 24
Kihara oldest sister, as well as the one who tend Nakayama's family with their parents' absence. She's quite over-protective sometimes.
Progress
Updated 07-09-2012
GUI: 0%
Sprites: 0%
Background Art: 30%
CGs: 0%
Music: 40%
Story: 40%
Script: 10%
At A Glance
Genre:
Romance, Angst, Slice of Life (expect a little emotional phrases here and there xD)
Rating:
15+ for explicity
Staffs cast~ \o/
whitenenesha - story / scripts / artist
Daistarir - CG artist
Doruku - Composer
Reyire - Programmer
S-K-Leton, Iarumas - Proofreader
This VN is inspired by my obsession of hospital and diseases. You'll play as Kihara and venture her new life in new hospital, interacting with others from hospital, and also, Yukito's past. (And maybe hints of other characters' selves)
I think I will not make any menu on this story
This KN currently has:
Statistics:

The game contains 169 screens of dialogue.
These screens contain a total of 1,840 words,
for an average of 10.9 words per screen.
The game contains 0 menus.
Example from my background tries (editing a photo):
http://i1094.photobucket.com/albums/i44 ... l_norm.jpg
This is my first attempt for making a VN, I have no friend around that I can ask for help, and I never have any experience on Ren'Py before so I struggling completely to learn about script-making and to study some terminology (I am quite slow to understand a thing!). What I can afford to complete myself is the storyline and sprites. I didn't know where to start, but the story is still in progress.
I really, really, appreciate and need your help on anything necessary!
Thanks and I hope for your feedbacks! ^^