Update Log
[*]Updated Progress - Oct 19[/color]
[*]New
Official Site
- Sep 24
Greetings, LSF-ers

My name is Rin and just a week ago I decided to start another project of my own while waiting for Kaguya-hime recruitment.
This is a Visual Novel whose story is inspired on Grimm's Fairy Tale 'Jorinda and Joringel'. And if anyone is wondering then yes! I absolutely love fairy tales! It grew up with me when I was still a kid and I always feel my mom's love whenever reading a fairy tale which she usually read for me as a bed story.
Anyhow, basically the core idea in the original story is remained, but I spiced things up (without breaking the O.story) with some additional information as well as events. I hope it would be good enough for you guys!

And, Fairy Tale: La Cage is also a free-to-play Visual Novel! I'm planning to release it within the next October. This is not a big project, we expect around 8000~ words when the script is done. But I'll try my very best to not disappoint you. My biggest goal is for you all to enjoy it. Just thinking about someone would be interested on my work is enough to make me happy!

Sorry for my rambling, here is what I've got after a week working on.

Fairy Tale: La Cage
Plot summary:
"Don't go near the wicked forest, or the Witch will turn you into an animal, and you'll never be free."
A rumor has spread involving a witch, and a castle in a forest. Any man who enters the forest is paralyzed before being thrown from the area. However, maidens are captured and turned into the pet sparrows of the witch. For years parents told their children this tale to keep them away from the forest. They even used the witch's name to frighten particularly naughty children. The forest became a place of fear for the people. No one dared wander near it. Years later, no one has seen the witch, but people still avoid going near the forest.
However, sometimes people still hear a mysterious song that keeps repeating itself from somewhere in the forest.
"I'm but a little bird and you can see me fly…
I'm just a little bird, my love for you can fill the sky…"
"What a beautiful tune, it gives me a feeling I can't quite express..."
–Melody
Characters: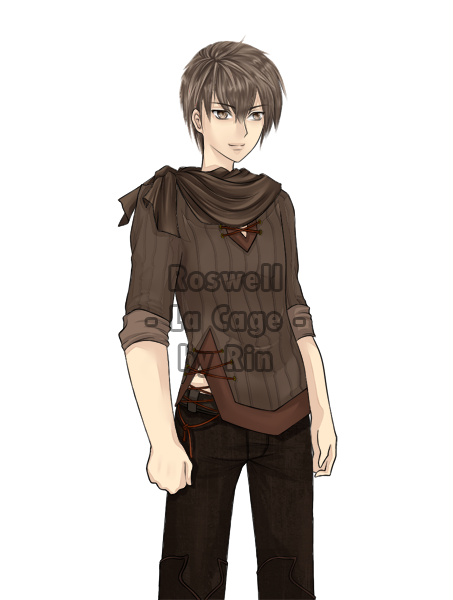 Voice: coming soon
Roswell [name changeable]
– A normal young man who inhabits the peaceful village. He is kind and calm. He used to bring the town's children candy and play with them like a big brother. He doesn't have a parent or siblings, so to him they are just like his family, which he needs to protect at any cost.
Age:
About 20
Race:
Human
Traits:
Kind, Caring, Responsible, Daring
Voice: coming soon
Melody
– Roswell's childhood friend. She grew up with Roswell since they were both orphaned. She has had a great interest in the mysterious song of the forest since she was young and enjoys spending her time playing the leaflute. She loves children and often reads them fairy tales.
Age:
About 18
Race:
Human
Traits:
Gentle, Soft, Sweet
Voice: coming soon
The Witch
– She is said to be ruthless and self-centered. Some people claim that she can shape-shift. It has been a long time, probably decades since the last time people saw her.
Age:
Unknown
Race:
Undefined
Traits:
Hypocritical, Malicious, Vengeful
Features:
- The Protagonist's name is changeable
- 2 different endings: Melody ending (true end) and the Witch ending
- Characters are voiced: I will update the character' voices by the beginning of October
- Narrator: The story is going to be told in 3rd person, the narrator is also voiced
- CG Gallery
- 1280 x 720 Resolution
- Original song
- Free release
Screenshot: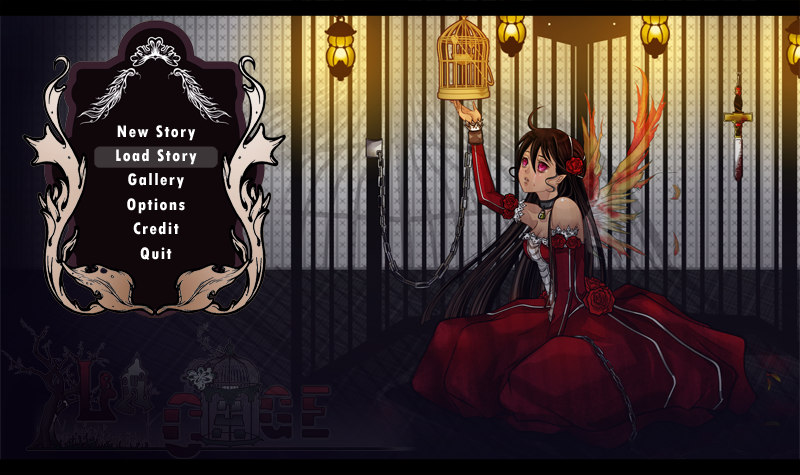 (Or attachment file for better resolution)
Staffs:
- Rin:
General Artist (including GUI, CG and Sprites), Screenplay writer.
- GameForge:
Writer, Programmer
- Morhighan:
Writer, Programmer
- Jess:
BG Artist
- Tenshiiki
: Co-BG Artist
Current Progress:
Story: 100%
Script: 60%
Sprites: 100%
GUI: 40%
BG: 80%
Music: 90%
Questions
We made choice based on everyone's help! Ty so much!
1. We are currently in trouble of selecting mode for Fairy Tale: La Cage.
The Visual Novel will be told in third person. So we would very appreciate if you can share for us your thoughts of preference about the 2 modes: ADV or NVL.
Basically the NVL mode will look like this:

NVL
(Or attachment file)

(I didn't add many decorations because it'll be a bit confusing while reading.)


And this is how our ADV dialog box mode is supposed to look like:

ADV 1

ADV 2

ADV 3
(Or attachment file)

(A little note: When the narrator speaks, the name box is hidden and probably the background screen dims a bit)


We would love to hear from you about which mode would you prefer so that we can get an idea to make a better decision.


2. If only you think the ADV ones interested you more, which alternative (ADV 1, 2 or 3) is most relevant to you? I mean, which one would you prefer out of the 3 mentioned styles? Does it needed to make the background screen dim when the narrator speaks or just hide the name box is already okay?
Thank you for reading and answering! If you have any question, feel free to ask.
Cheers,
Rin.