Vialixia wrote:
Thanks Nankaimo! We have quite a few different artists on the project now, all adding their own flavour to the game. It's cool to see it all coming together.
I'm sure it will be awesomee! I just can't get over how awesome that background is! It looks like a concept art for Mass effect or Deus Ex *u* im so jealouss of that person's skill!
I'm really excited to play this game when it comes out!
I'm sure all the art styles will be so cool together and paired with the story line it will make for a great game♥♥♥!!
_________________
Deviantart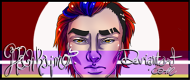 | Tumblr

"
I can only hope that the answers will come to me in my sleep.
I hope that when the world comes to an end
,
I can breathe a sigh of relief
,
because there will be so much to look forward to.
" -
Donnie Darko