'Siren's Escape' is a fantasy adventure based visual novel that takes place in a modern city.
You are Fay, a little mermaid that loves exploring the ocean. She is underage, so she's still in her fish form, not yet half-human. In this world, underaged mermaids are in full fish forms, and won't turn half human until after they turn 18.
One day, she was careless and gets captured by fishermen. They want to send her to the Queen so that her Majesty can eat her and gain powers. Eating a merfolk is the only way humans can gain supernatrual powers.
A mixup happened during the shipping process, and Fay ends up in the fish tank of a pet store. For a couple of days, she swims around the tank helplessly, worried because her eighteenth birthday is coming up. On that day, she will change into a mermaid. What will happen to her when that happens?
When that day finally comes, she finds herself in a bit of a situation. There are a couple of people in the store that day who witnesses her change.
Fay has to escape the evil Queen and the bounty hunter she hired in order to go back home. She befriends the Count and Lynn, who want to help her escape and return to the safety of the sea.
Will you help her too?
MAIN CHARACTERS:
*The guys are shirtless because I haven't finished drawing clothing for them yet*
Fay
[Players may change the name in game]
Mermaid. Element: Water.
The Count
A King of vampires. Element: Darkness, nightmare and blood. Weakness: Sunlight. Holy magic and items.
Lynn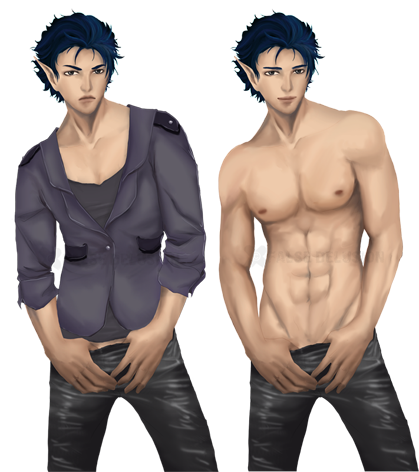 Incubus/Demon. Element: Sex.
Mya
SIDE CHARACTERS:
Tyson/Tiger:

Xing: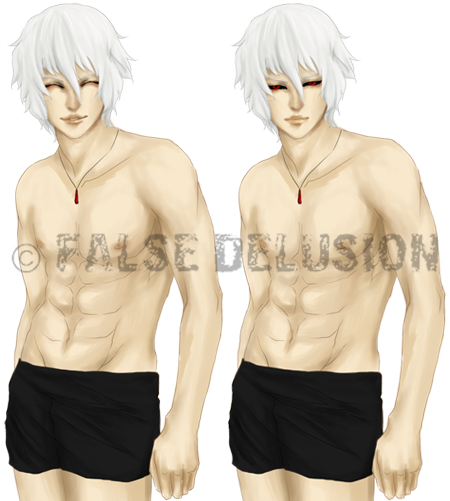 Neeo:
CG EXAMPLE:
-coming soon!-
SCREENSHOTS:
-coming soon!-
GAME FEATURES:
Type: Decision-making
Genre: Fantasy, Adventure
Endings: 3 Endings + 1 secret ending (Hint: there are no useless choices in the game)
PROGRESS:
Story: 40%
Script: 10%
Character Sprites: 20%
Backgrounds + CG: 0%
Programming: 0%
THE TEAM:
Story - FalseDelusion and Winglessnomad
Writing - Winglessnomad
Art - FalseDelusion
Programmer -
IDEAL RELEASE DATE:
May 23, 2013 (In time for Anime North
)