Demo thread here
Download the demo here

Story: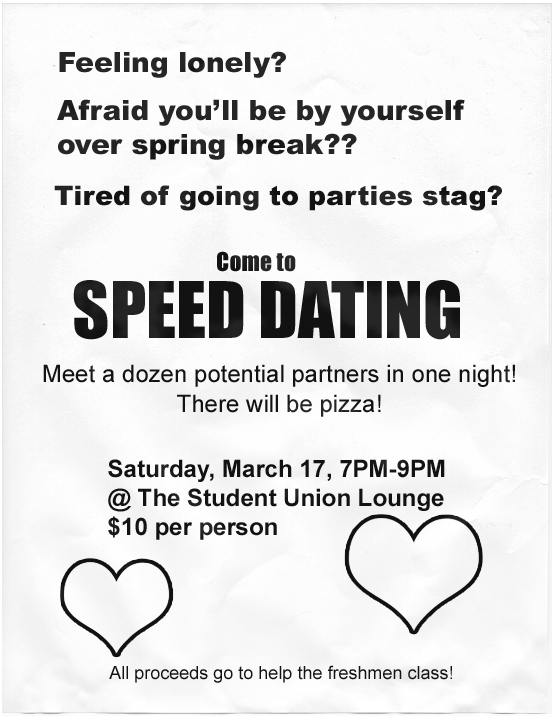 You were a young, freshman woman who decided to attend a speed dating event. You didn't have high expectations, but hey, it was worth trying, right? You met five intelligent guys who were... "memorable." This is the story of how it went.
Concept:
The story is told as five interactive vignette-like encounters. Your choices don't define the protagonist's thoughts/opinions; they define how she says them. There are five different kinds of dialogue choices and six "personalities." "Getting the guys" is not necessarily the goal, although you can if you choose the kind of social interaction that each of them likes. Whether they like you or hate you, my goal has been to make all of the options... "interesting." Much levity is involved.
Characters
:
Some are more in-progress than others.
The protagonist (default name: Virginia): A sharp young woman. What is her personality like? You decide! (But right now it appears she's in a sarcastic mood...)
Chet
: A spontaneous sort who loves snowboarding,
bad
math
puns
, and gardening.
Jam
: An architecture major who admits exhaustion from long nights in the studio. Claims to otherwise be a party animal. No, really.
Red
: Clearly intelligent, but you get the feeling he's sizing you up as he would a political opponent.
Will
: A computer geek. Or… perhaps "dork" would be the more appropriate term?
Hunter
: A handsome young man who seems to know what to say to make a girl feel special.
Screenshots
: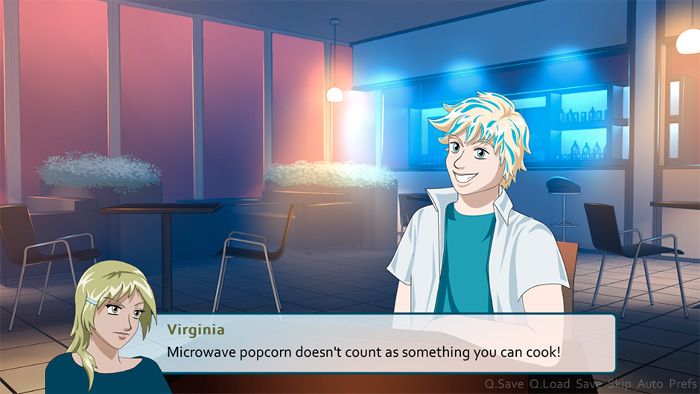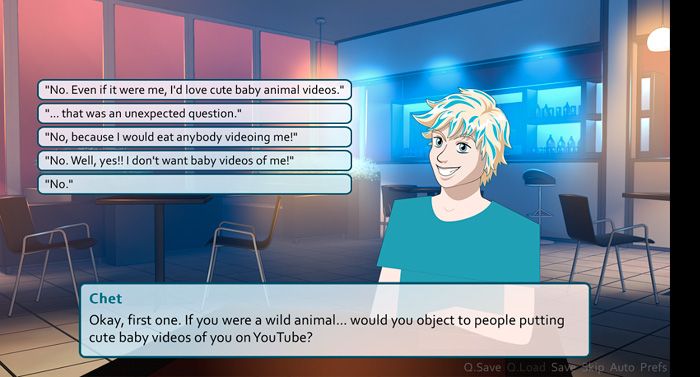 (This one is from before Chet had a real body, and I apparently didn't crop it right... But it's good for posterity!)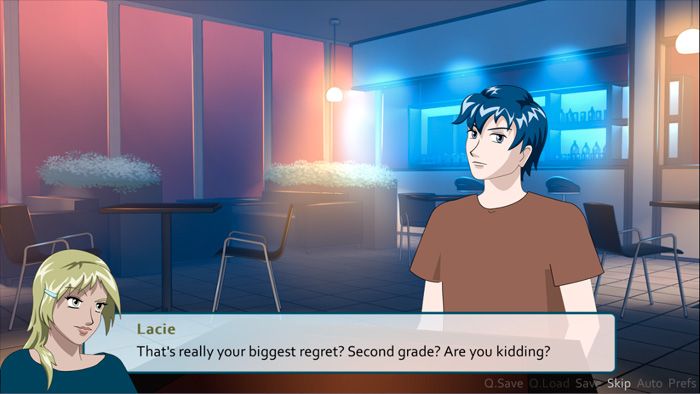 (People's necks don't bend that way. But it's all about suspension of disbelief, right???)
Progress:
Demo with prologue and Chet's speed date complete.
(Well, the shadows on his sprite are still blocky, but, it's a demo. That's my excuse and I'm sticking to it.)
Writing: 40% -- Prologue and Chet's story complete. Dialogue for the other guys is partly written.
The total wordcount projection about is 36-37K -- much more than I originally planned, but I think it's for the better. I want all choices to reveal something about the characters.
Art: 60% -- Chet and the protagonist are mostly done but their clothing is incomplete. The other characters are in various stages of being in progress.
UI & Coding: 60% -- Interface is generally established, but I plan to have a custom help screen, clean up the preferences a little, and to have a "route" map. Chet's date is coded (obviously), and the others will be in conjunction with the writing.
Music: 5% -- I do plan to have music, but it's... well, in the planning stages.
There you have it. My magnum opus. (but only because it's my first VN)
I started this project because of NaNo13. I'm continuing because I PROMISED MYSELF I WOULD FINISH IT.