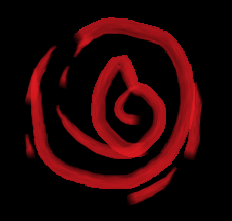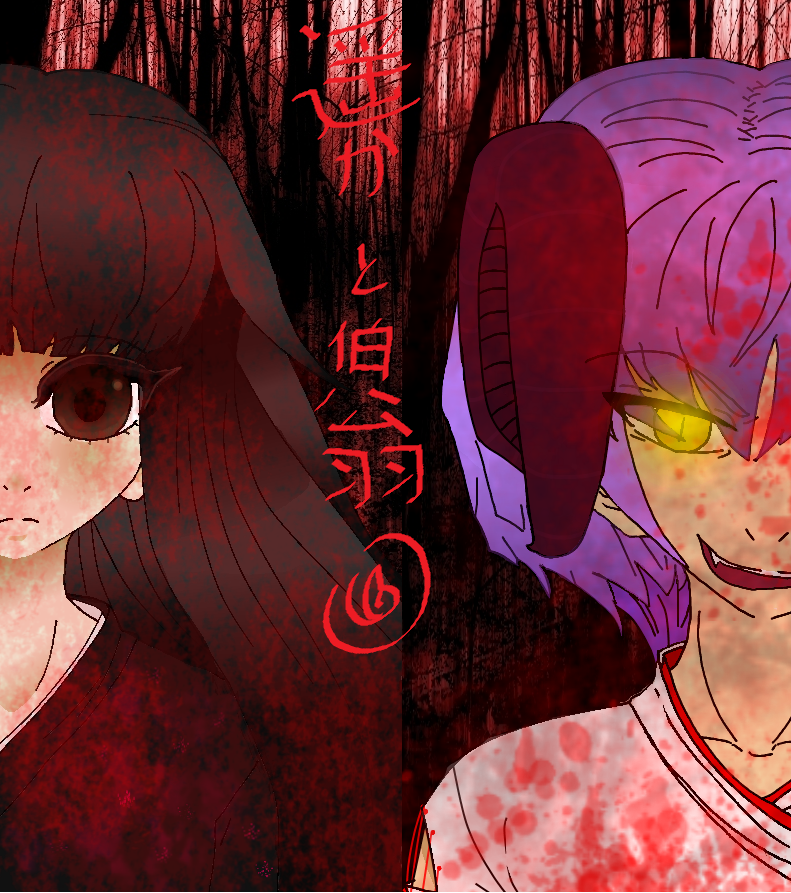 "Haruka..." I hear him beckon me. He calls for my attention. So I come. Once I get close enough, he pulls me in his lap and continues. "Haruka... I have something to say to you. And it's very important, so you have to listen. Okay?"
I listen to his gentle voice in obedience, ridding myself of all distraction. "Okay."
"Haruka, I know you love the people here very much. You love them, don't you?"
I smile as he plays with my long, black locks and nod. "Mhmm! I love them very much! They're very nice to me!"
"They are. They are very nice people. But you must remain wary around them because they won't always be so kind to you."
I tilt my head in confusion. He continues to caress my hair. "What do you mean, Hakuou?"
His expression darkens every so slightly, but noticeably to me, since I spend every living hour with him. "Listen carefully. They may act like your friends, maybe even family, but - once they're eyes turn yellow, they will hurt you."
I start to become scared. "Why will they hurt me?"
"Because," He continues. "They can't control themselves. Especially around you. You're special Haruka."
But I did not know whether that was a good thing or a bad thing. I grasped onto his white haori with my tiny hands and frowned. "But, Hakuou... your eyes are always yellow."
Hakuou's face turns solemn as he pulls me into a soft, yet lonely, embrace. His voice quivers, but he keeps his arms steady. "We may be of the same blood, but I'm different than them. I would never hurt you Haruka. Because...
... you're all I have."
~ABOUT~
Somewhere located in Asia, an old and well known legend lies upon a mountain named Agma Sinsa. , Because of this dangerous legend, the people around it will not set foot near the mountain. They left a paper boundary, to keep humans out, and yokai in.
One day, a little girl wanders into the forests of the mountain, causing her to lose all of her memories about her family, friends, life, and herself. While she is seeking a way out of the forest, she runs into a Bakeneko, that had been following her for a while. It attempts to pounce on the little girl. She shrieks in fear when suddenly the sound of a Naginata slices the monster in half. The little girl looks up at the man, donning the garb of a shrine priest. He has purple hair brushing against his white mask, billowing in the wind even as his ram horns remain still. Blood stains his left side. He discovers that the little girl remembers nothing about herself. He takes her in and raises her as his own, calling her Haruka, "the lost".
Haruka is now eleven and has been living in a small village swarming with blood thirsty yokai for seven years. She made several friends amongst their kind, and they seem to like her, but she knows the only reason they will not touch her is they are terrified of Hakuou. Why they are, she does not know. The few who have attempted to devour Haruka were never seen or heard from again. There are many mysteries surrounding Hakuou, and Haruka knows she must remain cautious around the people in the village; nevertheless, she wants to believe she can build a steady relationship with these yokai. But Haruka knows it's useless, because they are what they are. Like animals, they will not change. Had it not been for Hakuou, she would have been slaughtered by now... but... Why?
~OBJECTIVE~
Haruka has a plethora of questions building in her young mind, questions surrounding the mysterious yokai Hakuou. He has always given her guidance, but there is one thing she must absolutely never do. Hakuou owns a shed at the bottom of the village, blocked off by a spiritual paper barrier. Haruka is the only one in the village able to cross such barriers, thus Hakuou has told her to stay away in no uncertain terms. So she must find out what's inside it by asking questions, and finding clues throughout the village. And perhaps she will be able to find the truth regarding the other rumours about Hakuou while she's at it. Will she find the elusive truth, build a relationship more than friendship, or will she be slaughtered trying?
~GENRE~
-Horror
-Romance
-Mystery
-Mythology
-Dating Sim
~CHARACTERS~
-HARUKA-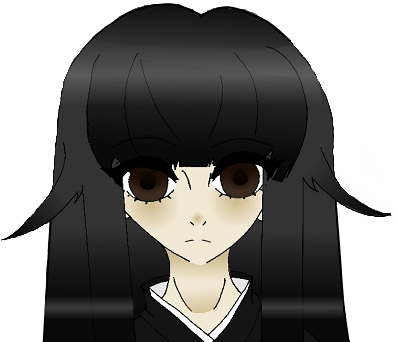 Age:
11
Race:
Human
About:
A human girl living with a yokai named Hakuou. Though he isn't home during the day because of a "Job". She doesn't remember anything about herself, except the day Hakuou saved her and the name he gave her. She's usually quiet and mature, but sometimes she has a childish and playful side to her. But most of the time, she's calm and reserved. Including cautious of her surroundings. Haruka grew up knowing all of the secrets of the yokai from Hakuou, except for his. But even though she is aware of their monstrosities, she keeps quiet and never says a word, because she has a longing for a relationship with them.
-HAKUOU-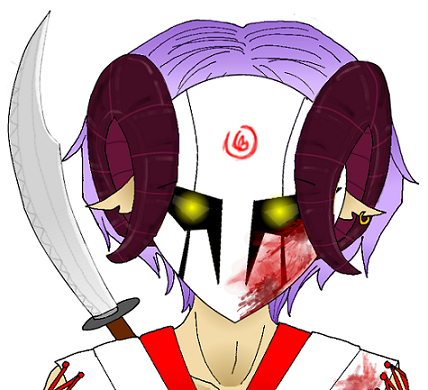 Age:
Unknown (Appearance 18)
Race:
Ram Yokai
About:
Haruka's older brotherly figure who takes a human form. He's never home during the day because he has a "job" he must do. He comes back late at night. He's quiet and wise, but also very lonely. He wears a mask passed down from his father and also inherited his father's immense powers, and is possibly even more powerful than his father. Everyone fears him for an unknown reason, and want nothing to do with him. Nonetheless talk about him. He loves Haruka more than anyone, and would do literally anything to protect her and keep her by his side.
-TETSUYA-
Age:
Unknown (Appearance 14)
Race:
Crossbreed between shadow yokai and Inugami
About:
Tetsuya takes a human form, but has a black body tattoo and doggy-like features from being a crossbreed. He has huge anger issues and gets embarrassed easily; tries to toughen everything out. But he's also defensive and kind to those who need it. He's great at hiding and has heightened senses. He's also Haruka's close childhood friend and they used to play together a lot.
-DOUMEI-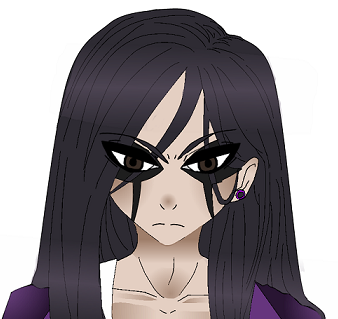 Age:
Unknown (Appearance 22)
Race:
Tengu
About:
A very strong demon crow who takes a human form. He's very rough around the edges and rarely smiles, but nobody can beat him at combat (except maybe Hakuou). he runs a dojo passed down to him by his father for martial arts and weapons. But unlike most people with power, he's not stuck up about it. Just intimidating.
-KOSUI-
Age:
Unknown (Appearance 19)
Race:
Tanuki
About:
He takes the form of a human with the exception of raccoon ears, tail, and eye prints. The most popular with the ladies in the village, and a host. He's sly, flirty, clever, and somewhat perverted. He can also be arrogant at times, but he has a trusting and defensive side to him. He's also generous, since he brings good fortune to the village. He loves to drink, spend money, and entertain the ladies, but his favorite thing to do is watch the moonlight and walk around at dark while everyone is out hunting for prey.
-GANTA-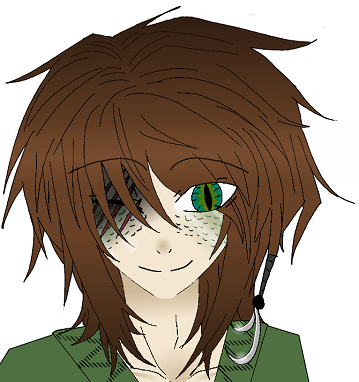 Age:
Unknown (Appearance 15)
Race:
Imori
About:
Takes the form of a human but has scales near his eyes and hands. he has an average personality but can be very energetic at times and playful, along with being extremely generous. He's Tetsuya's best friend, and Haruka's childhood friend even though they know barely anything about each other. He loves the rain and hates the dry heat, and is very talented at hiding and was also born with the gift of running incredibly fast.
-VAUH NA-
Age:
Unknown (Appearance 17)
Race:
Kitsune
About:
A shy Kitsune spirit who is also very kind and generous. She takes the form of a human, but still reveals 3 fox talks and ears. She loves to brush her long hair and sing to animals. She's also very fond of Haruka and wants to be like family to her. What makes Vauh Na special is she's a vegetarian Yokai, and will only eat plants to survive. Despite her nature. She's best friends with Hanri.
-HANRI (RIN)-
Age:
Unknown (Appearance 17)
Race:
Itsumade
About:
An elder sister like figure to Haruka. She takes the form of a human, but has talons and when angry, flames burn from the edge of her body. She's very tomboyish and composed for the most part but when she's really mad, she's out of control. She hates Doumei, who is her distant relative but is forced to help him out at the dojo. She teaches and cleans, but never agrees with him. Therefore, they never talk. She is also strong-willed and very talented at martial arts. She carries a katana.
-SANA-
Age:
7
Race:
Kitsune
About:
Was recently birthed into the village by Vauh Na's aunt, who died giving birth to her. She lives with Vauh Na, (her distant cousin) but isnt very social. She's best friend's with Haruka and very perky around her. Along with childish and girly. She also has a huge crush on Kosui.
-JAYLIN-
Age:
8
Race:
Amefurikozo
About:
A little boy whose parents were slaughtered by an unknown yokai. He's very hot tempered and dislikes Haruka. He's very disgruntled but even he has feelings. He loves Haruka's best friend, Sana, but he's too set on killing his parent's murderer(s) to think about it. Even though his powers are very weak. He likes to play in the rain.
-KERO-
Age:
Unknown
Race:
Chan Chu
About:
One of Haruka and Hakuou's house servants. He keep things tidy and organized while Hakuou is out. He's very calm and childish, while making bad jokes at that. But also very loyal and would never disobey his masters.
-UBI-
Age:
Unknown
Race:
Kappa
About:
One of Haruka and Hakuou's house servants. She watches over Haruka and takes care of her while Hakuou is out. She's very worried and paranoid, but also nice and would never betray her masters.
-MOTHER XIANA-
Age:
Unknown (Appearance a young wise woman)
Race:
Jorogumo
About: The mother and leader of the village Haruka has been living in. She takes a human form, but he spider legs growing from her back. Everyone in the village descended from her (so she's really old but she despises it being mentioned.) She will not eat the flesh of a human unless absolutely necessary and if the human is a criminal, or a sinful person. (Aka, murderers, rapists, thieves, etc.)
-THE GREAT DRAGON-
Age:
Unknown (Appearance; a very old dragon)
Race:
Dragon
About:
The most powerful being and the Dragon God maintaining the peace and control of the mountain and it's creatures. He places curses and restrictions only when he needs too. He's very wise and will listen to anyone's story. but in the end, he's the head honcho and makes the decisions.
-RAKUEN/PARADISE-
Age:
Unknown (Appearance; an older version of Hakuou, with stronger build, and shorter hair. Holds more malice.)
Race:
Ram Yokai
About:
The very powerful father of Hakuou. He had the same curse, and very same job given to him by The Great Dragon. People feared him more than they feared Hakuou. Most people didn't know his real name, so they called him "Paradise". He disappeared off the face of the mountain one night though. And nobody knows, not even Hakuou, what had happened to him.
~QUESTIONS FOR YOU~
-Is there anything about the storyline that doesn't make sense? (Take note that I couldn't mention a lot in there since I want you to play the game to learn more about it. I apologize if the information seems scattered. I'm an extreme screwball and my mind is everywhere.)
-Is my research for Japanese Mythology correct? (I really tried to learn about the different mythical beings and holy figures of Japan. But if I'm wrong about anything, correct me.)
~PROGRESS~
-Dialogue: 25%
-Character Art: 15%
-BG Art: 0%
-Voices: 60%
-BG Music: 5%
-Theme Music: 100%
~NEED ASSISTANCE!!~
-- Co-Writer
-- Voice Actors
-- Co-Programmer
-- Co-Artist
This is my first Visual Novel and I've learned how to use Ren'Py correctly, but I want this to be as perfect as possible so if I could request at least a little bit of assistance that would be wonderful. Please leave reviews and pointers if needed. And thanks again for taking the time to read this.