TUMBLR || DEVIANTART || (website pending)
New Moon Café is a small solo BL project in a traditional visual-novel format (where your choices change the outcome of the story) . It follows the stories of Nemu's, creatures which are the manifestation of human dreams / desires. They wander the earth in search of the one human who's dream they were created from. At the center of it all is New Moon Café, which seems to draw all manner of creatures and humans~( ; v ; I don't want to give away too much of the story here haha).
The game is divided into short story ARCS, each of which will be released separately, with one over-arching common metaplot storyline. More arcs may possibly be added as we go o v o// This topic is made specifically for The Nightingale Arc (which will be released first to test the waters)
With the help of some extremely generous (currently secret) peeps, the project will also hopefully feature an OST, full voicing, and all original sounds ♥ The goal is to create a BL game with substance and fallible, real characters (but still yummy graphics) that is
FREE
and available to everyone. While I like harem games, the goal of the game isn't to try to pair Clovis with everyone (lol).
(Not disclosing the release date yet ; v ; because I'm really busy with work atm and this is a solo project;;; )
Type:
Relationship Simulation, Visual Novel
Platform:
PC / Mac / Linux (using Renpy)
Resolution:
1280 x 720 (Widescreen)
Genre:
Slice of Life, Fantasy, Drama
Rating:
R18
Gameplay:
Traditional VN with options
Possible Endings:
5 + Metaplot Bonus
METAPLOT CHARACTERS
While these characters aren't playable, the choices you make in each arc will affect their storyline and potentially unlock special scenes.
NIGHTINGALE ARC CHARACTERS
Clovis is the playable main character - however the POV may switch to either Hyde or Ephy in the second part.
SCREENSHOTS
(Click for full size)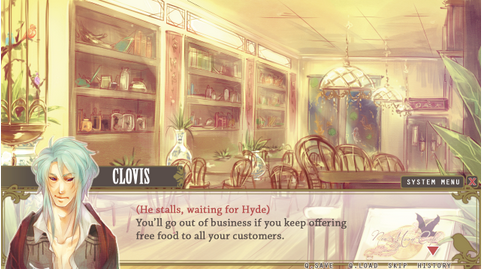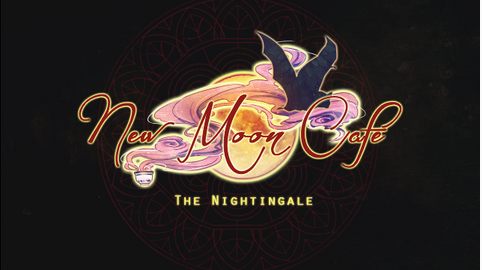 PROGRESS
Outline: 80%
Script: 20%
Programming: 10%
Sprites: 10% (it was 90%, but I decided to redo everything for widescreen;;; )
GUI: 20%
CG: 0%
Background: 20%
Music / Voicing: TBD
You can follow the
Tumblr
for the most recent updates
QUESTIONS
(Also sorry, but Hyde's design is being tweaked atm lolol)
1) Would you want an option in the game to turn off any +18 nsfw content?
2) Any comments/critiques/etc? Does the premise sound like something you'd be interested in? ; v ;
3) Specific thoughts on the GUI so far?
I'm also a complete newb at this. Never made a game before XD So I'm learning a lot haha. Any advice is also welcome