In 1877, a giant land mass appeared in the South Pacific. Quickly settled by Australia, China and America, it was discovered the new continent was host to a menagerie of magical creatures, previously only the stuff of legends. Moreover, something in the atmosphere of the land gave ordinary men the power to cast spells. They called the new continent Medipacifica.
… That's not the story we're here for. It's December 31st 2013, and Artemis King-- member of the supernatural police department-- is overworked, just as she is every New Year's. The night is dragging and mistakes are starting to be made. Some coworkers are grappling a rogue werewolf-- but Art and her partner Milla aren't able to help out until they've dealt with an illegal busking wizard. It should be an easy case.
But, too beat to work the beat properly, Art resorts to shooting the guy-- only to discover he gives as good as he gets. He's left with a harpoon in his shoulder, she's left with a curse that turns her into a half-demon. Milla panics and turns Art over to the police department's scientific research team, hoping for a cure. What Art gets instead is jail time, as a rare specimen they don't want to give up.
It's March 2014. Milla breaks Art out, but before they can formulate an escape plan, Milla is captured in Art's stead. Art is left with a choice: go back in the slammer, rescue Milla the hard way, or keep running.
Features

-Five completely distinct routes (30k+ words each)
-Multiple endings for each route-- between 4 and 8. Mix and match each route's ending criteria and see what happens!
-Four romances; 2 GxG, 1 GxB, 1 GxNB
-Partial voicing
-A twisty and dramatic urban fantasy plotline tying all the routes together
The Routes
Armida:
Art formulates a plan to rescue Milla with the help of a fellow prison escapee-- Armida Azarola, a silent Frankensteinian creature. However, Armida's assistance isn't being offered on pure altruism: What happened to her back in those cells? Why does she refuse to talk? And, perhaps most importantly-- how did she come back from the grave in the first place?
Doc:
Art turns herself back into the labs, however her breakout has caught the unwanted attention of notorious demon exterminator (and assistant police commissioner) Erin Banballow. Can Art, together with some sympathetic station staff, succeed in convincing Erin out of murder?
Romance: Doc.
Samir:
Art successfully rescues Milla, and the pair hightail it away from their city, to a nearby village where a friend-of-a-friend has offered them accommodation. Their host: a self-loathing werewolf named Samir, who grapples with guilt over a certain incident three months earlier…
Romance: Milla, Coro
Garnet:
Art runs into the wilderness, where she meets two women-- Jane Fontaine, a reserved pilot with a crashed plane, and Garnet, a kindly yet introverted witch. Garnet offers to help return Art's humanity, if Art can just lend a hand with Jane's plane...
Romance: Garnet.
Finale:
With all four routes completed, the story will be resolved in a grand finale, where all the major characters gather to take down the enemies they've made along the way, and save a friend one last time.
Romance: Garnet, Doc or Milla
The Main Characters

(note: some of this is my own doofy placeholder art; the nice, painted sprites are the in-game ones, obviously!)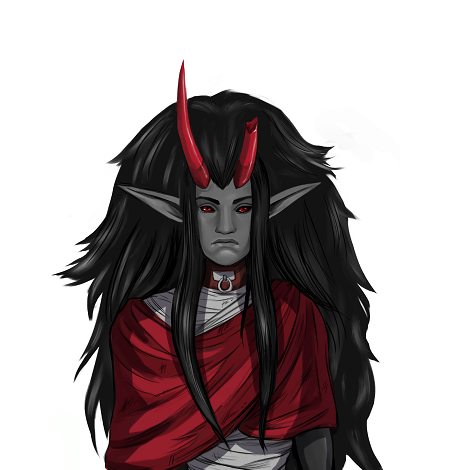 Artemis King:
A 28-year-old Kiwi expat, Artemis left home young and never really grew up. In the wake of her father's death at age 18, she fled to Medipacifica and immediately joined the police academy-- starting a habit of running from personal problems that would last her whole adult life. Despite Art's maturity issues, her youthful energy does serve her well when it comes to relationships and work, enabling her to tackle issues put in front of her with no shortage of pep and enthusiasm. Actually, that said, a little less enthusiasm might be better-- she's prone to acting without thinking and putting herself and others in danger. Damnit, Art.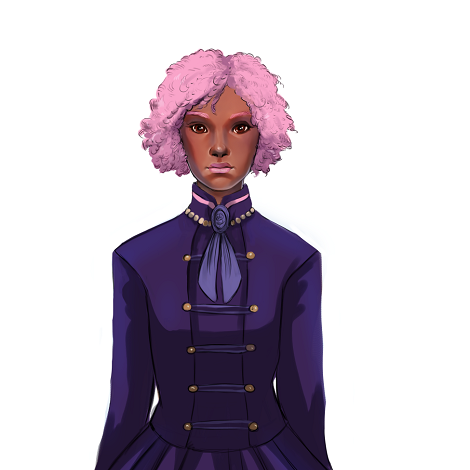 Milla Crescent:
If Art is a woman-child, then Milla is her begrudging parent-- picking up after messes and apologising for rude interactions, left and right. Milla is righteous, independent and driven, with a strong desire to do her work properly and in a humane fashion. It disheartens her to see how lazy her fellow officers are, both in morals and in practice, and she pushes others to do the right thing as often and as well as she can.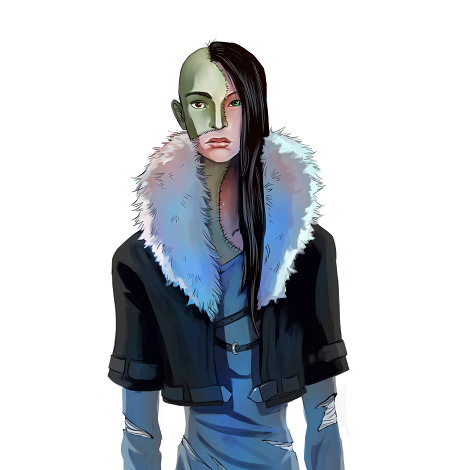 Armida Azarola:
Armida is serious, almost impossible to squeeze personal information out of, and emotionally absent as a rule. Mute by choice but not biology, she writes all communication down on a notepad, and uses the slow medium of writing as an excuse for short, evasive responses. What secrets lurk behind her patchwork facade?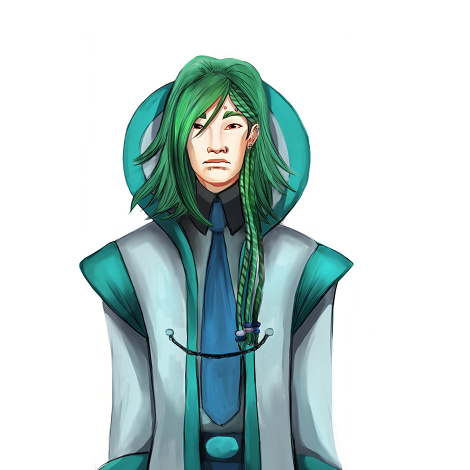 Doctor Dock Marina Yuen, PhD:
Do not disrespect them by dropping the PhD, they know people like to ignore that part after the Ig Nobel prize win two years back. Doc is a gung-ho scientist whose unconventional methodology won them management of the 'unusual biology' science team at the police department. They don't like the implications the job title holds, considering some people would say their biology is a little unusual too-- it feels a little like they're being classified as one of the specimens sometimes. Snarky, intelligent and very Australian, Doc is the perfect foil for Art's low-brow New Zealand-y sass. And who knows, maybe if they can tolerate each other's accents long enough to have a conversation, they could become something more…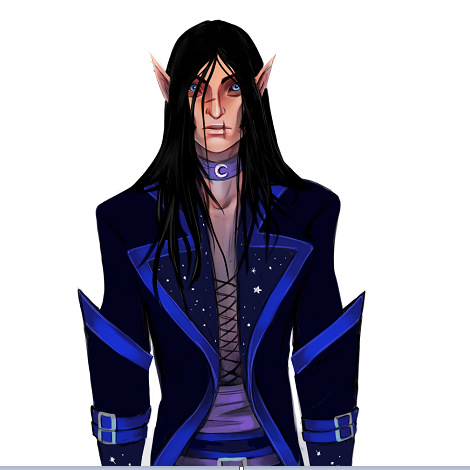 Samir Petrov:
Samir is a poorly-veiled enigma; the kind of man who claims he has a lot of secrets, but easily spills them offhand. Ask him outright, he'll deny any and all of his mysteries, but let him bring them up by accident, and he'll tell you tales-- of expeditions hunting vampires, of surviving against incredible odds… and, most importantly, of how he became the world's loneliest werewolf; lurking in the woods, deep inside his own uncertainty and self-loathing. Melancholic at best, Milla and Art's presence in his home can do nothing but good for him, as they (intentionally or not) begin to reawaken his old adventurous identity once more.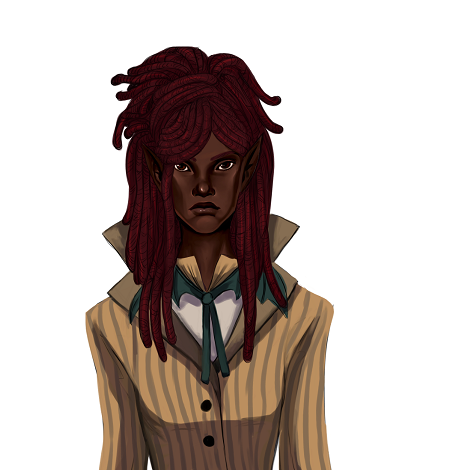 Garnet:
Garnet lives out in the wilderness, where she wears high-fashion clothes and tries to comprehend humanity at a comfortable distance. For reasons she doesn't care to explain, she is a witch of far greater power than any other human in recorded history-- capable of brewing potions and lifting curses, fields of expertise usually restricted to fae (which she is obviously not-- or she would be green, or blue, or some other candy-bright skin colour). She offers to help cure Art, in exchange for Art investigating the forest's only other human resident, Jane, and finding out how she got there. Why does Garnet have an interest in the girl... and moreover, why is Garnet so afraid of socialising with other humans?
Structure
The game has a set route order-- Armida, then Doc, then Samir, then Garnet, then the finale. Once you've unlocked a route you can replay it at any time for a different conclusion, and while the order is fixed, there are a lot of endings and choices within the routes so you're not tied down too much. Most major characters show up across all routes (for instance, Milla is in every route you play through), so if you love a particular major character you should be seeing a lot of them even when you're not on their route. Mix and match your endings, follow the plot through, and see how everything pans out when the routes converge for the ending!
Current Completion
Writing:
First draft: approx 45%
-Armida: 80% (just need to finish some of the branches)
-Samir: 55% (2/4 of script finished)
-Doc: 90% (endings ahoy!)
-Garnet: 5% (scene-by-scene breakdown/planning doc WIP)
-Finale:5% (scene-by-scene breakdown/planning doc WIP)
Second draft: 0%
Final draft: 0%
Art:
Sprites
-Basic sprites: 88% (24/27 characters done)
-Alternate outfits: 0% (0/22 alternate outfits done)
Character designs: 93% (46/49 characters+outfits done)
BGs
-Basic BGs: ?% (2/? done)
-Recolours: ?% (0/? done)
CGs: 0% (0/?-- to be confirmed as writing is finished)
GUI: 100% (thanks Morhighan!)
Logo: 100% (thanks Cafechan!)
Other stuff:
Coding: 0% (trying to get writing done first)
Music: 0% (likewise-- writing is taking top priority, then I'll suss music)
Voicework
-Casting: 33% (8/24 characters cast)
-Recording: 0% (need writing done, etc etc…)
SFX: 0% (I'm intending to just dig these up from royalty free SFX places, though)
Credits
Directing: Kitsubasa
Writing: Kitsubasa
Sprites: Anna Fitzpatrick (
http://annafitz.tumblr.com/
)
CGs: Anna Fitzpatrick
BGs: Kitsubasa
Logo: Cafechan
GUI: Morhighan
Editing: Whimsical Conductor
All other jobs are currently unfilled. Time will tell whether I handle code myself, and all sound aspects are being ignored until writing is done.