__________________________________________________________________________________________________________________________
Hey all, welcome to my VN thread!
I'm Lishy, the lead writer and project leader of When the Bells Toll. Progress is going great, and we're finally ready to reveal our project here. I've been working on this visual novel for a very long time, and I am very excited to talk about this. I hope to release a beta soon!
tm
For all the latest development updates, please follow our official blog here:
http://lilium-noire.tumblr.com/
__________________________________________________________________________________________________________________________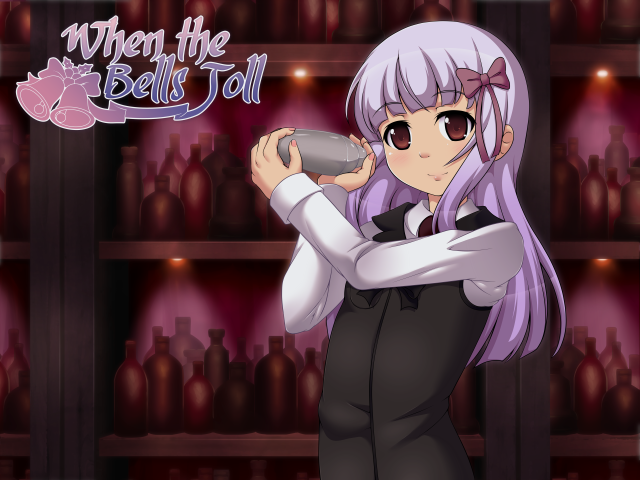 -Summary-
When the Bells Toll is a Romantic Suspense visual novel revolving around the young adults, Menlo and Kagra, as they realize the impermanence of things precious to them. Driven by their losses to understand themselves, they search for enlightenment with a reverie of drinking and bartending.
Rumor has it that should a Reaper haunt one's dreams, death is inevitable. Children and young adults across Montreal who claim this experience, vanish inexplicably after, until finally their corpses are found, ripped apart and ravaged, their organs missing from the gory pieces that once resembled a human being.
Hushed whispers speak of this as the "Reaper's Curse".
Menlo begins having frightening experiences of his own with the Reaper. He meets the bartender, Kagra, who also faces a dilemma of paranormal experiences as well; a haunting past of inexplicable circumstances, seemingly connected to the curse.
It's okay to scream. It's okay to cry. But never look directly into its eyes or run. Do not trigger its hunting instinct. Stand perfectly still, otherwise a slaughter will take place. The true howler in the darkness hunts for the blood of the crawling chaos
All is meaningless. Don't worry, though. Relax at your favorite bar, enjoy your life, make light out of darkness. Laugh with friends, kiss a lover, or sit alone and peaceful as you reflect upon your favorite drink. Life is all about how we cushion our fall, and making the best of things in the aftermath.
-Info-
Length
: 11-15 hours per arc
Genres
: Romance, Mystery, Drama, Psychological, Thriller, Conspiracy, Horror
Format
: Kinetic ("Sound" Novel)
Music composed by Nicol (Composer of Katawa Shoujo!)
Music Sample:
https://www.youtube.com/watch?v=-t4LqHbeedg
__________________________________________________________________________________________________________________
Menlo Francois
Main hero of the story. Very timid and shy. Menlo's hobbies involve mostly flower gardening and meditation, although he has a bit of a wild side to him as well. Generally quite polite and gentle, but also a bit childish. Menlo is a pacifist who would rather turn the other cheek, than to make any conflicts. He tries his best to be spiritual, but often can't resist the frustrating fun of his mobile games.
Kagra Frederique
Main Heroine of the story. At first glance, Kagra seems quiet and polite. However, those who take the time to know her will find a very sassy and independent woman underneath, with a sultry sense of humor. Passionate about bartending and spirits, Kagra almost always has a cocktail metaphor for everything, and her love for alcohol makes her no less of a wild drinker. Kagra also loves horror films, showing an unusual appreciation for the morbid. A true self-proclaimed "nightmare-fetishist".
Ayaka Lorelei
Ayaka is a laid-back and flirtatious girl, though can be a bit of a muscle-head at times. In particular, she's fond of going to the gym and training Menlo, as they are such close friends. Ayaka passionately follows her mother's footsteps by studying medicine, showing a rare level of dedication for someone her age. Despite this, she loves to party, and experiments with drugs. Ayaka also has a dominant side to her, which she has no shame hiding, while her easy-going, fun attitude naturally gives her a magnetic personality.
Nina Cartier
With a mischievous grin and shifty eyes, this sly gal never misses an opportunity to mesmerize her audience. Nina proclaims her goal in life is to influence the human mind and imagination. Her passions are rather esoteric: psychology, the paranormal, and urban legends. She also dabbles in hypnosis, casually using her friends as subjects for mind control. Compared to her peers, Nina operates on an entirely different wavelength.
Garcia Leon
A hardworking student and aspiring to become a journalist, Garcia looks to the paranormal as just another mystery to analyze and solve, taking a rather critical approach to any story he hears. Most of his peers tend to think of him as just a perverted nerd, but do not make the mistake of overlooking him. When push comes to shove, Garcia can be serious and perceptive, noticing things gone wrong, way before anyone else. He is ruthless against injustice.
Jessica Schwarzkamp
A friend of Menlo and his family. Although she is only one year older than him, Jessica has a very nurturing personality. She acts motherly towards her peers, and as a result, tends to treat them like children. While most of her free time involves practicing archery, Jessica has a side of her that she tries to hide from others, but she sometimes slips up whenever someone mentions eroge or cosplay. A big fan of a certain dojin SHMUP.
Natasha Seraphine
Natasha tries to conquer each day with a cheery smile, full of energy. Her optimistic view on life allows her to get along with others very easily, although Natasha herself can be a bit clumsy at times, and her timidness makes her quite easy to frighten. She is the president of her college anime club, and practices martial arts in her spare time. Despite her harmless, gentle demeanor, Natasha claims she knows how to snap someone's neck.
Thank you for reading!
- Lishy
For anyone who wishes to show their support, we've produced a banner to promote this VN:
Add this to your signature:
Code: Select all
[url=http://lilium-noire.tumblr.com/WhenTheBellsToll/][img]http://img.photobucket.com/albums/v626/pokeman/wtbt.png:original[/img][/url]
__________________________________________________________________________________________________________________________
Screenshots and Extra Artwork
__________________________________________________________________________________________________________________________