I figure I should get this game out before Deji loses all faith in me
This is my GxG visual novel project. Born out of joking around with Deji, it is painted completely in traditional watercolors in an art nouveau style.
Synopsis
The Parasol Festival is the light-hearted tale of Anise Quintilli, an apprentice merchant who falls in love with her childhood friend Lynae. As they came of age, the older Lynae become an ace traveling merchant, leaving behind Anise who was never able to convey her feelings. Now Lynae has returned for The Parasol Festival, and Anise has three days with her, three long days that will determine both of their futures.
Main Characters
Anise Quintilli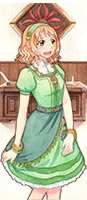 Our protagonist and newbie Appian Guild merchant. Anise's Grandad is the founder and Guildmaster, as well as her only parent after her biological parents died when she was young. It's her dearest wish to make her Grandad proud.
Lynae DiPrete
Anise's best friend since forever, who Anise has a secret crush on. Lynae is part of the trading caravans, and only sees Anise for at most a week each year. They communicate through weekly letters and have maintained a close friendship this way over the years.
Features
Four routes and six endings
Merchant Minigame (Sample Picture)
Magic Market Minigame
Widescreen 1600x900 pixels maximum
Progress
Script: 100%
Script Programming: 95% in editing phase
Art: 100%
Music: 100%
Shopkeeper Minigame: 80%
Magic Item Barter Minigame: 80%
Staff
Moogs Parfait (me) - Writing, Programming, The Parasol Festival Original Concept
Miss Teatime - Editing, Writing, Bittersweet Blossom Original Concept
Deji - Art, Character Design
Aleema - Programming
Traumendes_Madchen - Programming
Steamgirl - Programming