Hi!
So I guess it's been a while since I posted... I've taken a hiatus from making games since I've been going through some real life difficulties in the past year.
Anyway.
I've been working on a game that I call "Forbidden: The Fall From Grace". And for a novel that was born from a parody of a joke between my friends and I, it's turned out quite serious. There are themes of romance and court politics in it, I was hoping to make a game that will leave people going "FFFFFFFFFFFFFF-", in a good way.
---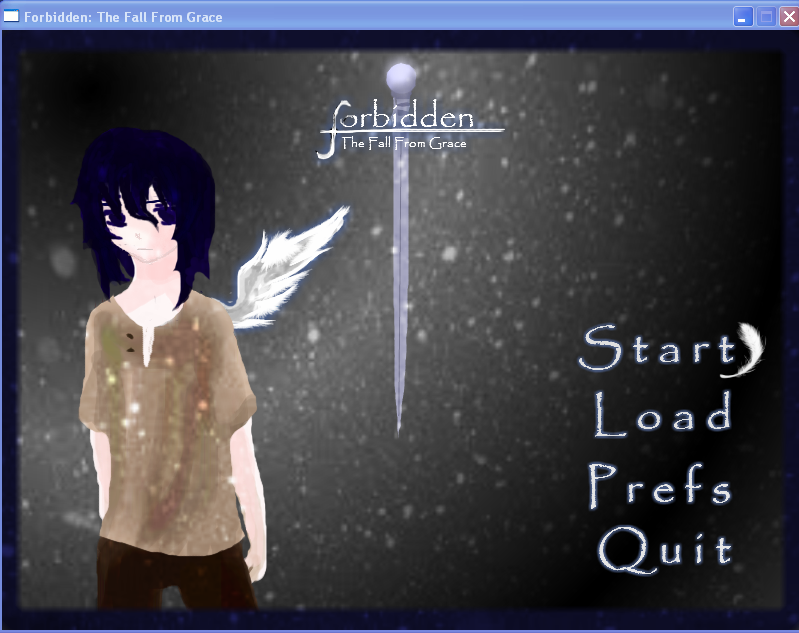 (the mouse is over the "Start" button in the screenshot)
---
Here's the plot:
The story takes place in an unnamed fantasy continent, which bears two countries, both of which are highly religious and believe in the same God: Daltonia and Aisa. (No, Aisa is not a misspelling of Asia). Daltonia is a more "traditional" country, which has a royalty, but its political policies differ in that the crown is passed on to whomever the previous king chooses. It somewhat resembles olden-time Europe.
Aisa, by comparison, has a female monarchy and the crown passes down through the maternal bloodline. It is also notably Asian, by our real-world terms.
The story moves back and forth between two Aisan characters, the princess Mikami and her friend/guard Ilia, and several major and minor Daltonian characters, the centermost of which are two boys named Seimei and Leo.
Seimei and Leo are two boys growing up in the slums of Daltonia. Up to their teenage years, they're pretty much inseparable, but around the time they turn 17, their paths start diverging. Seimei joins a troupe of entertainers, and begins taking a path that will bring him through the noble circles and eventually to becoming the next king. Meanwhile Leo is forced to become a thief, and is eventually captured and incarcerated, only reuniting with his childhood friend years later when Seimei (as king) frees him from prison.
Shortly after Seimei becomes king (yes, I have that all thought out and can explain it if anyone asks), a massive plague sweeps through Daltonia, leaving thousands of deaths in its wake. One of the dead is Seimei's mother. Shortly after, Seimei learns that his father committed suicide from grief. Angry and grieving, he turns to God, wanting vengeance.
As king, Seimei has the authority to do anything- and he uses that authority, initiating an expensive and potentially deadly project involving raising the dead. The first -and only- success in his Judgment project is Leo's old friend from his thief years, a girl named Sen.
Leo can do nothing but stand by and watch his old friend lose his mind. But even he is dragged into Seimei's ever-growing madness when Seimei both requests him as an old friend and orders him as king to become the figure who would come to be known as Lorenzo, a ruthless assassin who only serves the king, silencing all who opposed Seimei or his Judgment project.
While this is happening, over in Aisa, Mikami has since taken the throne in the traditional inheritance at age twenty. Formerly on good terms with Seimei, after witnessing his madness in challenging God, she declares war on the "country that trespassed in the realm of God". Not even a year later, Daltonia, with its funds drained and its people in disorder, is razed to the ground and every living being or creature within is killed in the name of God. Mikami wasn't heartless, but in the end, her faith was more important than her own feelings. After creating one final edict prohibiting entry to what was formerly Daltonia, now the "Forbidden Land", she steps down from the throne and disappears from history, leaving rule of her country to her old friend Ilia.
---
Yeah...there's no way this could have originated from a joke, huh? Anyway, the progress is approximately like so:
Art- 5% (currently being reworked)
Music- Probably will not be included, since sourcing everything I use will likely prove to difficult for my ADHD brain (about 10%)
Voice- Might use, might not use (so 0%)
Script- 20-25%
Story Planning- 90%
---
If anyone has any ideas or suggestions, or wants to help with the project, I am completely open to anything. Thank you for reading!
---
I will post updates whenever they happen.
Also, if anyone has any ideas as to what genre this would fall under...help would be greatly appreciated.