"Remember: I hate liars."
Tenth grader Charlotte Clerval never believed in ghosts—she just went along on Katherine Sobler's ghost hunts for the chance to hang out with her friends. But one day, in November of 1975, Katherine disappears after hosting a slumber party. Because Charlotte chose to stay home and study instead of going to the party, she's left in the dark about the 'incident' that resulted in Katherine going missing, and her friends remain mysteriously tight-lipped about the details. It isn't until the day after the party that she learns that what was supposed to be another fun 'contact the spirits beyond the grave' deal went horribly wrong, and she is given a challenge by the ghost whom Katherine was trying to speak to: Solve the mystery of the ghost's murder by this upcoming Friday, or else three people in Charlotte's small group will meet a similarly gruesome fate as the ghost herself.
The only problem with this? At a time when Charlotte needs clear answers more than ever, her friends keep giving contradicting stories about the party, pressure her to keep secrets from the others, and refuse to say what exactly happened. Can Charlotte solve the mystery before time runs out? Will she be able to save everyone, or will at least one person die before the clock strikes midnight on Friday?
Credits:
Story by:
Caveat Lector
Sprite art by:
Nekomiira
,
ehcs
CG art by:
Mayopix
Backgrounds
: Badriel, Rachel Marks
Music
:
Joshua1207
The Cast:
Charlotte Clerval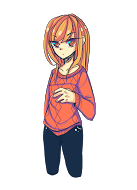 I let out a breath and laugh. How could I have thought such a legend could actually be real?
The protagonist of our tale, Charlotte is a sensible girl with a good head on her shoulders. She was never one to believe in ghosts, but the events of this story will force her to rethink her beliefs, and not just about ghosts.
Vera McGill
"B, but...what if...there really is a ghost there? And it--or she--is judging us?"
Charlotte's cheerful, bright, peppy friend. She's always eager to help Charlotte out, even if she sometimes needs a bit of help herself in remembering her schoolwork.
Jessalyn Meade
"It was just a silly story. Don't pay too much attention to it, okay?"
Charlotte's slightly more adventurous friend. She seems to know a thing or two about the incident with Katherine, even if she's not ready to reveal everything she saw.
Lillie Ireland
"Not now, I've almost got a good lead for a story!"
A reporter for the school newspaper, and a former early childhood friend of Charlotte's whom she drifted apart from after moving across town before the two were reunited in high school. She's looking for her first big lead in months.
Katherine Sobler
Katherine did not love the occult. She was obsessed by it.
A friend of Charlotte's, and an occult enthusiast. She went missing the weekend prior. What was she looking for, and what did she discover?
Others to come
Progress (disclaimer: rough estimate):
Script: 85% (story complete, awaiting assets to sort)
Story: 100%
BG Art: 45%
Character Art: 98%
CG art: 25%
Music: 100%
---
Music Preview:
https://soundcloud.com/joshua1207/sets/ ... vel-pieces
https://soundcloud.com/joshua1207/sleeping-beauty
Questions:
1. What are your thoughts on the ghost? What do you think happened to her? Why has she dragged our heroes into something that's not even related to them? Or is it? Theories? Thoughts?
2. Of all the characters shown so far, based around the short description given of them, which ones seem like they might be the most heroic?
3. Which ones seem like they'd be the most villainous?
4. What do you expect from a ghost story, or a story with elements of the supernatural?
5. Any additional feedback?
Misc. notes (put down in spoiler marks for the more curious, but don't worry, I'm not giving away any in-depth spoilers TOO soon here):
--UPDATE 6/28/2015: Well, we're all familiar with the story of Icarus, right? Here, I'm afraid that might apply a bit too well, production-wise. I've decided to cut back, and instead of making this a multi-choice VN, I will instead make it a simple, linear VN (or "kinetic VN"). It's the best solution to speed up production, and also so I can precisely narrow down my assets to what I NEED. I hope you'll still be able to enjoy it regardless!
. This project is projected to go commercial. However, I cannot guarantee a precise release date or estimate as of yet.
--UPDATE 2/9/2016: This topic still needs to be updated by a LOT. A major overhaul for promotion will come soon!
--UPDATE 6/1/2016: Music previews available and questions added!