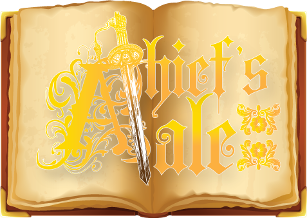 The setting for this story is the world of Almerra, a large continent half covered in a vast forest inhabited by all sorts of dangerous beasts.
For this reason, most people stay well away from the woods.
A demonic race known as Wildlings were also said to live within the woods many centuries ago but most people believe that they've long since gone extinct, if they even existed at all.
Our story begins with Dina, a girl who is working as a servant at the Almerran royal palace on the eve of the youngest prince's birthday.
While everyone else is busy celebrating, her goal is to sneak into the royal treasury and make off with all the riches she can carry.
Unfortunately, a ghostly encounter ruins her plans and she winds up arrested for attempted assassination.
The only chance for her to get her normal life back is to join a knight on a quest deep into the woods, but will she survive the journey?
***Main Characters***
Dina Dryden: Our 19 year old protagonist who gets by on her wits and smarts.
Usually carries a pair of daggers for protection and dresses like a boy to avoid unwanted attention.
Crude, snarky, stubborn and slow to trust, she can be a handful but she's loyal to those she calls friend.

Tobias Ostler: A 24 year old royal knight who takes his duty to his kingdom seriously.
Staunchly loyal, he dares to brave the dangerous woods bordering Almerra for the sake of his
kingdom...although the real test may be the stubborn girl he's forced to travel with.
Frost: A Wildling who lives in the forest bordering Almerra. 21 in human years.
Very inquisitive about humans, because he doesn't know much about them.
Skilled in water magic, specifically in the form of ice. Open, honest, and playful personality.
Prince Kieran: The youngest Almerran prince, barely 18.
Outwardly, he's everything a proper prince should be, but what lies underneath that facade?
***
It's still very much a work in progress, but a demo is planned to come out in July. Here is a screenshot of our current main menu screen:
Official Website:
http://a-thiefs-tale.weebly.com
Tumblr:
http://azureroseproductions.tumblr.com
***Questions***
1. Does the story interest you? Would you want to play this game?
2. What do you think of the characters so far?
***Art Credits***
Concept Artist) - Iceramyst
Sprites/CG Artist - Itozuuu
Logo - CrimsonMoon
Main Menu BG - Corvo
BGs - OokamiKasumi, Rayvenstock (stock account
here
), Rare-Pearl, Indigodeep
GUI buttons: Sayumi101
**Update: 27 July 2015
Demo is out! Download link is
here