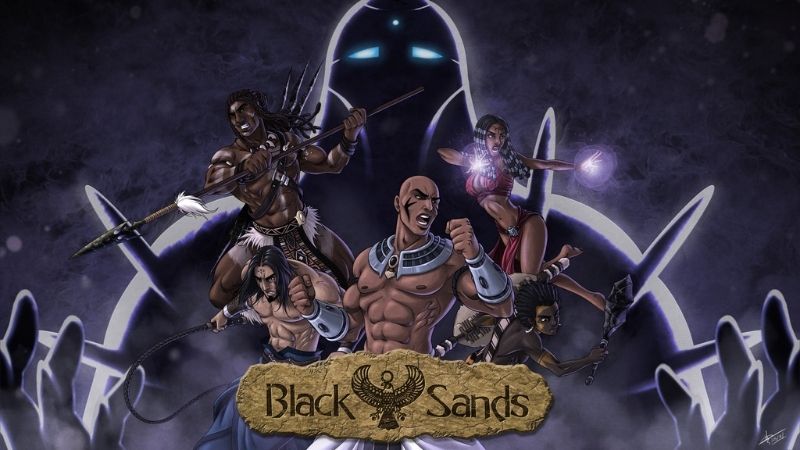 OFFICIAL WEBSITE http://www.blacksandsentertainment.com
SYNOPSIS
Black Sands is a bold new visual novel drawing from African, Indian and Middle Eastern mythology, married to an innovative spin on speculation about ancient aliens and precursor races. This is largely unexplored territory for video games as a medium – and Black Sands aims to take it further than any other creative team has managed to date.
Genres: Visual Novel, History, Mythology, Dark Fantasy, Educational
As Ra, the Dark Pharaoh, players must enter into a series of challenging trials posed by their creator, Nun – an emissary from the far-flung world of Nibiru who wants you, as his avatar, to wield godlike power over the ancient world. But before your legend can begin, you have to prove yourself worthy.
In the Black Sands Universe, Nun engineered the beings humanity worship as gods – but his creations betrayed his grand plan, and plunged the Earth into an age of oppression. Rah and his companions are Nun's last-ditch attempt to fix his mistakes – but before he can unleash them on the Earth, he needs to know they're up to the challenge!
You have to manage a team of mythical heroes; nurture their relationships, both with you and each other; explore the sprawling landscape of Nun's secret hideaway, the Rift; study its secrets and its tortured history, and defeat the countless enemies that stand in your way. Only then will Nun grant you your freedom!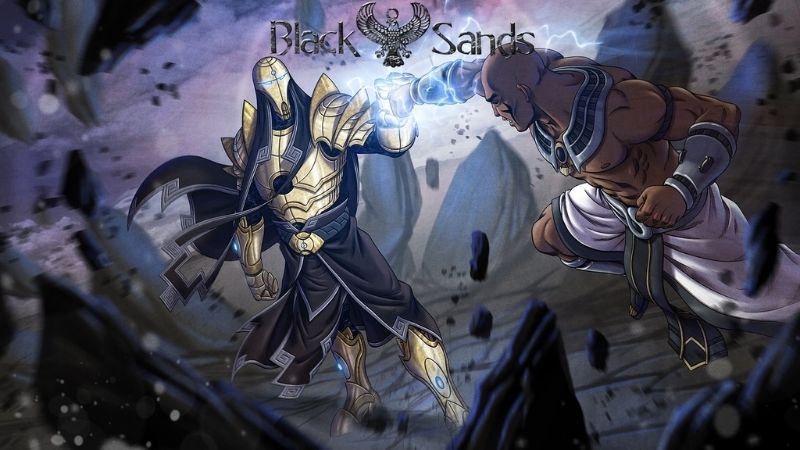 Watch their Profiles on Youtube!https://www.youtube.com/watch?v=4LsuU_Yoy5k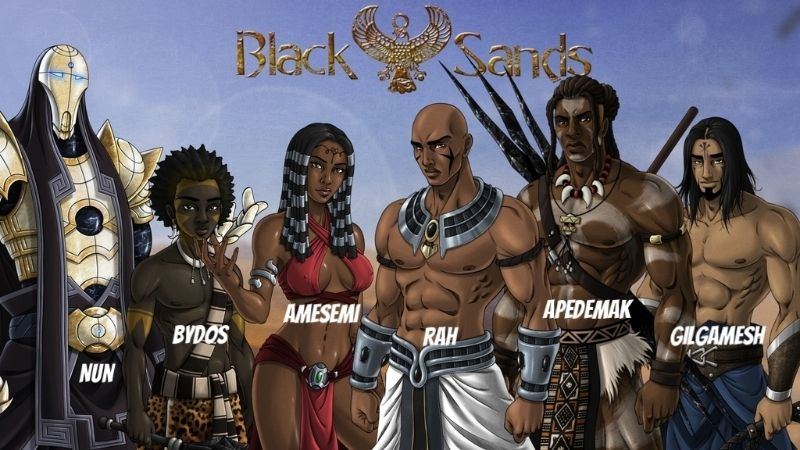 UNIQUENESS
Black Sands is more than just comic-book heroics and wild conspiracy theories – it aims to convey a deeper understanding of real-world ancient history and cultural diversity as well. An in-game dictionary with scores of unlockable entries contains an explanation of the research that went into every character and location, giving their historical inspiration alongside their in-game backstories.
Black Sands is also not simply a visual novel, too. Decisions stem from much more than simple emotional dilemmas or "choose your own adventure" style branching paths. The story offers players the challenge of exploration, discovery, investigation and stat management over a rich, carefully crafted narrative and multiple side quests of many different types.

Win your companions' respect to open up still more content as their backstories are revealed – or rule them by fear like the god you're destined to become.
Scour the map for a huge number of secrets spread across a detailed, ever-changing world.
Watch the clock! Manage the passing of time correctly, or the odds could end up against you and cause your death!
Study the relics and artifacts to unlock achievements and lore – including the real-world research behind the fiction.
Be entrenched in the development of a stunning production values from a carefully hand-picked team.
A totally unique aesthetic – no other game has used this same material like Black Sands!
[*]Dominant Protagonist
[*]African, Middle Eastern, and Hindu cultures
[*]Competitive love interest
[*]Comic-style Artwork
[*]Multiple Mini-Sagas
[*]Aliens
[*]Mythological Gods and Monsters
[*]Dark Humor
[*]Education
The Book of Thoth
The Book of Thoth is a lore database which allows players to learn the real history behind the ideas in Black Sands with sourced and quoted material. It will be split into three sections per entry.
Fantasy - The way the person, place, thing is in the Black Sands Universe.
History - The actual historical/mythological information about the person, place, or thing.
Theory - The theory we use to make the historical figure into what we use in Black Sands.
Examples would be like if you saw a vision through "The Eye of Oblivion" and saw giants in Canaan, you would unlock a new lore entry in game saying "Knowledge has been acquired." Then you would have two lore entries when you checked the Book of Thoth. One for the historical context of the Nephilim and one for Canaan. It should be a great experience for the knowledge seekers in the world.
Villains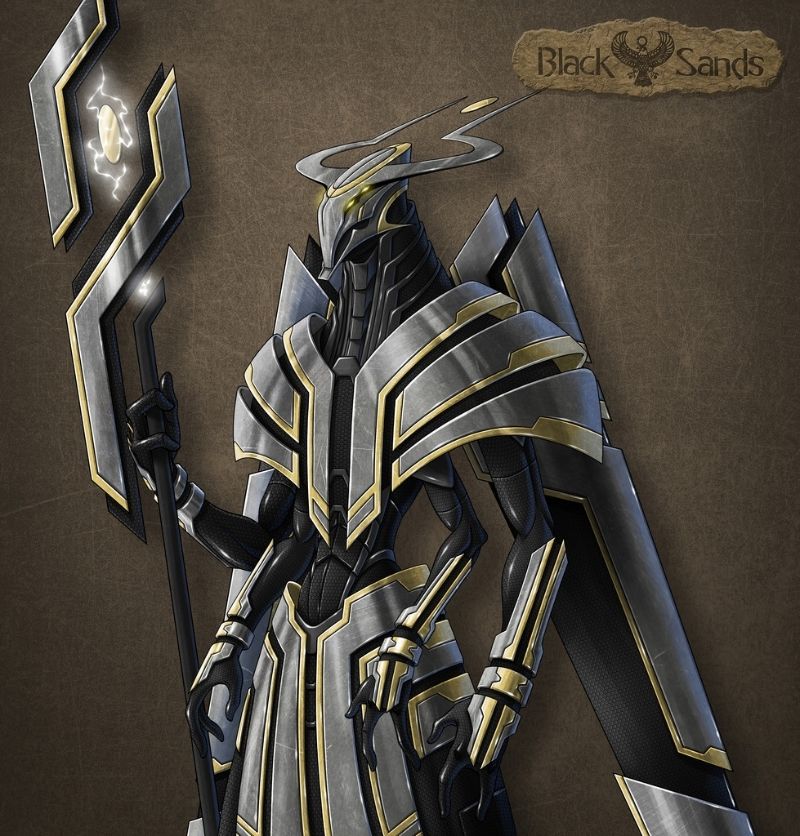 Vritra, Dragon King of the Asura
– Before the internal fighting of the Deva, there were many families of the old bloodlines similar to each other. The Asura were one of those lines. They were most like the Deva in strength and technique but their ideologies were completely at odds. Vritra was a ruler who did not wish control over his people. Asura grew independent of each other and wished to integrate with humanity when they left the Rift. The Deva used the actions of a few of the wilder Asura to condemn the rest and consorted with the Anunnaki and Titans to destroy them. In an effort to save his people, Vrtira surrendered to the Deva. He knew his people stood no chance because they were not united under one cause. The Deva created a massive dimensional tare underground to house the most dangerous prison that ever existed and sealed all the Asura there for the rest of eternity. The Asura now knew the reality of their weakness from being such independent souls and if they were ever to get their chance again, they would unite under Vritra and put the Deva down for good.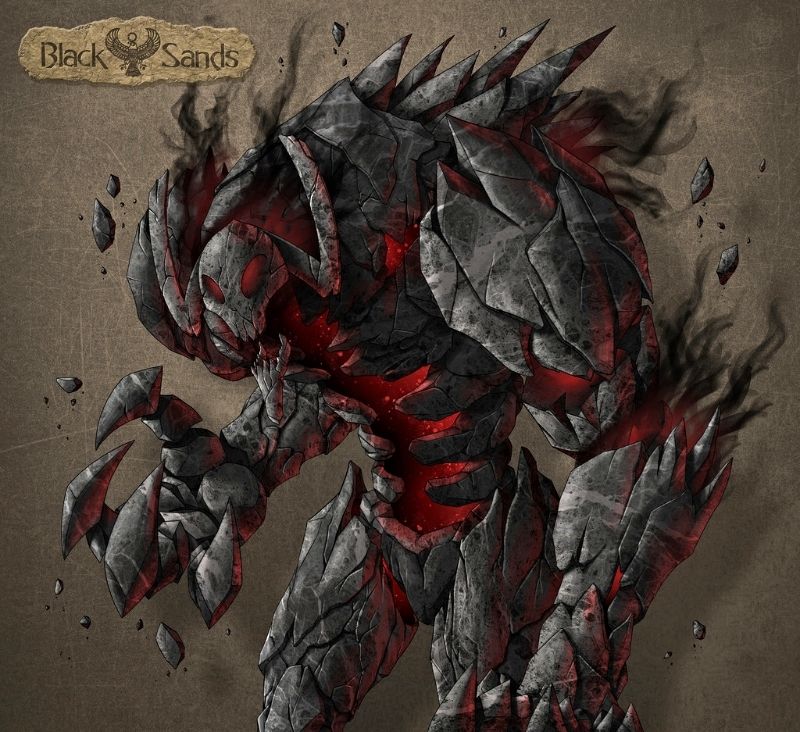 Coeus, The Fallen Prince
– The long lost Titan Coeus, once known for his intellect and reason was cursed for delving too deeply into the forbidden arts of the ancient bloodlines. Because of his lack of the necessary precautions used by Nun's people, Coeus was overtaken by a spirit known as the Devourer. When he acquired the curse, he did not tell anyone. Over time, his mind slipped due to the hunger of the curse. It needed souls. One day he lost control and killed an Anunnaki, draining it of its essence. Marduk was outraged and Kronus investigated the situation. When Coeus lacked reason and attacked the others, Kronus knew something was wrong. He seeked the council of Nun and Nun decided Coeus should be destroyed. Kronus, pitying his son, decided to instead imprison him. Marduk did not like his decision but agreed when Kronus allowed the Anunnaki to build the facility to guarantee he would never escape. Nun never knew he was kept alive, locked underground and chained for 1500 years. But now that the rift is unstabilized, the quakes have broken the chains on the prince. He is still imprisoned but how long could the facility last without the beast restrained?
Japetus, The Piercer
– He was the last child of Gaia before her death. She knew not her son because he was still in his incubation pod when she set off to seek Nun. Kronus had suspicions when Gaia went missing and decided to not release Jepatus until he knew the ware bouts of mother. The Incubation pod was a barrier protecting the host from contamination. Kronus knew that if he ever needed to get back into the Rift, only one that has never been soiled would be allowed to enter. When Rhea's secret was revealed to Kronus, he told Japetus, who was still trapped in his pod. Kronus then sent him on his way to the rift to find out what happened to his mother and claim his freedom.
Background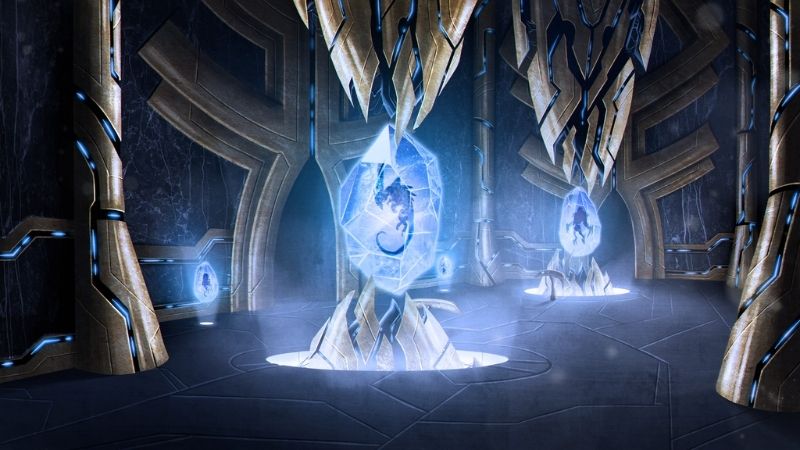 WATCH THE PROMOTIONAL TRAILER ON YOUTUBEhttps://www.youtube.com/watch?v=c1DMA8tuQ5Q
Demo can be found @ https://theblacksands.itch.io/black-san ... f-the-rift
1. Does the concept make you want to play the game?
2. Our art style is not traditional. Is that a problem to you?
3. Do you have any inquiries on the world concept or character development?
4. Who are you secretly rooting for from the characters?
5. Alien elementals...Pitch us an alien elemental concept and we'll pick one to incorporate into our world!
( this alien must be an elemental with crystal incorporated in its body. It can resemble real life animals or legendary monsters such as satyrs.)
Please Leave comments. We would love all your feedback.
http://www.indiedb.com/games/black-sands-origins
https://www.facebook.com/BlackSandsEntertainment
https://twitter.com/TheBlackSands