Mother Nature is dead.

And the process to find her replacement has gone horribly, horribly wrong.

With half of Mother Nature's power stolen by the outcast, Morcant, the Seasonal Kingdom's only chance at defeating him is to find the new, true Mother Nature- You.

Sucked into their strange world, and thrust onto the throne, you must take on the role of Mother Nature and bring the kingdom back to stability.

Morcant's bid for the Gaia throne threatens to throw both our world and the seasonal one into chaos.
Only you can stop him!
By building alliances with the Courts of the Four seasons, discovering your powers, you can bring together an army that will rival any seen before.

But, you won't be doing it alone! Whilst the fate of the worlds may sit on your shoulders, there are those who follow you willing to help carry that burden.
Courting the Seasons is a fantasy, romance visual novel. It came about from the idea of wanting a great story where the romance was a big part of it, instead of feeling like a separate side quest or bonus material.
There are no stat-raising or visible romance points/bar in this VN; this was because I hoped for it to feel as though you were thrown into a story rather than playing through a game.
The development of relationships and the story will be based much more on how you interact, rather than through building points.
I love Bioware games, the feeling of being a hero in a story, but I've always enjoyed the romance part of it too.
What I wanted to do was have something similar, but where the romance was an integral part of the story, so as it all felt more immersive and fun.
For more information or to keep updated, why not check out the links below?
Tumblr-
http://seraphinitegames.tumblr.com/
Facebook-
https://www.facebook.com/SeraphiniteGames
Twitter-
https://twitter.com/seraphiniteVN
Romances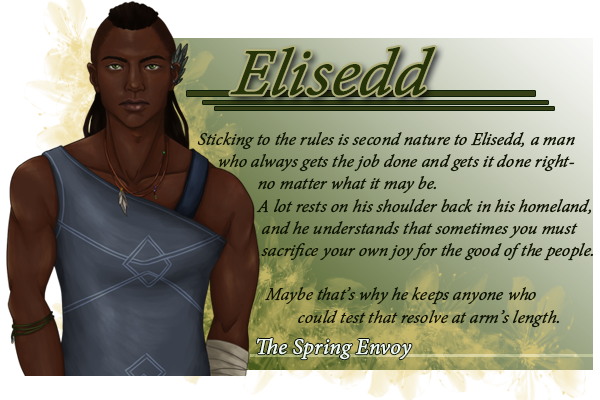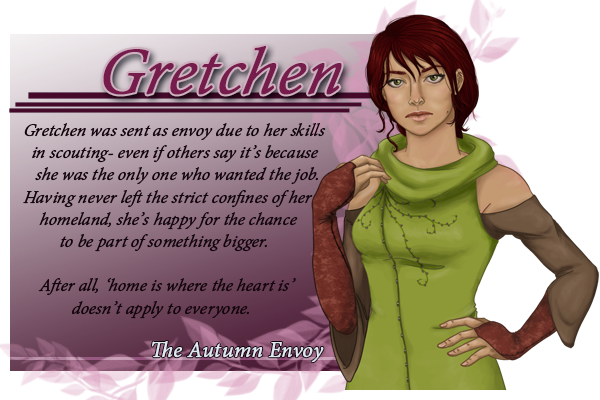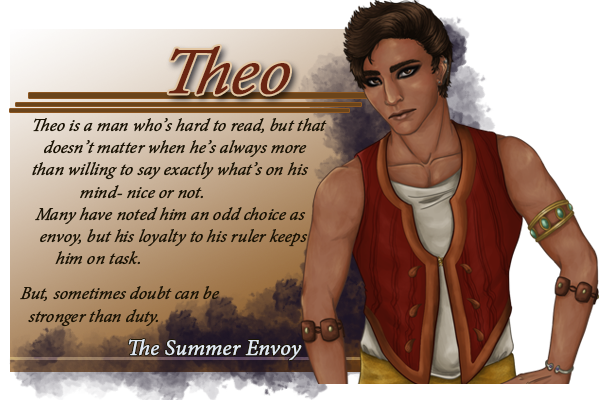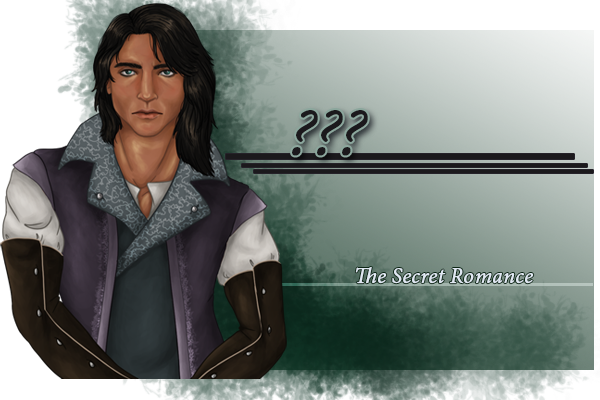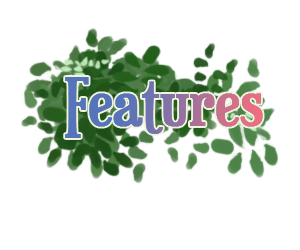 Listen to those around you
- Pay attention to the advice of others in order to better influence the rulers and gain the best alliances.
Will you gain strong alliances, or weak ones? Will Morcant steal their alliance from under your nose? Or will the ruler give no alliance at all?

Each Ruler is different
- Each has their own idea of what makes a good Mother Nature, and they will be judging the way you act and speak in order to decide if you are worthy of their allegiance.

What type of ruler will you be?
- The way you choose to handle situations will influence what type of ruler you will become.
Will you inspire the people to stand with you? Will the people's needs always come first?
Will you choose to always do the right thing, no matter the consequences? Will you look to others for advice on how to rule?
Or, will you rule for your own benefit?
Use your power
- How will you use your powers to help in what is to come?
Choose from 3 power types, each one giving you different options throughout the story.
Romance routes that are as strong as main story
- 5 romances to choose from (the 4 envoys, and a secret romance!).
Each romance weaves its way into the main story in a unique way.
Cast of interesting characters
- Get to know a whole range of characters, from the Rulers of the Seasonal courts, down to the people who work for you.
Decide how you will interact with them; will your personalities clash or compliment?
Pay careful attention
- You never know when overhearing idle gossip or having a chit chat with someone may lead to more options down the line.
Your choices affect everything, not just endings
- As Mother Nature and ruler, your choices will affect much to do with the upcoming battle, but that is not the only thing it will change.
How you act and respond to situations will affect the course of the game, some having consequences early on or may produce something unexpected later.
There are many outcomes to the battle ahead with vastly different multiple endings!
Images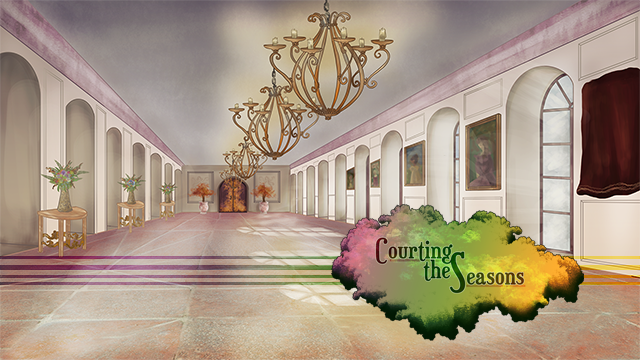 Why no stat points or romance bar?
I found in games with points I tended to focus only on point collecting, rather than playing through as I want (even though I enjoy those games very much!).
But, in Courting the Seasons I wanted to minimise that and make it feel much more as though you can make a choice based on what you want, rather than what will net you the most points. This should mean you have more fun with the story rather than worry about building up stats.
I haven't really put in good and bad choices or 'true' endings.
There are a variety of choices, which aren't necessarily good or bad, it's just different ways of handling outcomes, some of which will be approved of by certain people and not by others and vice versa.
Each choice won't just add to a points bar, it will have an effect and consequence in the story, maybe straight away or maybe later on.
Why is this VN commercial?
Though I would love to give it out for free, I am self-employed and will be focusing full time on this VN.
I'm hoping to move into this as my main career path
Are there any warnings for this game?
There will be descriptions and images of blood and death, as well as non-explicit, but still heavily implied, (consensual) adult situations both in text and images.
Where will this be released?
I plan for the demo to be released early Summer 2016, alongside a Steam Greenlight campaign.
I am hoping to release it on itch.io, and (fingers crossed) Steam if it gets through Greenlight once I put it up.
How much will it be?
It will be around $15.
How can I get in contact or ask you questions?
You can contact me here via PM, or post on this thread.
You can also contact me via Tumblr, or email me-
seraphinitegames@outlook.com
I'm always happy to hear from people!
----
Yay for finally getting this ready to share, been working on it for months already, so I've been anxious (very nervous!) to put it up
First impressions and thoughts are very welcome!
I will be updating once a week on this thread (summary of the two updates I am planning to do over on my Tumblr).