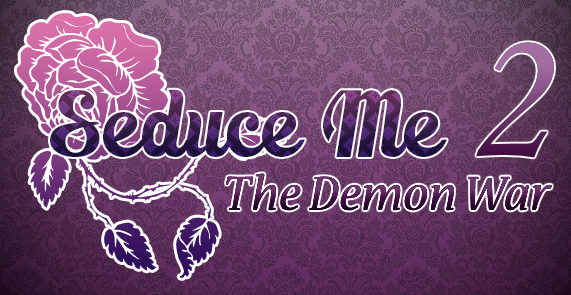 I was supposed to be happy. I was supposed to get married to the man I loved.
Why am I in the Demon World!?
Please Support us!
https://www.kickstarter.com/projects/mi ... -demon-war
DEMO:
http://vamichaelalaws.itch.io/seduce-me-2-the-demon-war
----
Seduce Me 2: The Demon War
is the sequel to the popular free-to-play otome game,
Seduce Me the Otome
. It follows the story of Mika Anderson as she is suddenly thrown into the Abyssal Plains right before she is about to get married to one of the five Incubi Brothers featured in the first game. What's even worse is that she is thrown there in the middle of a Rebellion against the Evil Demon Lord and must not only assist Diana and the Rebel Leaders in the war, but must watch as the man she loves fights alongside them after he comes to rescue her.
Features:
-Five individual stories to follow!
-Full English Voice Acting!
-Custom GUI
-Original Soundtrack
-MULTIPLE endings (including some BAD ENDS DUN DUN DUUUUUUN)
-The original and lovable incubi (James, Erik, Sam, Matthew, and Damien) romance routes CONTINUE!!
-Unlockable Bloopers!
Returning Characters:
-
Mika Anderson
(YOU)
-
James
(CV: Bradley Gareth)
-
Erik
(CV: Christopher Escalante)
-
Sam
(CV: Alejandro Saab)
-
Matthew
(CV: Ethan Nakashima)
-
Damien
(CV: Jonah Scott)
-
Diana
(CV: Michaela Laws)
-
THE DREADED DEMON LORD
(CV: Warky T. Chocobo)
NEW CHARACTERS:
-
Saero
- (CV: JelloApocalypse)
A demon who somehow looks and sounds human at first glance, but shows his demon colors in battle. He has served Ezaeur his entire life and has fallen in deep love with her. However, because Ezaeur is a pure Demon of Lilith, she is convinced that this love is false. His breed is unknown, but he has proven to holster dark demon magic.
-
Sergeant
- (CV: Richard Barcenas)
The Last pureblood Brute Demon besides for the Demon Lord himself. He barely escaped from the Mass Genocide of his kind and vowed to bring down the Demon Lord and his reign, even if that meant siding with a Demon of Lilith (Succubus) and others. He believes brute strength is the only thing needed to win a war, often blinded by ideals of strength to agree with logic, but he is not stupid.
-
Shadow
- (CV: Steven Kelly)
A Shadow Demon who dons his race as his nickname for Mika. He is smart and quick-tongued, often getting into battles with Sergeant simply because of a hidden insult under his words. However, he isn't cruel or heartless; he just doesn't see strength as a benefit when he sees shadows and stealth as the dominant powers in life. He likes to give advice that revolves around the army assassins.
-
Rabbit
- (CV: Amber Leigh)
An Animal Demon with mystic powers. Animal Demons are the lowest tier of Demons, only gifted with animal instincts and magic abilities based in nature. Rabbit fully believes that magic will help win the war, but knows that she is not as powerful or on equal ground as her rebel allies. She's quiet and passive unless a plan or conversation involved magic.
-
Fae
- (CV: Helene Daviau-Hunt)
A Fae Demon who is playful, but surprisingly wise despite speaking like a child. They are the most vocal of the Fae demons in the Rebellion, so they were the chosen representative for the race. However, Fae cares little for who will rule the Demon World in the end. They only care about keeping the Fae Demons free. Fae also is genderless.
SKETCHES (Art by Camille/Michaela)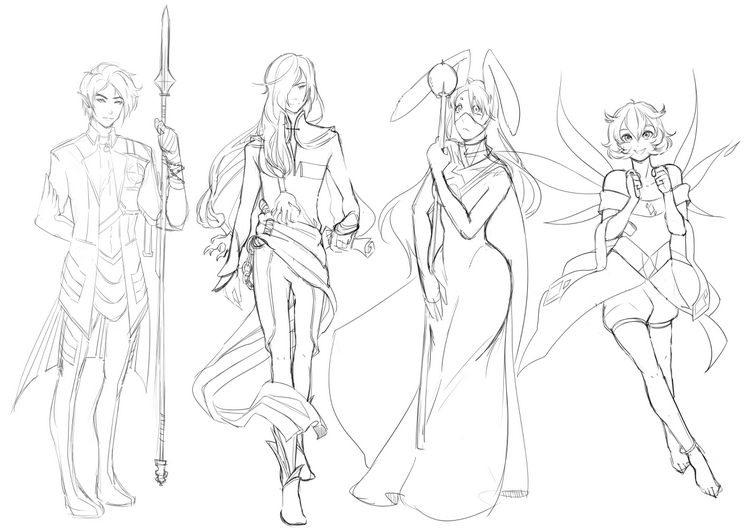 Never Played the first game? It's FREE~
http://lemmasoft.renai.us/forums/viewto ... 11&t=30464