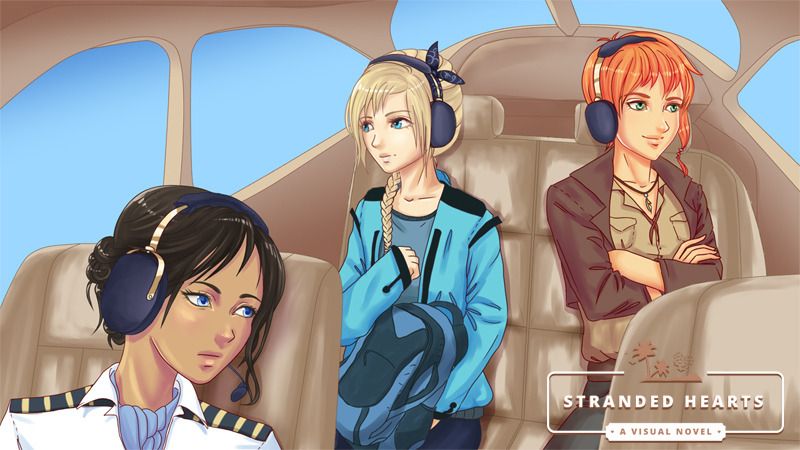 A Survival Sim/Yuri Romance
Wordcount: ~48,000 / 80,000
Free to Play

DEMO

Team
Project Lead, Writer, Artist, Programmer
Steamgirl
Writer, Artist
Seigetsu
Character Artist
YuukiCrossPudding
GUI Artist
Sasquatchii
Junior Artist
ibukichan
Composer
TyberAlyx
Sound Engineer
csky
Recruiting Background Artist
The Story
Aina is co-piloting a small aircraft when her instructor sudden suffers a fatal stroke! Forced to make an emergency landing, she and her two passengers, Kim and George, escape to a nearby uninhabited island. Aina is desperate to get off the island as soon as possible, but the other two don't seem in such a hurry. Will she make it back in time for her graduation and reunite her star-crossed parents? Or perhaps the more pressing question is... Will she survive at all? And what about these two women? Why do they have to be so attractive and make matters so complicated?!
The Game
The primary aim is survival. Decide what the team does each day in order to keep the camp well stocked in wood and water. You can also bring and find items on the island which you can assign to a team member once a day to give them a boost in their activities. For example, gathering wood is more effective when you have a machete. Sleeping is more effective with a sleeping bag.
As you go through the game, the story progresses and special events can throw you a curve-ball. Make key decisions which may determine life or death. Can your team survive and get off the island?
Demo
A
demo
of the game is available. It covers the first 5 days of survival (out of 30-45).
Questions
1) A few people have said the game is too difficult. When you played the demo, did you manage to survive for 5 days on your first attempt? If not, how many attempts did it take to survive?
2) Would you prefer the game difficulty to change and why?
3) What do you think of having an unrealistic "easy" mode where it takes much longer to become dehydrated, and a realistic "hard core" mode which sticks to real survival?