Ran08 wrote:Though I do tend to get carried away when reading emotional scenes sometimes, so… I'd like to know if I should ready my tissues before playing this?

[/size]
Hello again, Ran! It's so good to hear from you again. Thanks for taking the time to comment with your thoughts! Believe me, I know all about being busy. I was hoping to finish the demo by the end of this month, but life pushed that date further down, sadly. Now, about the tissues...I recommend tissues, hot cocoa, and a pillow - for throwing.
And as a matter of fact, Dev just might be making a cameo, so please do be on the look-out for him! It'll be just like finding Waldo.
Anyway, good news! I finished all the CGs for the demo. Now, I just need to work on some sprites, give the CGs a final round polishing, and put it all together. Feel free to cheer me on! The home stretch is almost here.
In the meantime, here's a sneak peek of someone y'all may recognize from the prequel.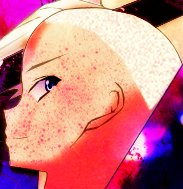 Depending on your choices, Wildfire can play a major role in
War (X Playing Pieces)
. And if Wildfire's here, you can be sure her BFF, Brooks, isn't too far behind.